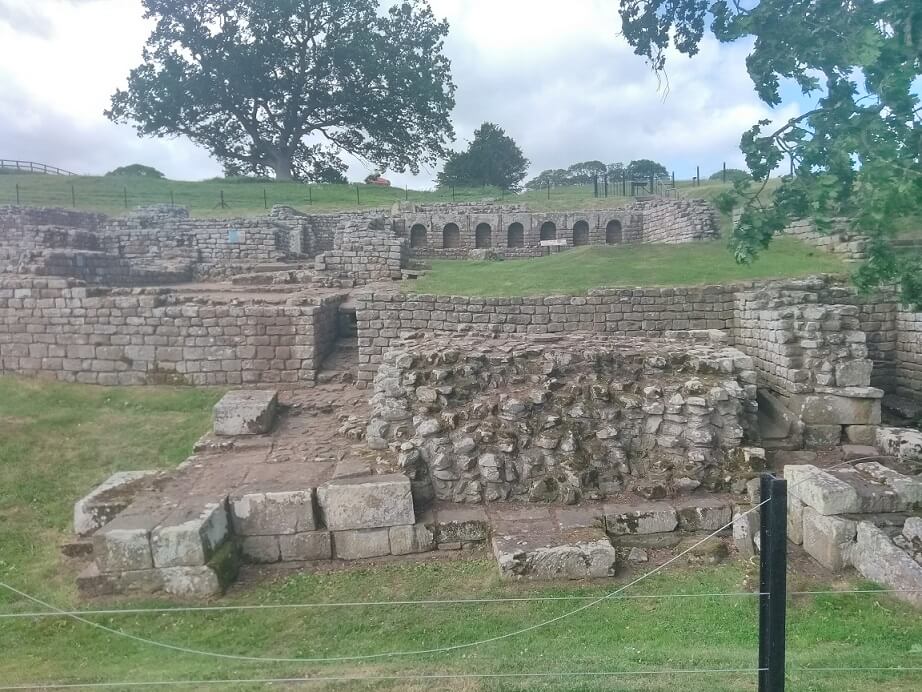 The Hadrian's Wall path is a hiking route that is based upon an old Roman wall that separated the Roman Empire from lands unconquered.
Depending on which way you walk the path starts at Newcastle upon Tyne and ends in Bowness on Solway. On this hike, you can take a step in the same footsteps as a Roman all those years ago. And is as an armchair history geek one of my favorite hikes I did solo. In this blog post, I share my tips and views on the hike.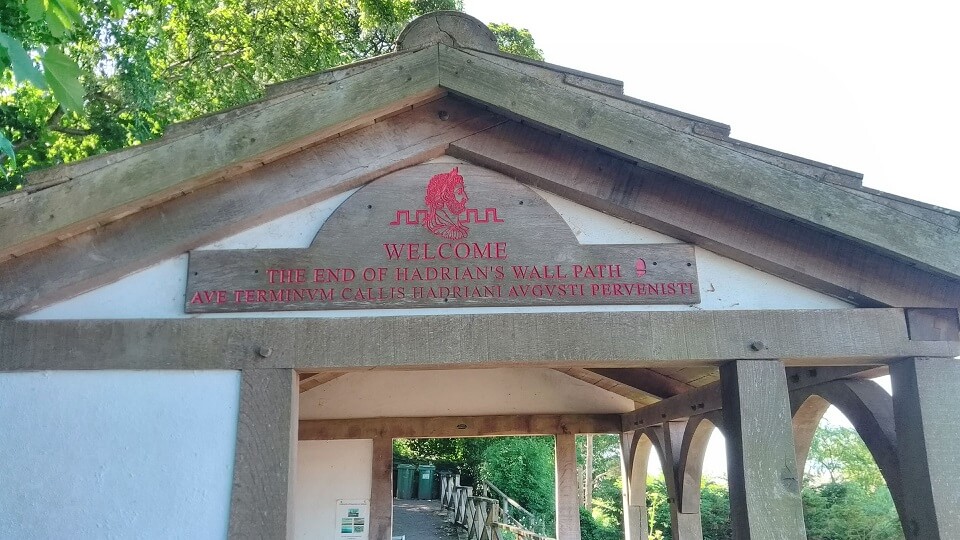 Reasons for walking the Hadrian's Wall Path
Hadrian's Wall Path is an 84-mile or 135-km walk that takes you across the British countryside. You will encounter the ruins of the Roman wall across the entire way and walk across forests, hillsides, and meadows.
I have always been fascinated by Early Bronze Age and Roman history, straight after I did my hike in America I was searching for a bit more familiar ground and people. Since I have been in the area around Newcastle before I wanted to finally hike the Hadrian's Wall Path after many years of it being on my list.
When you want to hike the pretty British Countryside and soak up some historic sights and sounds you should put the Hadrian's Wall Path on your list. It is also easy to reach when flying in from Europe or America and can be even flown directly to Newcastle at some airports in Europe.
The hike is also approachable for many people and is less challenging than other hikes in England and the UK. It is therefore a great first hike that you can easily thruhike in a week or less. And can be a great first exposure to the hobby or lifestyle.
Hadrian's Wall Path can also be hiked while staying in pubs, guesthouses, and hostels, but can also be hiked with a tent. I did it with a combination of the two. With spending a night in a pub, and a night in a bunkhouse. And the rest tenting.
Walking the first steps along Hadrian's Wall
My Hadrian's Wall Path started in Newcastle upon Tyne where I stayed a couple of nights in a hostel which turned out to be extremely good fun. I met up with a couple of people from all over the world and had my last bit of fun in the city. I recommend going to a couple of bars hearing the live music performances and drinking the local Newcastle Brown Ale.
The first part in Newcastle I'll admit is not that great to walk. Since it is getting you out of the city to follow the countryside. That means traffic right next to you, and walking on concrete and asphalt. It doesn't take all day however and you can even see your first bit of Roman history in Newcastle already.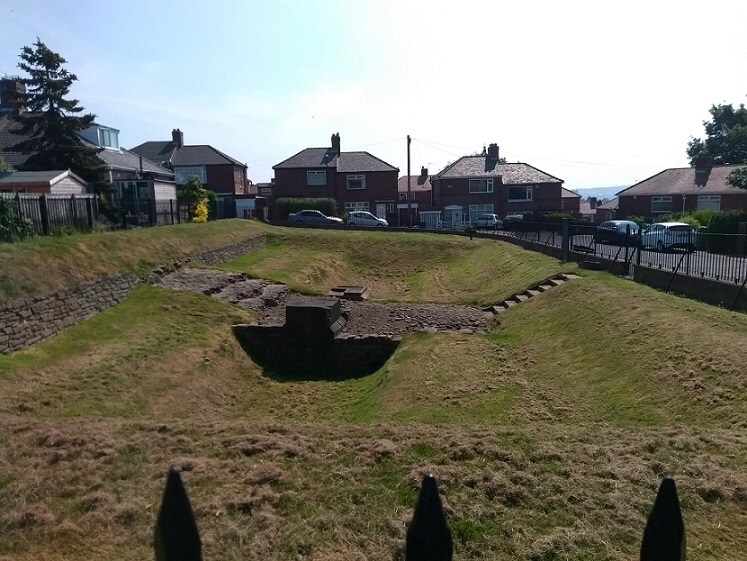 The first Roman ruin that you see is smack in the middle of a suburb and is an old gatehouse used by a fort.
Navigation along Hadrian's Wall Path
For navigation on the Hadrian's Wall Path, I used a free map that I picked up in the hostel in Newcastle from hadrianswallcountry.co.uk. I also installed the app Hadrian's Wall by PKC Mobile on my Android phone for some additional information and tips about the wall. The trail is pretty well marked with a white acorn along the Hadrian's wall path.
What I highly recommend but did not know off at the time of hiking it, is to use the app Maps.me with a .KML file that you can download for free. This lets you know exactly where you are and in moments of doubt will get you back on track in no time.
You are also in the British Countryside, and wherever you are, you can get help or description from a friendly local on where to get back on the trail.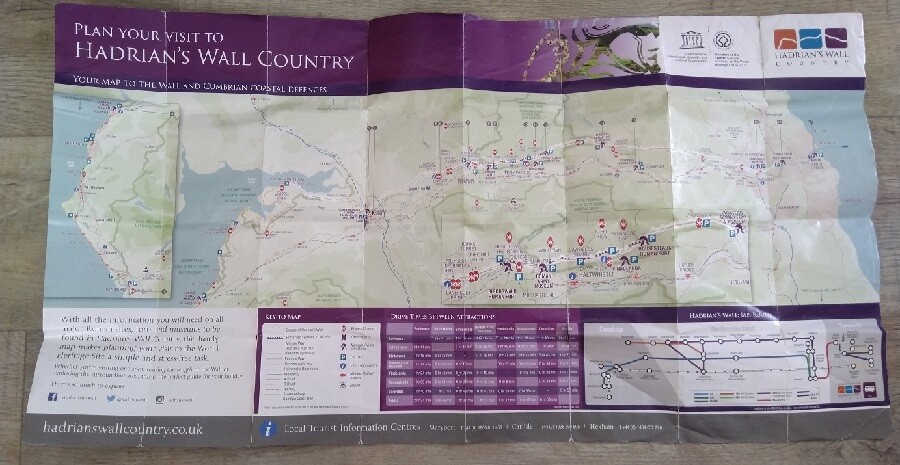 First Night on the Hadrian's Wall Path
On my first day, I simply set out and walked to the first stop along the way. Heddon of the Wall. There I set out for a hostel to stay the first night in. But as I soon found out it is a very good idea to make sure the hostel has a place for you. As luck would have it the hostel in Heddon on the Wall was full up. But the lady who owned the hostel was nice enough to call around for a place for me to sleep. I ended up sleeping the first night in the Black Bull pub in Wylam-on-Tyne. The rest of the way I stayed on Campsites with my tent and one bunkhouse. Where I slept better than that pub.
Camping on the Hadrian's Wall Path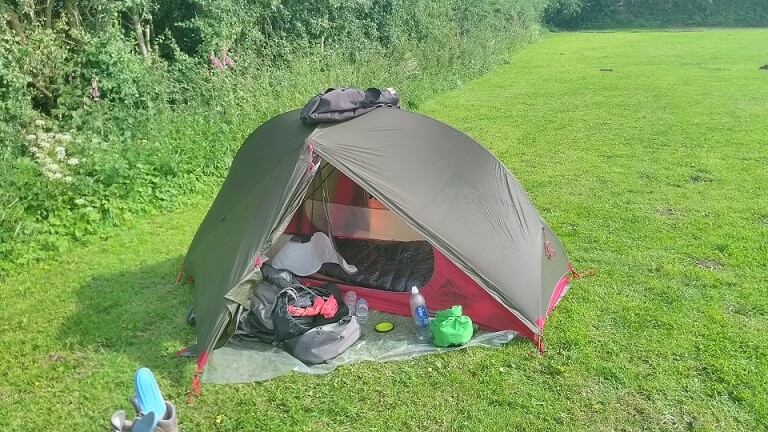 During my Hadrian's Wall Path hike, I decided that I was going to camp most of the way. This was to save on costs and because I wanted to try out my new MSR Hubba NX tent for the first trip. With my sleeping mat and sleeping bag I can sleep comfortably in all weather to about 10 degrees Celsius. When I went in June this was plenty warm enough. Take a look at your weather predictions and season, and adjust your sleep system according to the temperatures. Nothing is worse than a cold night with a chill down to the bones with a day walking ahead of you.
Camping can be done pretty easily and cheaply along the Hadrian's Wall Path, the usual camp fare was 7 to 15 pounds a night. Keep in mind that I was on my own and in a 1 person tent. Sometimes you will get a good campsite that's set up for tents. Other times you will be stuck in between the caravans.
Use Maps.me and Google Maps to find your stop for the night, and make sure to call ahead to reserve a spot. Unfortunately, wild camping is not permitted in England, so using campsites is required.
Take a Raincoat and test your gear
On the Hadrian's Wall Path, there is a certain reputation for the rain, and for good reason. So prepare for the rain and test your gear in it. The last thing you want is to be soaking wet the entire time. Get rain pants as well as a Rain jacket. Or go with the poncho option. An umbrella is also a contender, however, it can be quite windy on the open fields and hilltops.
Testing your Rain gear can only be done one way, and that is to take a practice hike while it is raining. Look out for weak spots in your system and try and keep as dry as possible.
Lookout for future articles on the Hadrian's Wall Path by following me on Social media.