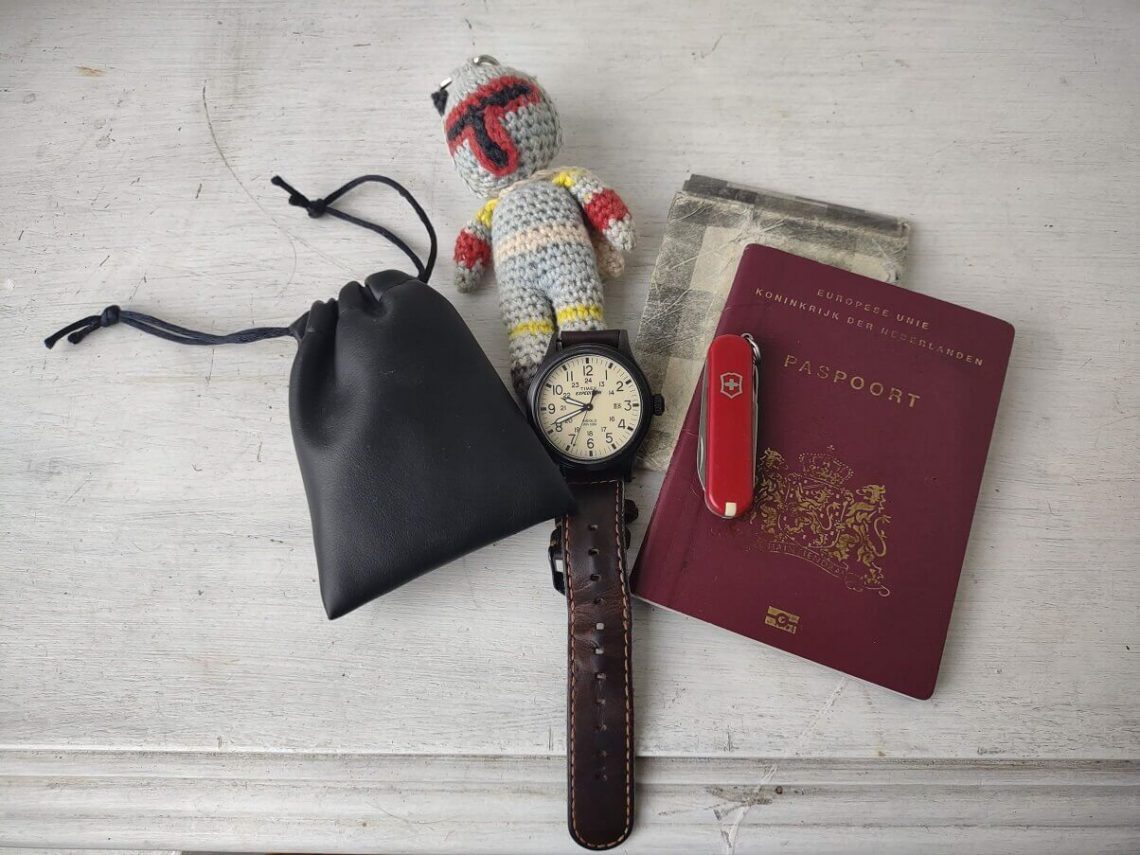 Keeping valuables safe on the Camino
The Camino de Santiago is a popular hiking trail that spans across Europe, depending on where you start. The most popular one that is also busiest is the Camino Frances or the French way. This article is all about how to make sure that you keep your valuables safe on any Camino you decide to walk.
Any pilgrim will have valuables on them that they need to keep safe, from the most important thing, your Pilgrim passport, to that one pair of sunglasses that you love. Although in my experience on both the Camino Portugues and Camino Frances you don't need to clutch your valuables to your chest all the time, it is wise to always think ahead and plan a little, better to be safe than sorry. So here are a couple of tips that keep your valuables safe and always within reach and eyesight.
Quick jump guide
The trusted fanny pack
Probably the most popular option that you see both men and women wearing on the Camino is a fanny pack or belt bag or however you want to call those in your language. These little bags provide a convenient and easy way to store your important documents and money that is extremely easy to take with you into the shower and hang up. Easy to carry into town with just your shorts and flip flops, and just overall provides a handy way to keep your valuables safe and secure on your person at all times.
Popular models include the standard Eastpack fanny packs or other models, it is not necessary for my opinion to have them waterproof. Documents and anything that needs to be waterproofed can easily be protected with a Ziploc bag. You also don't need to carry them in an official way all the time around your waist, but you can also sling them over a shoulder. Over your backpack straps, or attached to them. This gives you an easy way to store your small valuables and also extremely easy to grab them when you are paying for groceries or your Cafe con Leche.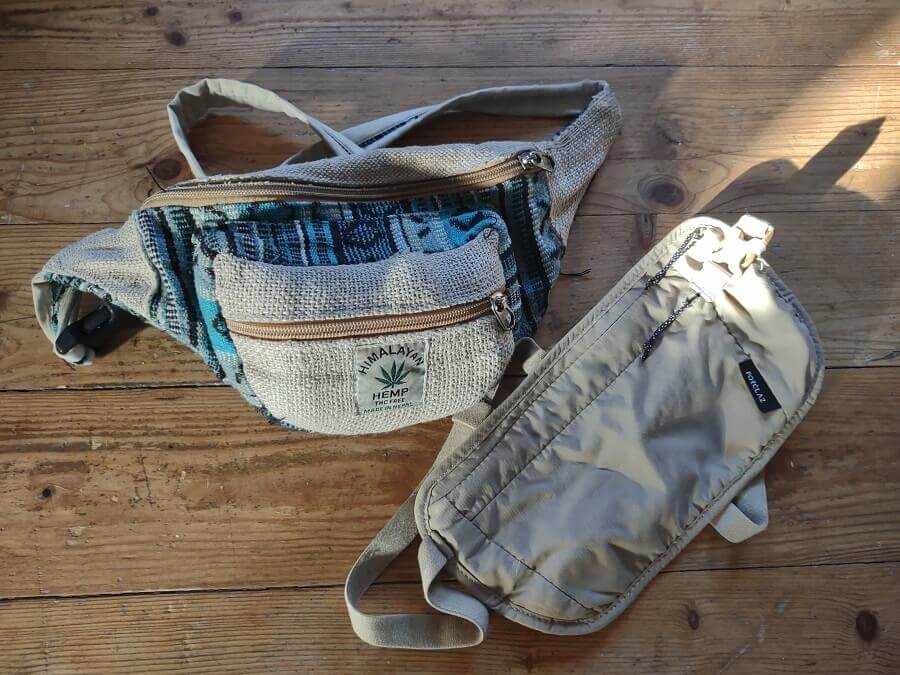 Ziploc bag
This is the method I used on both the Camino Portugues and Frances. With a Ziploc bag within there my Pilgrim passport, wallet, and ID. And any other valuable that I deemed necessary I would have a dedicated Ziploc bag either in the head of my big backpack pocket or in one of my pockets. Although this works and is probably the easiest solution for storing your valuables it is not the most convenient when every time you want to grab out your wallet or passport for a stamp you need to take off your backpack and dig around. With my standard hostel outfit, I could easily hang up my shorts and stuff the Ziploc bag in one of the pockets. That way they were out of the way and easy to reach.
If you are in a pinch a Ziploc bag is a good candidate to store your valuables in.
This is another candidate that is often used on the Camino, and is sort of the same thing as a fanny pack, but then on a smaller scale to fit underneath your clothes. I tried one of them out for a little day hike but they did not work out for me, sweat and an extra spot that can create rub marks makes it not the best option for me. But your opinion may differ. They have a lot of the same advantages as fanny packs and can also easily be swung from a shower wall hook. Around your neck or any other way, you wanna carry them.
The Camino Recycling bag
A bag that you can get for free in a lot of hostels is a well-known Yellow bag that you can get for recycling your trash in or trash you find along the trail. I have seen a few pilgrims use it for that purpose, but they all changed into either dedicated food bags or valuables bags. Which was funny, in that you would see in any town at dinner time whole droves of pilgrims swinging their yellow Recycling bag whilst hunting for a pilgrims menu. In my group of pilgrims, it was also the foot care bag and was stuffed with tape and blister care.
Since it is free to pick up and makes for a handy container to carry around this is another good option for when you are in a pinch and need something to store your stuff in.
The buddy system
Probably your safest bet, in any case, is to have a solid buddy system in place. Works best if you have a buddy. Whenever somebody gets up to go to the toilet, shower, pays the bill, or gets up to fill up the water bottles. Have somebody that sits at the table or around your stuff. This simple and effective way makes sure that there is always a pair of eyes on your gear and discourages a lot of crime of opportunity.
The buddy system was always in place whether we were in a restaurant, roadside pee break, or in a hostel / Albergue with showering.
In a main backpack pocket
To store your valuables in your main backpack pocket is probably the poorest way to store your valuables in. Not only are they difficult to get to, but they are also at risk of being taken when you are separated from your backpack of course. In the main backpack, it is possible to store your valuables when underway on the Camino. Although with bathroom breaks etc, the buddy system should be implemented. One stays with the backpacks, the others go.
Well, those are all the tips I have for you for keeping your valuables safe on the Camino Frances or any of the other ones. As with most things, this is also not 100 % guaranteed that nothing will get stolen, but it does lessen your chances of it. And that is all you can do. If anybody has some more tips then feel free to share them in the comments!
Happy Hiking and Hike for Purpose!