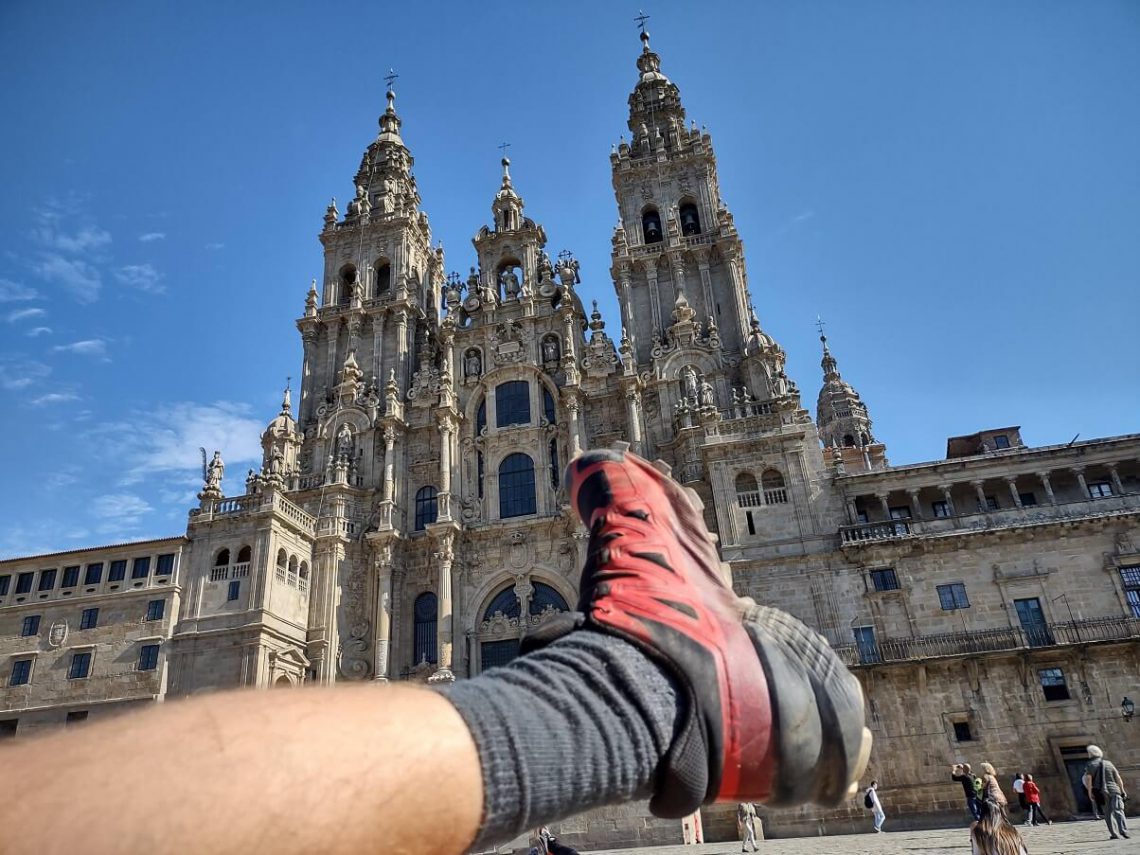 Salomon Speedcross review
This is my review of the Salomon Speedcross 5 and 3, after walking the Camino Frances starting from Saint-Jean-Pied-de-Port in the 5 version. Read on.
Salomon is a brand that many hikers are familiar with, they have been a staple in the outdoor community since 1947. And are a solid choice for everyday hiking trips, gear, and skiing. What I was always interested in though were their hiking shoes and boots. Since my days at an outdoor store, I came in contact with fans of the shoes and picked them up to for myself. The models that I had over the years were always lightweight and more for day hikes in my opinion. That opinion has changed however over the years.
My backpack no longer weighed 20 plus kilos and my hiking style also changed. From the more base camp-oriented hiking with more gear and luxuries to the more long-distance "thru-hiking" that is becoming more and more popular all over the world. Something in my hiking boot style needed to change. And on a whim 2 days before setting off on the French way to Santiago de Compostella, I decided to go for the Salomon Speedcross 5 as my hiking shoe or trail runner of choice for my adventure.
Affiliate links may be mentioned in this article, by purchasing a product through those links I may receive a kickback. At no extra cost to you.
Choosing to go Trail runner
The choice between trail runners and hiking boots is a personal one that you need to make yourself. For most people that are looking to walk the French way or one of the other Camino's I would steer more towards the trail runners or light hiking boots. My choice for the Coastal Camino in Portugal was the Meindl Sahara, I still stand by those boots and would hike in them again.
However, as the years start to add up, I am becoming more and more a fan of lightening my backpack and changing my style of hiking. By picking up hiking sticks and changing into Trail runners. If you want to read more about the choice between hiking boot styles, then you can read my earlier article. Here I dive deeper into my personal choices over the years, and how you can choose between them.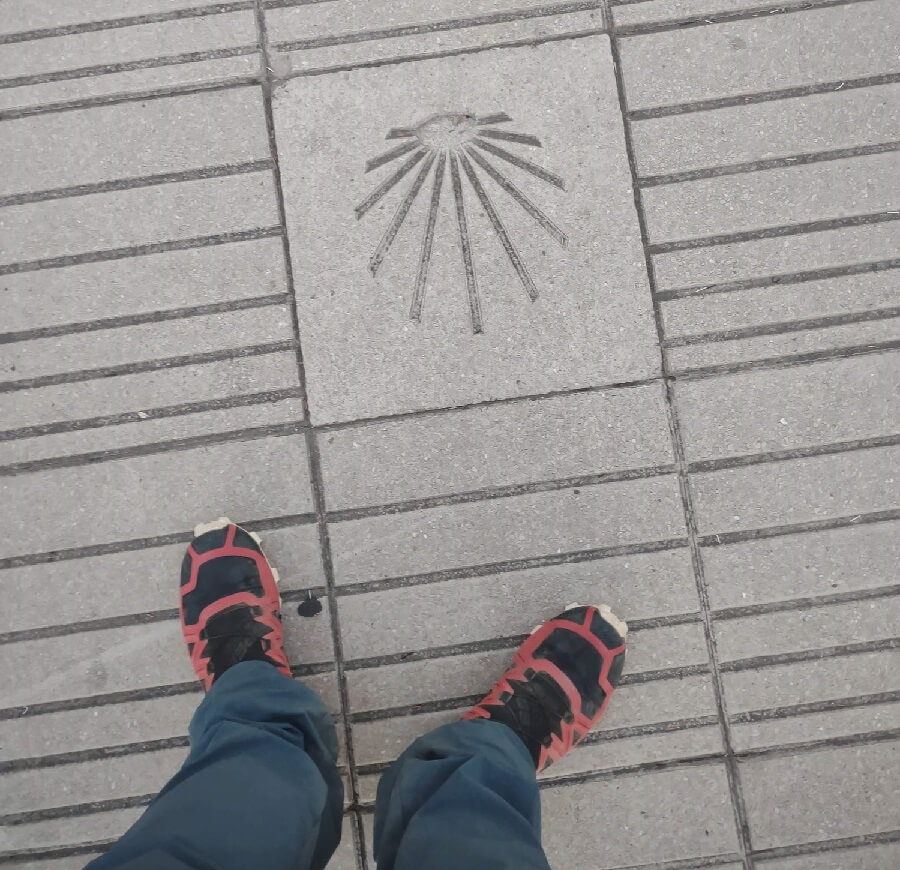 I landed on the Salomon Speedcross series for my long distance hike by having prior experience with Salomon shoes and the Salomon Speedcross series itself. By picking up a pair of the Salomon Speedcross 3 at an outdoor convention ~8 years ago. That model was always a bit on the smaller or slimmer side and led me to believe that Salomon was not the shoe for me to do any sort of long distance hiking in. And they fell to the wayside for a few years. In the process of moving to Nuremberg, Germany, I left my Meindl Sahara behind because of needed to replace them anyway and took my Salomon Speedcross 3 with me for day-to-day hiking. There, with the Camino coming up, I decided to try on the new model, the Salomon Speedcross 5. And after walking around in them for a good bit in the store, I rolled the dice and went for them for my next 33 days of hiking.
Fit of the Salomon Speedcross series
The Salomon Speedcross series before the 5 model was always on the slimmer side, so the room on the side of the shoes was always a bit lacking. This causes for most people to develop blisters on the edges of their little and big toes, or in between them. In the Salomon Speedcross 5 model they changed the fit of them a bit after listening to feedback. They are now in the current versions wider and more suited for people with bigger feet. For women that encounter still issues with the women Speedcross I would recommend trying on the men's version.
My feet liked them, it is nearly impossible to tell whether they will be the same for you. Try them on for yourself and see how you like the feel of them. As always with shoes and hiking boots, you should really try them on first before buying. Or at least order them with a possibility to send them back if they do not fit well enough. Furthermore, try to fit them in the evening or late afternoon. Your feet should have swelled up a bit than from daily activity. And will simulate a bit of hiking.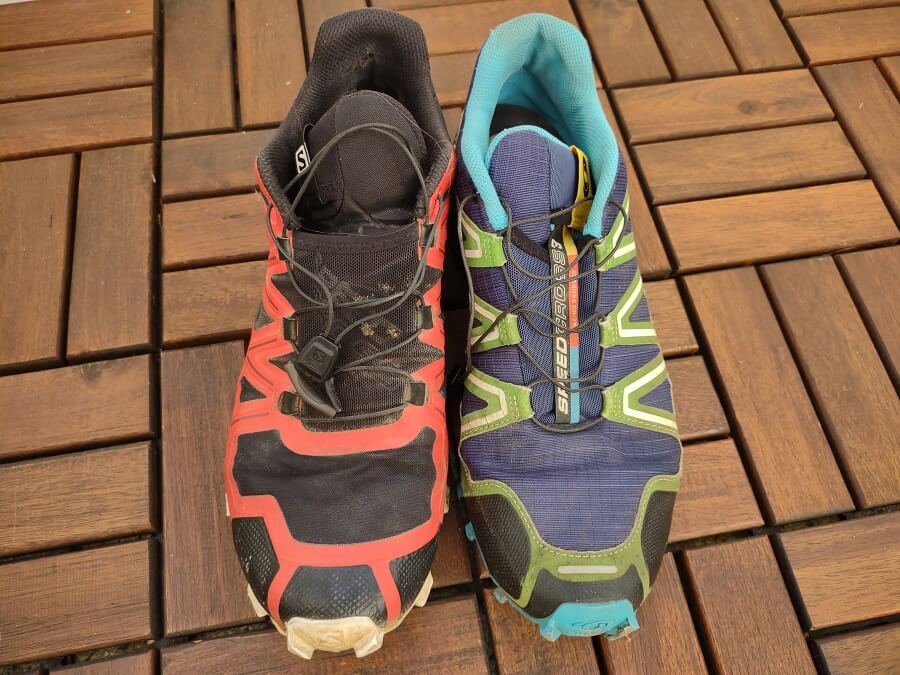 Finish, material and features | Salomon Speedcross
You have like pretty much any Salomon model 2 versions of the Speedcross model, one with Gore-Tex technology and without. My choice will always fall on the model without, for a few reasons. Mainly ventilation, condensation (Sweaty feet), and that it simply does not make that much sense in low shoes to have them waterproof. Sure they will prevent the first signs of water from going into your shoes, but anything more than a light drizzle and your feet will get wet anyway. To each their own however.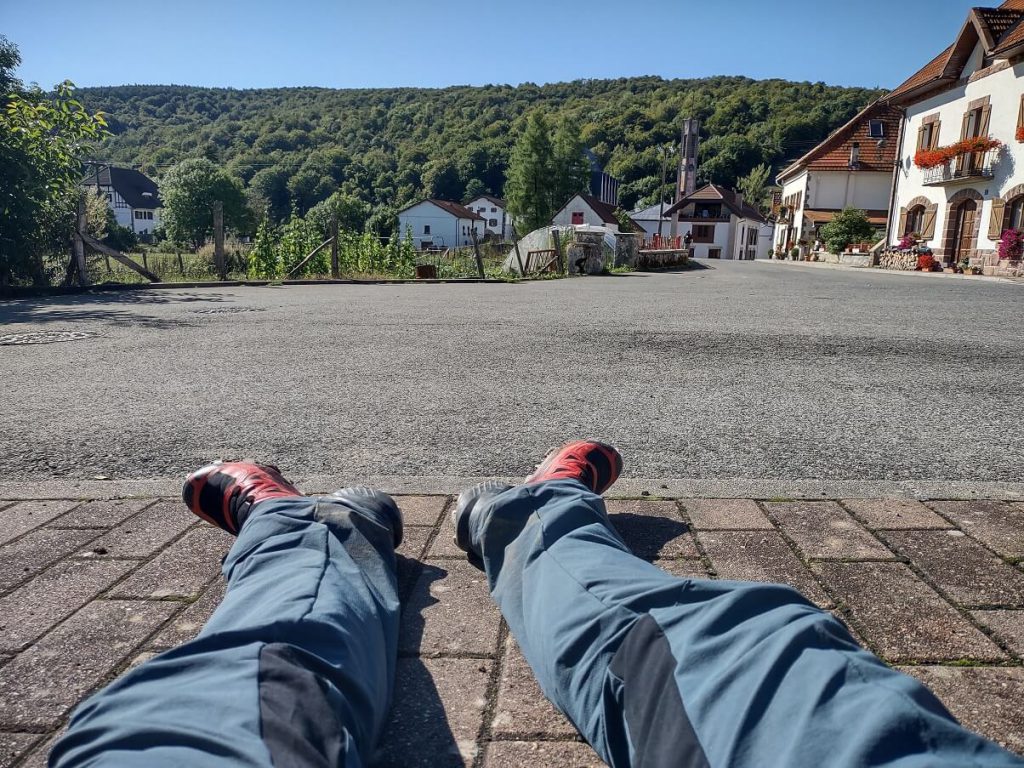 The sole makes use of Contra Grip technology, more about that down below. And the material on top is a mixture of solid and mesh synthetic material. This makes it so that the shoes are quick to dry and do a good job of getting your feet to breathe more. You will notice that as you put them away soaking wet in the evening that in the morning there will be a good chance that there going to be dry again.
Insoles are your standard Salomon Ortholite ones and do the job of cushioning your feet from the roughly finished sole. If you want to upgrade them I recommend going for the blue SuperFeet insoles. Those are a great option if you need a bit more than the standard Ortholite insole.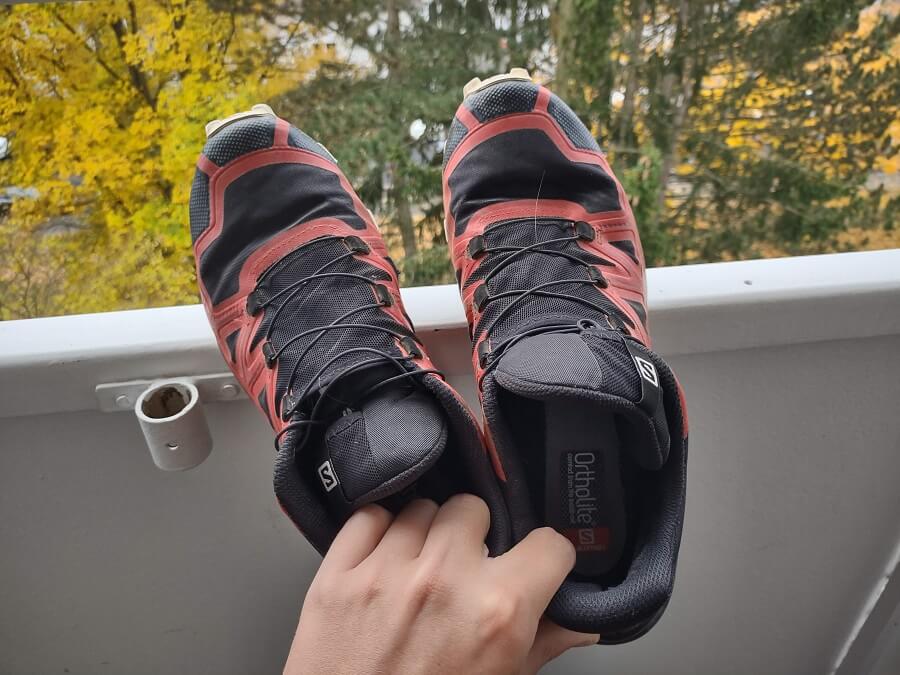 The Salomon Speedcross shoes have regular drop and cushioning to prevent your knees from taking all the impact on hard surfaces. For long distance hiking I combined them with hiking sticks, that combination of trail runners and hiking sticks is a winner in my book. After suffering no ill effects during the entire Camino Frances. An insight that I have discovered from the wear on these is that I mainly walk on the right foot and the front part.
Weight is of course lighter than your standard hiking boots, coming in at 320 grams depending on size. Combine them with flip flops or sandals and you have a nice and light combination for on-trail. You really don't need anything else on the Camino in my opinion. Or other hikes for that matter.
One of the more practical and interesting things about the Salomon Speedcross and Salomon, in general, is that they often use the QuickLace system instead of standard laces. This makes for a great way to quickly lace your hiking shoes and will make it so that you are always the first to be ready to leave. At least it was for me. Some might think that the system impedes your ability to tighten your shoes in different places or that they will break faster. In my use across several Salomon shoes, this has not been my experience. And never once had the urge to change them out for regular shoelaces.
Grip on trail and in cities
The Salomon Speedcross shoes are often noticed because of their heavy thread on the outer soles. Looking like football shoes, the thread on these is designed to sink into grass, forest floors, mud and other looser soil to make sure you still have some grip. This is the case in my opinion, but also directly translates into being slippery on older city streets and sometimes wet asphalt or smoother stone. Simply because you have less smaller thread on the insole that is designed for that. This makes it so that you sometimes have to pay a bit more attention in wet and stony days, and something I noticed directly in Saint-Jean-Pied-De-Port. With its cobblestone streets.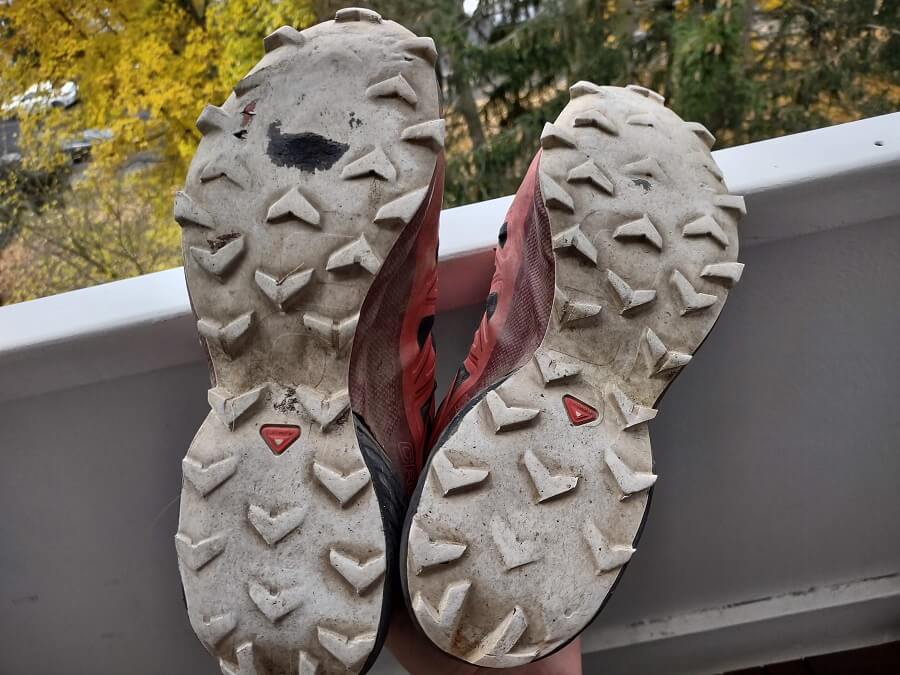 Once your on the hiking trails and modern asphalt roads you have little to worry about. The grip you need is there.
Such aggressive threading on hiking shoes does have a downside, and that is that it wears away more quickly. After +/- 800 kilometers on the Camino Frances, they are more than done. And not suited anymore for more hiking trips. Some people may think that hiking boots would last more than that, the reality is however that after one season of one big hike. All lighter weight boots and shoes are done. Even tough and heavy boots will wear down the sole pretty quickly. The only advantage with those is that you can replace the outer sole from them. If you try to have your Salomons resoled they will laugh you out of the shop. For the same price as a resole, you can pretty much get new ones.
Comfort on trail
I have no major complaints about the Salomon Speedcross 5, as a hiking boot for long distance hiking they served me above my expectations and are a worthy choice in my book. They give you a bit of cushion during road walking, grip on hiking trails and are light on your feet. Combine them with hiking sticks/poles and they give you the support and comfort that you need. With only one blister during the entire Camino Frances, and that was due to not putting on my sock correctly, they are going to be my boots for my next hike as well.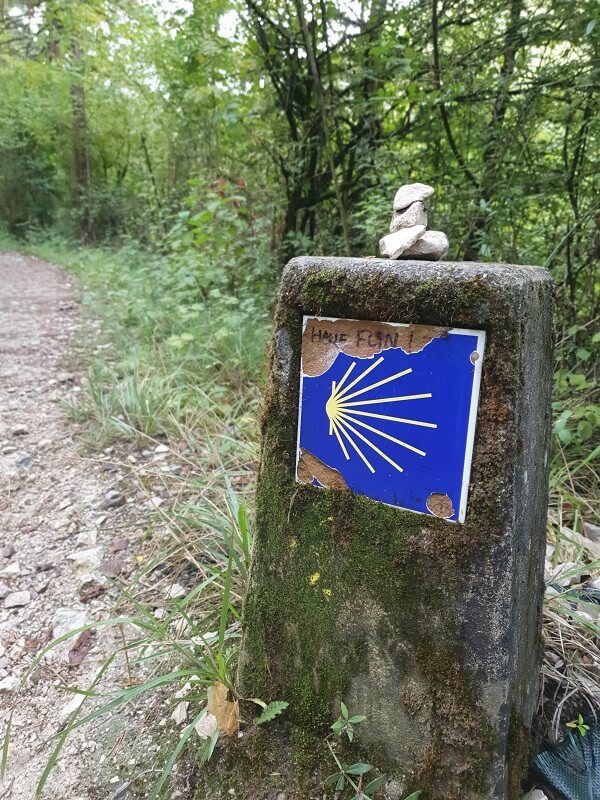 The price of them is also more than reasonable, and will hover around the 120 euro mark. Check for the latest price on Amazon.
I hope that this article proved useful and or was entertaining to read. If you have any further questions for me you can leave a comment down below. Or shoot me a message on Instagram or any platform you like (and I'm on of course).
Happy hiking and Hike for Purpose!