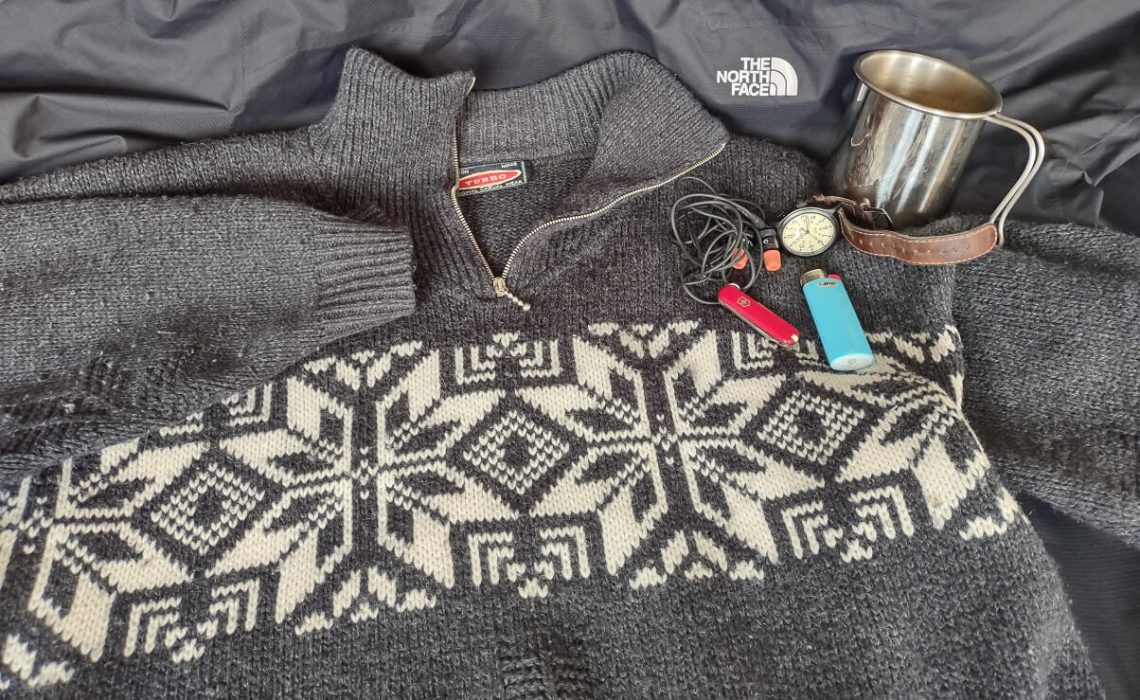 There are many options for an insulation layer that will keep the cold out during hiking trips. Down jackets, fleece vests, and of course fancy Merino wool sweaters. In this article, I shed some light on the wool sweaters that are an old standby. And compare them to the newer Merino wool sweaters.
Quick jump guide
Old fashioned wool sweaters
One of my favorite sweater types to wear is wool sweaters, they can be an excellent option for everybody that is looking for an insulation layer that is hard wearing and regulates your body temperature, even when wet.
Throughout history Wool was the best material for this purpose, from old-fashioned Wool tunics worn by Roman legionnaires to the hikers of the last century. Wool sweaters are extremely comfortable, regulate your body's temperature like nothing else, and can take a beating.
That is why I think that they should still be an option to think about taking with you on hiking trips. So much modern tech gear nowadays that will not always last more than a couple of outings. Get a spark from a campfire on your down hoodie and see the Ultralight material melt away before your eyes. Land a spark on your wool sweater, and simply brush it off without any issue.
Very affordable when bought second hand
One of the biggest upsides for the older fashioned Wool Sweaters is that you can get them very cheaply. Not so much when bought new, but Wool sweaters are one of those gems in thrift shops and second-hand. I personally have quite the collection of wool sweaters from my grandfather and picked up from thrift shops and other friends and family. From crazy colors to decorated with Christmas motives. To the old-fashioned fisherman's sweaters.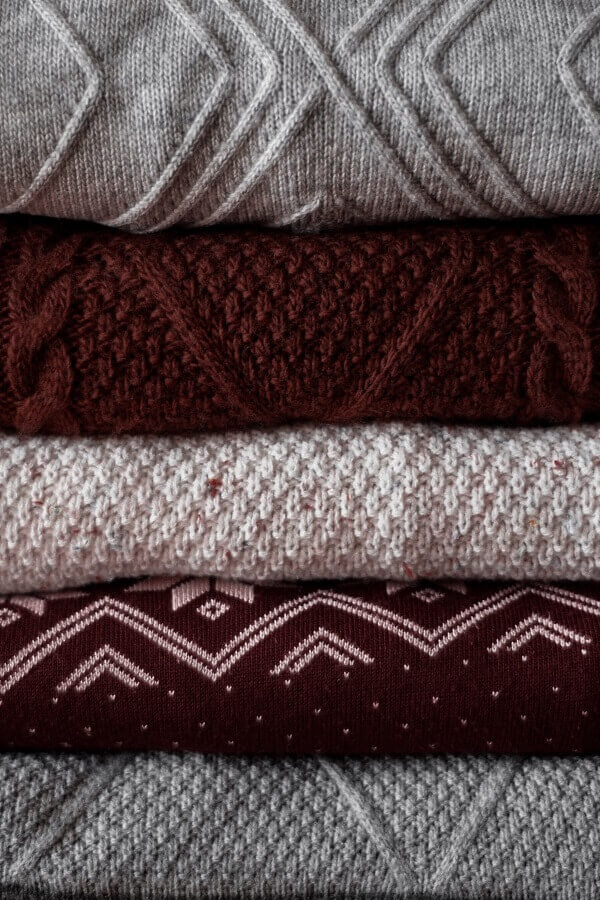 Take a look around thrift shops and ask around if somebody still has them kicking around their closet. Never to be worn. It could be your favorite new wool sweater to take with you on hiking trips. For a few euros, you can pick up most wool sweaters from thrift shops in my area. I took a look in one of those fancier thrift shops meant for recycling clothes here in Nuremberg Germany. And was quite shocked at the prices there, so be careful to avoid those ones where you pay in my opinion too much for that kind of stuff.
Spark resistant unlike other newer materials
Wool sweaters are also spark-resistant and better at that than most other outdoor clothing material. Outside of Fjällrävens G1000 fabric. With fleece vests and down jackets, you will have to be careful around fires, lighting your stove, and other sources of heat.
With the tiniest spark, you create a hole in them, that can prove extra problematic when dealing with down jackets. Where the down inside can spill out through the hole quite easily. Duct tape is your best friend there. Wool has a permanent place around many campfires, and whenever my friends and I have a campfire night, out come the wool sweaters.
Downside, most of the time heavier than other options
The reason why down jackets are the most popular with hikers today is that they are lighter weight, and easier to compact than other options. With a small size format, you can have a very good insulator. Wool sweaters will not be as compact in your backpack as a down insulator jacket. However, weight-wise it very much depends on the type of wool sweater you can get your hands on. My go-to wool hiking sweater comes in at 740 grams. About the same weight as my summer sleeping bag from Aegismax.
When going for a wool sweater for hiking I would highly recommend a nice stuff sack for it. You can compress them down quite a bit, which will help a great deal with cutting down the space it requires in your backpack.
Compare that to a Patagonia down hoodie that weighs in at 430 grams and you are trading in some weight for it. I have also seen down puffer jackets weighing in at around 300 grams. Comes down to roughly double the weight for an old-fashioned Wool sweater for hiking trips.
Merino Wool Sweaters
Another option for when you want to go with a wool sweater option is to go with a Merino Wool sweater. These are a major upside for people that cannot handle the itchiness of a traditional woolen sweater. With its finer thread, the scratchiness is minimized. Merino wool sweaters are usually also slightly lighter weight than their traditional woolen counterparts.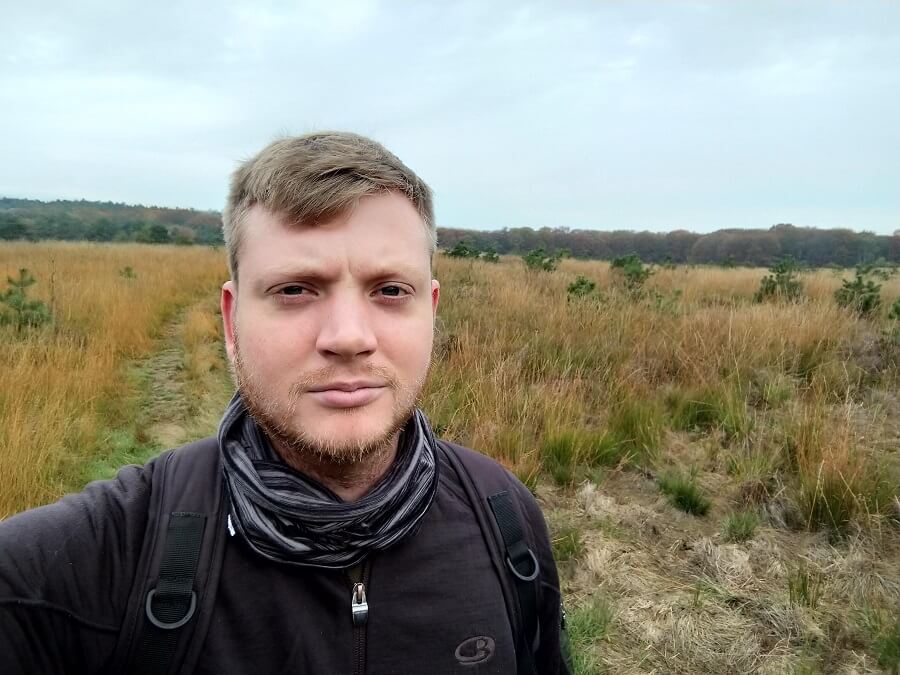 They have all the same qualities as normal wool sweaters, so better insulators while wet, and odor resistant. However, because their finer thread is also not as long-lasting as traditional woolen sweaters. I have personally owned quite a bit of merino wool shirts and thicker sweaters. The shirts are only good for about two seasons of hiking before wearing out. Merino wool sweaters will last a few years before wearing out and developing holes in them.
Merino wool sweaters are also very expensive, the sweater that I'm wearing in the above picture is normally around 180 euro. Compared to a second-hand wool sweater for a few euros, and the price point of wool sweaters is unbeatable.
Conclusion on woolen sweaters for hiking
So if you're looking for an affordable insulation layer when shopping around, keep the old trusty woolen sweater in mind. Try them out at least once on a hiking trip, and be amazed at how well they work. Since most of them are not windproof whatsoever, they are best paired with either your hardshell jacket or a wind jacket on top. Combining it with a rain jacket is always my go-to for colder weather.
What is your opinion on wool sweaters on hiking trips? Would love to hear your thoughts on it. Leave a comment!
Happy hiking and hike for purpose!