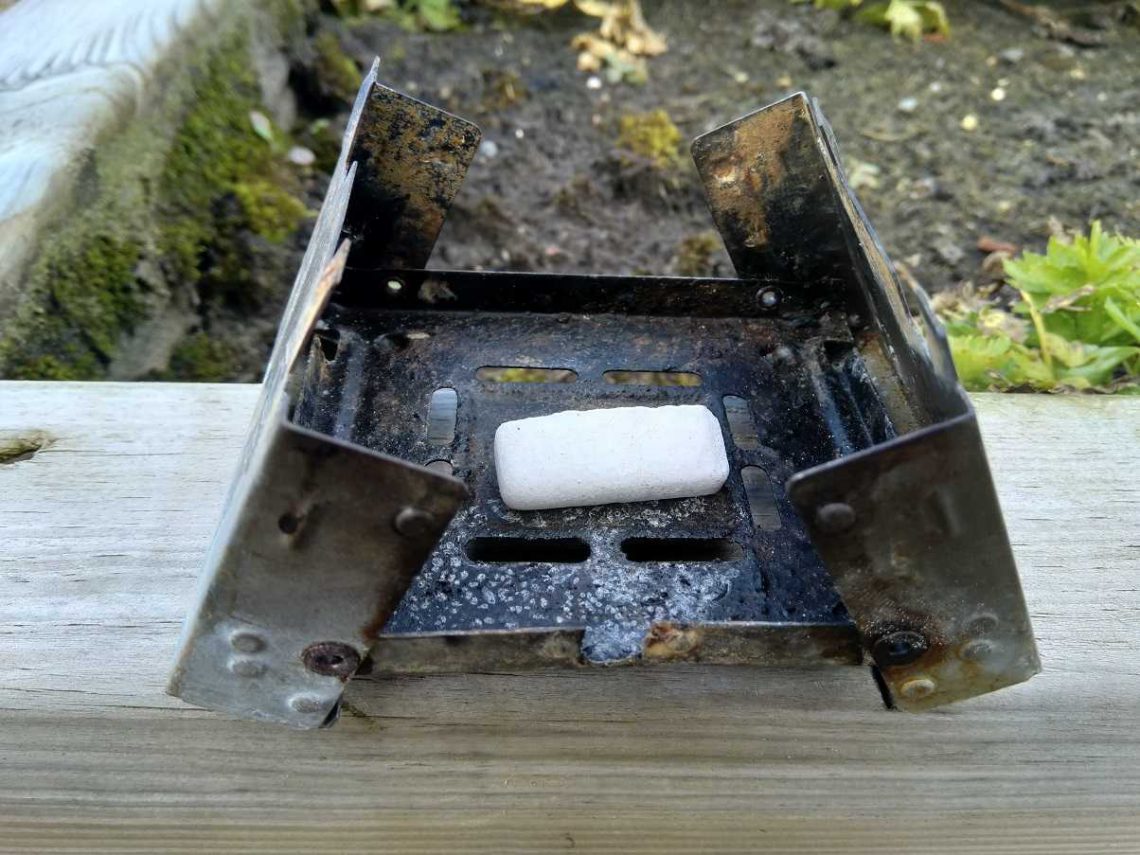 Esbit is a common first stove for many boyscouts, hikers and backpackers. Lets take a look at all the Esbit stove features and what makes them a blast to use!
Esbit or stoves of its nature are a common sight along many hiking trails, not only are they very affordable, but also no fuss and easy to operate. Fold it out, put a tab in and light it. And finally set your pot on. That is about as complicated as it gets.
Quick jump guide
As you can see from my Esbit stove I have used and abused it beyond the normal call of duty. I can say with confidence that they are bulletproof.
Affiliate links are mentioned in this article, at no added cost you can order your very own Esbit stove while supporting what we do here!
The Esbit Pocket stove Features and specifications
| | |
| --- | --- |
| Weight | 170 grams or 6.3 ounces (including 6 fuel tabs) |
| Dimensions | 3.9 inches x 3 inches x 0.9 inches (9.8 x 7.7 x 2.3 cm) |
| Material | Galvanized steel |
| Country | Germany |
| Cook time | Around 10 minutes |
| Price | Check on Amazon for the latest price |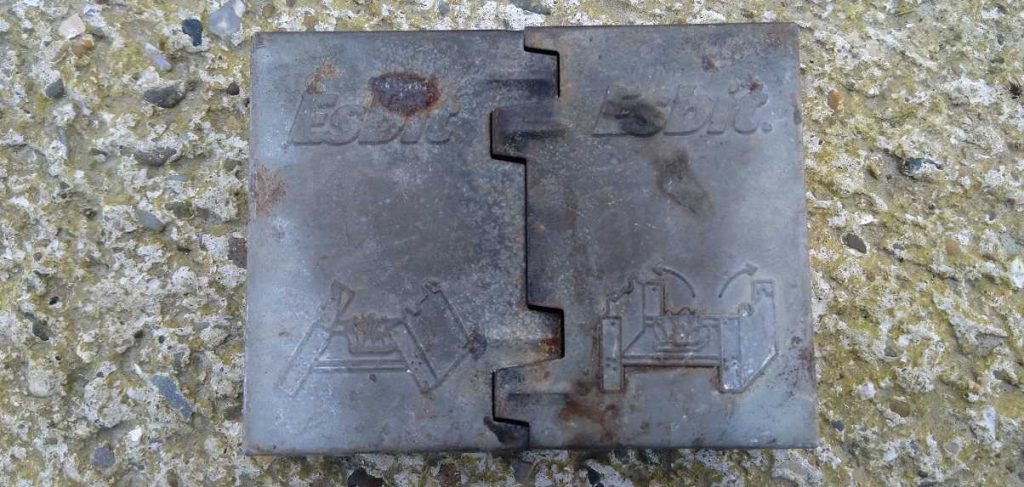 Different kinds of Esbit stoves
Not standing still with just the one kind of pocket stove, Esbit has quite the extensive lineup nowadays. I personally own and have used many times the most popular Esbit Pocket Stove. And the Esbit multi-fuel cook kit. The Esbit pocket stove I consider to be also a multi fuel solution. More on that later.
The primary three Esbit stoves that are on the market are:
The Esbit multi fuel cook kit
The Esbit pocket stove
The Ultralight / Emergency Esbit stove
All these stoves serve different purposes and you can't really go wrong with any one of them. With the Multi Fuel cook kit you get a whole set that delivers nearly everything that you will need for outdoor cooking. And the Esbit pocket stove delivers everything you can need for day hiking and emergency use.
The major upside to Esbit stoves is that you can toss an Esbit Pocket stove into a day hike backpack, a bug out kit, or your regular multi-day hiking backpack. Since they are so affordable and the Fuel lasts forever when properly stored they make an excellent option for those kinds of use.
Ways to modify an Esbit stove for multi fuel use
The real benefit of Esbit stoves is that they can be adapted to work with many different kinds of fuel or burners. A real simple and easy way to burn alcohol in Esbit stoves for example is to pack a Tealight stove with you in your cook kit. Pour alcohol into the tealight cup, light it up and work as normal with your Esbit stove.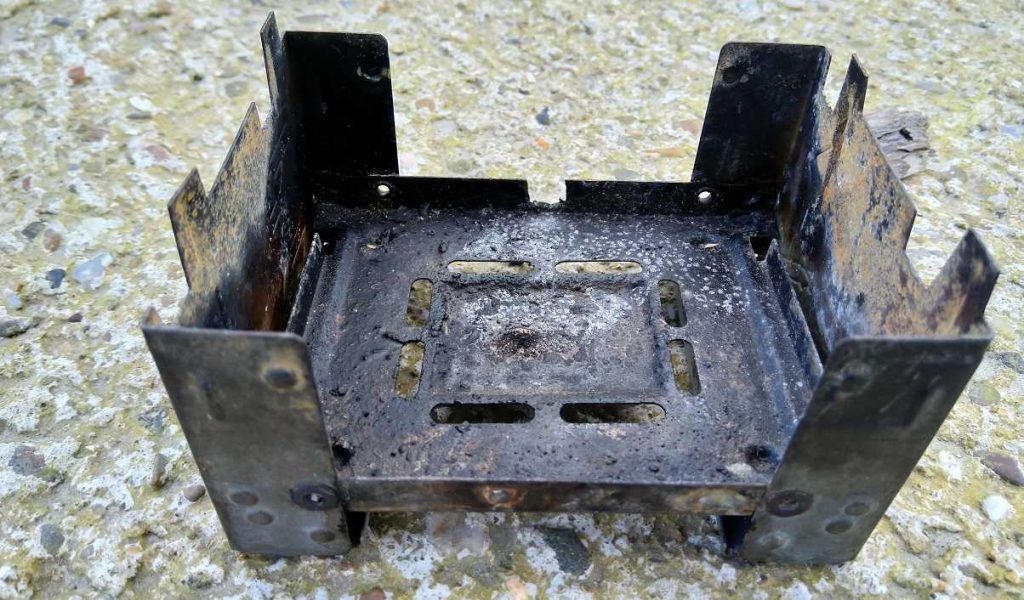 I have a Choke Hazard stove from Minibulldesigns that I often use in combination with the Esbit Pocket stove. Although that stove is a lot of messing about to use. I recommend the tea light option if you want to try it out with alcohol. You can see a small cutout that I made with a hacksaw to accommodate the fuel line of the Choke Hazard.
Another option is to use a combination of cardboard or paper with paraffin wax or common candle wax. This will cause a burn residue on your pots, but can be used in a pinch as a DIY fuel option. Circle the cardboard in a tealight or similar metal container and pour the wax over it. Then simply light it to have it underneath your Esbit pocket stove.
Different types of solid fuels for Esbit stoves
There are many different stove fuels for the Esbit line of stoves, from the different solid fuel gels, tablets, or hexamine/trioxane bars. To wax and alcohol. Here are some options for you.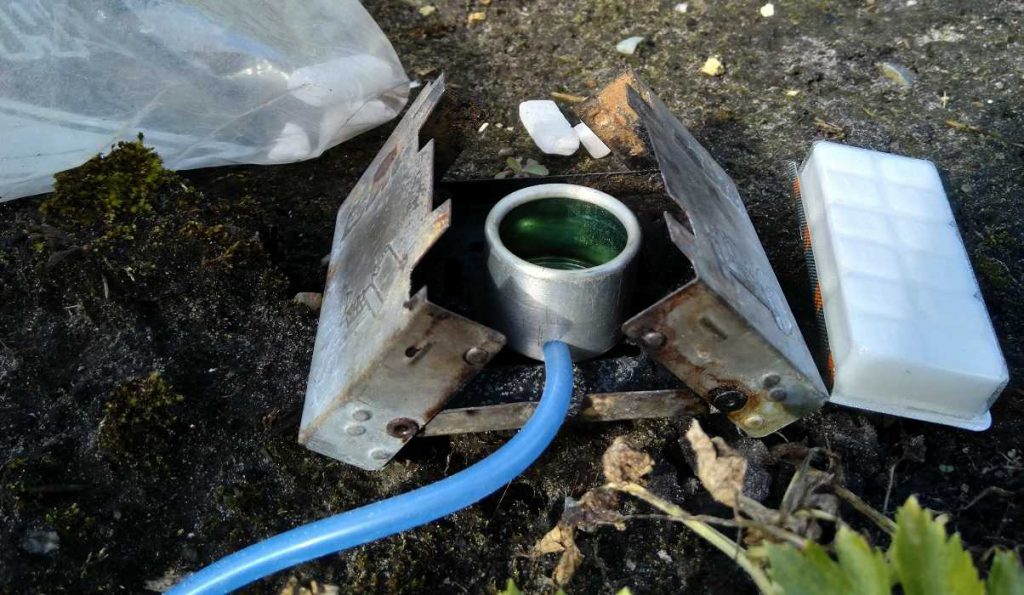 Esbit alcohol stove fuel
The Alcohol stove fuel that you can put into the Esbit Alcohol stoves or tealight modification is endless. As covered before in earlier articles the list can look something like this:
Spiritus fuel
Denatured Alcohol
Methanol
HEET brake line antifreeze (Yellow Bottle)
High proof grain alcohol
Rubbing alcohol
The list doesn't end there however and can be expanded to your available alcohol fuel in your area. The ones mentioned are available pretty much worldwide. If you want to learn more about alcohol stoves you can do so in my separate article.
Availability for Solid Fuel for the Esbit stoves
Now we come to the major downside of Esbit stoves, their solid fuel can be difficult to find in most areas. That negative can be avoided with some planning and adoption of different fuels.
The standard Esbit Fuel tabs come in two different forms. In Europe, I often find the smaller Esbit Fuel tablets that come in a box of 20. And in the states, I encountered mostly the bigger tablets that come in a box of 6. The smaller ones burn for about 7 to 10 minutes and the bigger tablets last anywhere from 10 to 15 minutes. The best place to get them is online on Amazon.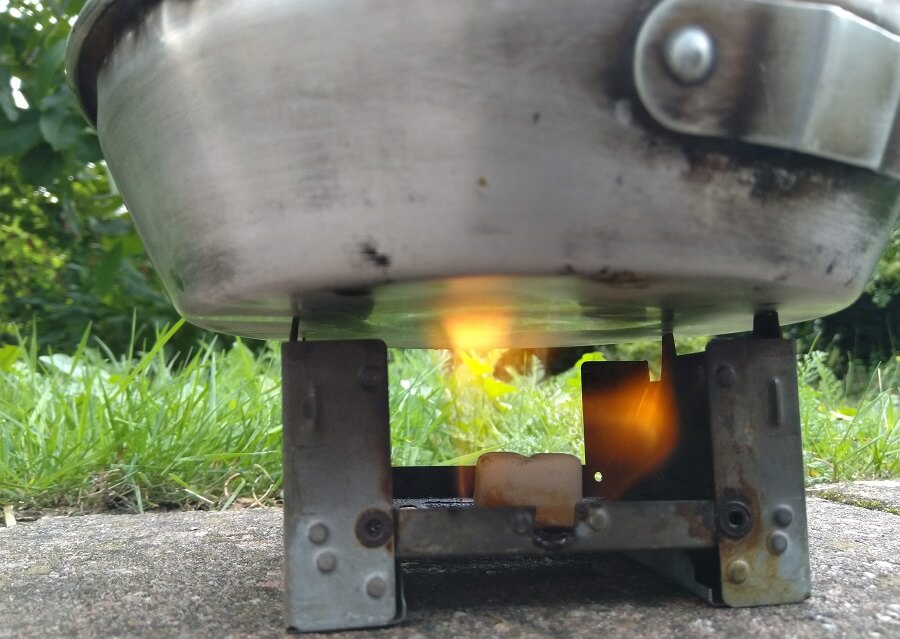 How long they last depend on a couple of different factors like the wind. And is most of the time enough to boil 250 milliliters of water or make bigger batches of water come to a simmer.
Pretty much what you need for the cooking needs of hiking.
Military heritage of Esbit stoves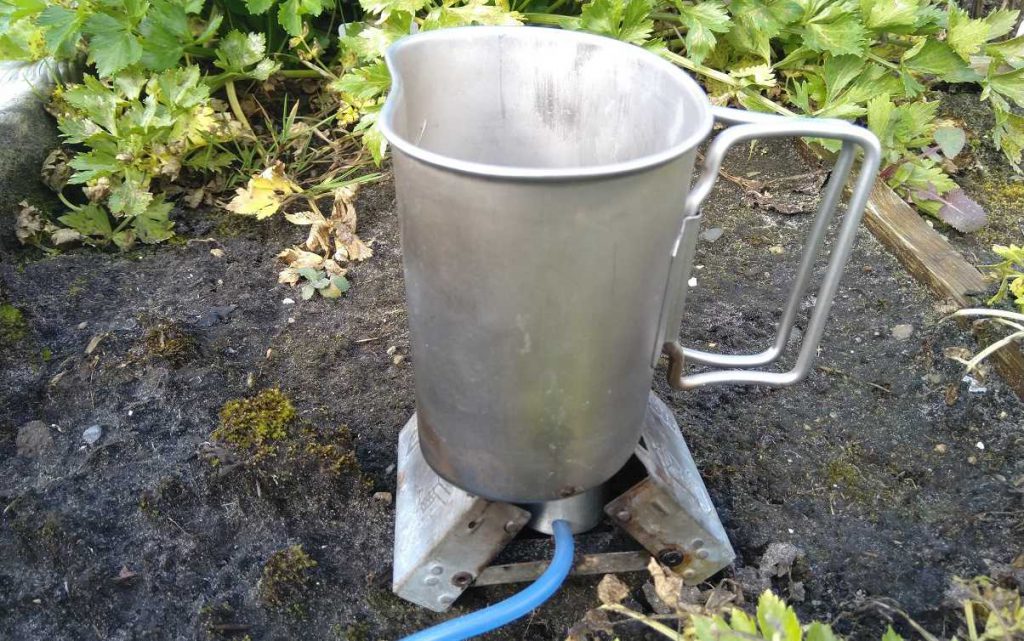 Esbit as a company launched its first Esbit Pocket stove in 1936 in Hamburg Germany. And their products have been used ever since by hikers and backpackers. Several militaries around the world also use them to heat up soldiers' rations. Although that has fallen out of favor with the chemical heating bags that only require a bit of water to heat up food without a flame. Still, the Military Heritage of Esbit stoves or copies is well known.
And if you are into reenactment from the World War 2 period then maybe this can mean a nice addition to your collection.
Conclusion on the Esbit Pocket stove, and their Multi fuel stoves.
Esbit stoves are great as an emergency backup and smaller hikes. For longer hikes or more cooking requirements, I would advise against choosing an Esbit stove as your primary stove. Your better off with a Gas cartridge stove or a white gas stove for more use than just heating up water.
Their alcohol stove cook kits can be used for more longer hikes, since the alcohol fuel is much easier to get along the way. When hiking trails like a Camino then chucking a Esbit pocket stove with a small pot for incidentals can be a good idea. Without the risks of leaks or breaking. So in my opinion is their primary use. Feel free to disagree.
I hope you enjoyed this article, happy hiking and hike for purpose!