Different kinds of shoes and boots for Hiking
There has been a change in the hiking industrie concerning boots. It used to be until very recently that you went for the big heavy boots like the Meindl Borneo boots for hiking. I started out with them when I first got into backpacking and hiking. Sinds then I have moved away from the heavier pieces of gear and lightened my backpacking load from 15 kilograms to 8 kilo's.
This change in my loadout also makes that I don't really need the big boots anymore. When your loadout is lighter then the heavy shoes don't make sense anymore. But there is still a use for them.
I concentrate on long distance Hiking in this blog post.
Like a lot of items and gear in hiking there are different schools of thought, and what it comes down to is often personal preference. But the core concept is the same. When going on a hike in the mountains or hilly terrain without a nice hiking trail, then it makes perfect sense to get the heavier boots.
When you are going on well established trails like the ones in America along the Appalachian trail, Continental divide trail or pacific crest trail. Along Hadrian's wall path in England or the Camino from Portugal to Santiago. These trails are very well established and taking heavy boots there is not something you want to be doing generally speaking.
Class B and above Hiking boots
Class B and above hiking boots are the heavy options that you can choose. If you have a condition in your ankle or just need the extra support than you will often land on one of these shoes. Like I wrote earlier I started out with the Meindl Borneo hiking boots. These are the ones that are hugely popular in my area where I grew up. This is because Meindl is a popular brand in the Forest industry in the Netherlands.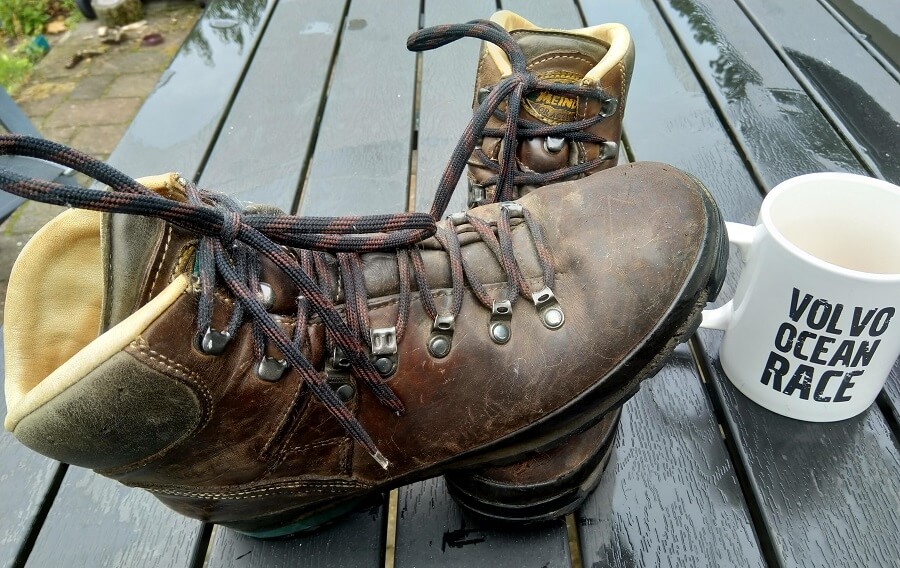 When I started working for a popular outdoor store in the Netherlands I got these boots. For a few years they where excellent to use on my hiking and camping trips to Scotland and Sweden. But as I was moving away from my first heavy tent and realized I did not use 80% of the gear in my backpack things needed to change. That included my boots.
Class A and AB Hiking boots
Class A consists mostly of low hiking shoes and are popular for low terrain without much rough terrain. These boots are not like the Ultralight hiking shoes that I'm going to cover in the next paragraph. They tend to still be on the heavier side and from established brands like Lowa, Hanwag and Meindl.
Waterproof or Water resistant
Class AB is a very popular class for most purposes and goals, this is because the AB categorie of boots are very multipurpose and are at home on flat terrain and in the hills. You can get them most often with GoreTex material, which makes them water resistant. Note I did not say watertight because in my opinion no shoes are 100% waterproof. With GoreTex and Gaiters or Gamaschen you can get pretty close though.
My preference is to not go with GoreTex or similar, simple reason is because I have sweaty feet. With GoreTex my feet get way to hot and I get blisters.
For hiking socks and the different options you have for that, you can check out my post about it.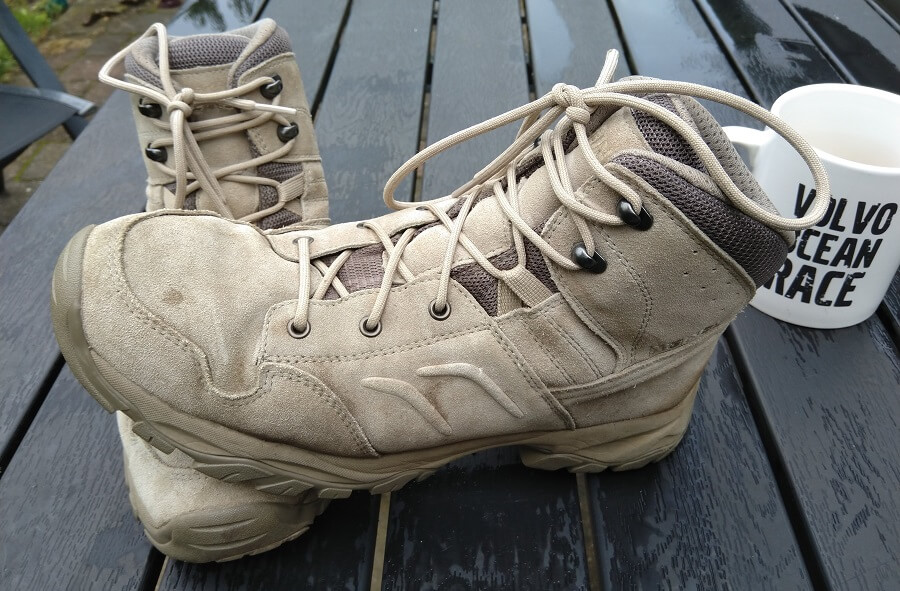 Ultralight Hiking shoes
Ultralight Hiking shoes are the rising star in Hiking, you see a lot of the different names wearing them on the great trails. These shoes are in my opinion only suited for when all your other gear is also ultralight. What that means is that you will be one of those guys and girls that cuts off their tooth brush and cuts all of the tags from their clothing.
I am not at that point yet so these are the only shoes that I can not speak from my own experience from. I have tried my Salomon shoes for a bit. But with my backpack and loadout of 8 KG for most of my trips they do not offer the support I need. Plus I simply am not comfortable with low shoes enough to trust them completely.
If you do walk with low shoes in everyday life constantly and went on a fair bit of day hikes with Ultralight low shoes then you can have a different opinion on this subject. But different tastes and all that.
Sandals
Sandals you see a few times on the different Camino's in Spain and Portugal. Considering the heat in summer and the very well established trails you can get away with Sandals. Popular brands here are Teva's and Keen. Sandals where enough for the Roman army on Hadrian's wall.
In my previous hikes I have always taken the Teva Mush flip flops. I have used them on a few occasions for day hiking but its not for me. They really shine for walking around camp or hostels along the Camino and I would not go without them.
My go to hiking boots, for now
For me my go to's are the Meindl Sahara boots, these are a Class A categorie shoe but still halve height to just above my ankle. These for me combine the versatility with a lightweight shoe and the added support of a heavier shoe.
If you would like to read more about the Meindl Sahara boots i suggest you check out my separate article for them.