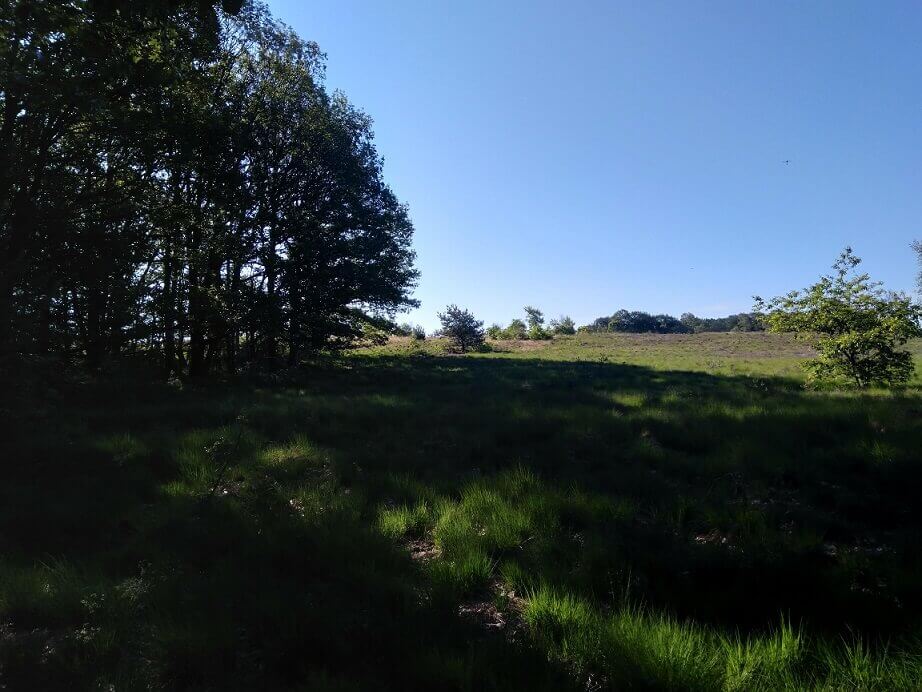 Pole camp grounds in the Netherlands
Wildcamping in the Netherlands is not allowed, but there is a way to legally camp in nature areas at the Pole Camp grounds in the Netherlands. Here is how.
Update 2020 with COVID:
It is with mixed feelings that I write this update about pole camping in the Netherlands. With the whole COVID business, the Pole campsites were closed until further notice. However, they have decided to dismantle all the Pole Campsites in the Netherlands. Due to campers not behaving accordingly and leaving trash etc. So this too has been ruined by irresponsible people and hikers. Pick up trash and beware of rules. That's all.

Setting up your tent and sleeping anywhere you want comes with great freedom. On popular hikes around the USA, Scandinavia, Iceland and Scotland you can do this within certain rules. But since the Netherlands is such a tiny country with a lot of people living in it, this can be unwise.
Staatsbosbeheer, the Dutch forestry management institution. Has started to recognize that there is still a need for certain people to get away from the crowded campsites that litter the Netherlands.
Pole Camp grounds versus regular campsites
Pole campsites are something that gives you the opportunity to experience a night out under the stars without the neighbors in the caravan next to you. If camping on Dutch camp sites that are larger and more visited when hiking and backpacking your the sight of the campsite. Everybody asks questions about what your doing and watches your every move.
But maybe that's just me and the experiences I had. When camping at a Pole campsite in the Netherlands your surrounded by like minded people that are doing the same thing. Being outdoors without all the luxuries that a campground has.
What does a Pole camp ground have for facilities?
When staying at a regular campsite in the Netherlands you have pretty much the same facilities as at home. Showers and toilets, washer and dryer and much more. At a Pole camp ground there is none of that luxury. Most of the times you have to pack in your own water and food and pack out what you pack in.
But that what sets the Pole campgrounds apart from regular camp sites. And there is a greatness to go back to basics and having to dig a hole in the ground for a number 2.
Where to find the Pole campgrounds?
Getting to the Pole campgrounds is most often limited to foot or bike, otherwise people with cars and trailers would be coming over. For all the locations and latest news about the different Pole campgrounds I would suggest going to the source.
"Logeren bij de boswachter", or Sleepover at the forest ranger.
This link takes you to the official website for the nature campsites in the Netherlands. I have found another source for you that you can use, but this was last updated in 2013. So this may be out of date. Credit goes to the blog post over on Rawsleepout.
The rules of the Pole campgrounds
To make sure that the Pole campgrounds stay in existence we need to take certain measures. Always live up to the following rules:
Never leave any garbage behind
Never stay more than 72 hours at a single Pole campsite.
Leave any other campers be.
No loud music
No large group camping
No barbecuing or parties
No open fires (most campsites)
It would be a shame if Pole camping gets shut down by Staatsbosbeheer. When you see other campers causing a fuss or not following any of the rules act on it by warning them.
Wildcamping in Belgium
Belgium also has the possibility to stay in the forest with minimal resources. With just a short hop over the border from the Netherlands you can stay in over 60 campsites in Flanders to bivouac. These campsites have about the same rules as in the Netherlands except you can only stay there for 1 night.
So clean up after yourself and beware of other hikers and bikers that share the sites.
If you are looking for the exact campsites and sites that take part in the bivouac program you can find these on the following site.
Pole camping a great experience!
So with a little less freedom than in other countries you can still get out and have a night under the stars in the Netherlands and Belgium. I hope you enjoy the campsites and pay respect to them.
Happy hiking and hike for purpose!