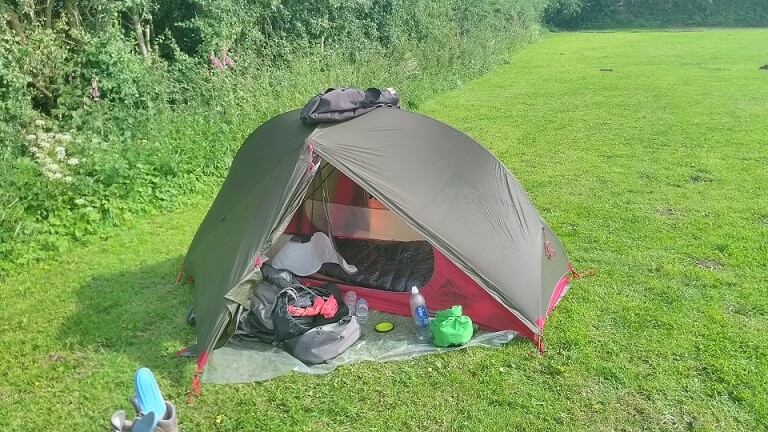 Tarp under your tent for hiking, makes sense!
Putting a tarp under your tent is needed for several reasons, most of all it is to make your tent bottom last longer and cleaner. Should you bring one? Yes! Here is why.
it does not matter if you are camping on a camp site or stuck out in the middle of the woods. A tarp or tarpaulin underneath your tent makes sense in any situation. You have several different options to choose from when looking for one. In this article I will share my different favorite ways and how to make one yourself on the cheap!
Added protection from sharp stones and abrasion
This is the main reason that you should put a tarp as a ground sheet underneath your tent. Making your 500 dollar tent last longer. Sure you can say that a 500 dollar tent should be able to take it. But the truth is that UltraLight materials are not the best in durability. If you want a material that you can hand down to your grand kids get a waxed canvas tent or tarp. But be prepared for extra weight.
A minor upgrade like a tarp underneath your tent makes sure you get an extra layer between you and the hard ground that can be covered with any sort of sharp stuff. Does that mean you can set up your tent on a sharp rock face without issue?
No, always make sure your tent is set up on a cleared ground. Before setting up for the night make sure your tent site is as clean of sharp objects as possible. On campsites this is often forgotten tent stakes or trash that is left over from more careless campers.
Making your tent last longer
After spending quite a bit of money on a tent I suspect you want to make it last a long time. A tarp under your tent prevents a lot of wear and tear on the bottom of the tent. Arguably the most abrasion prone spot on a tent.
The different materials like farmers plastic, Tyvek or Ribstop Nylon make sure that you have a layer between the tent and the ground that you are setting up your tent on. Thus making sure that the material on the bottom of your tent stays in better shape and keeps dryer than without.
Keeping the rest of your gear dry and clean with a tarp
When your tent is not that big or you want to take your shoes off outside of the inner tent than a tarp underneath your tent makes perfect sense. In my tent the MSR Hubba NX I have a vestibule that holds my backpack and everything else in it since it is a one person tent. When you take a look at the cover photo for this article you can see that I am doing just that while hiking on the Hadrian's wall path.
Other uses for a tarp or ground sheet are endless, you can use a piece of dry and waterproof material to protect an item briefly from the rain. Use it above you to shelter without putting up your entire tent. As a picknick blanket. The possibilities are endless if you think about it in a creative way!
Different materials for the ground sheet or tarp
Different tent groundsheets or tarps come in a variety of different materials and are often priced to that extent. Every material has its down and upsides. Lets go over those down in the following paragraphs.
Farmers plastic
Farmers plastic you can get from any hardware store, outdoor store or farmer. This is industrial grade plastic that can withstand quite a bit of abuse. For around 5 to 10 dollars you have got yourself more than you need for any 1, 2 or three person tent without any issue.
This material lasts me a good few seasons without needing replacing. And if you need to replace it is an hours work and at minimal cost.
Farmers plastic is readily available outside of the United States where Tyvek rains supreme for ground sheet purposes. Therefore if you live outside of the United States Farmers plastic is often the choice for the most affordable and available material.
Silnylon or ribstop Nylon ground sheets
Silnylon is often the tent manufacturers ground sheet material and comes with a few upsides and downsides. Upside is that is very lightweight and often comes with rib stop in the material. If you get a puncture in your ground sheet it will not tear like some of the other materials but will keep the puncture in one place for easy repairing.
Downside is that it is a little more fragile than the other materials mentioned in this list and also the most expensive. Tent manufacturers often charge a premium for this add on and can cost anywhere from 40 bucks all the way to 200 dollars.
In my opinion that is too much for an item that can only serve one core purpose. Ground sheets from manufacturers often have limitations by design so you cant use them for another purpose.
Tyvek tarps
Tyvek is a little bit harder to get a hold off when you are not in the US. I would suggest checking online on Amazon where they have tarps of it that you can cut to length.
Other places you can check out for Tyvek is construction sites and asking the builders there for it. (Will help if you are a girl instead of a male hiker) And construction stores.
Tyvek is a paper like material that is very durable and can withstand a lot of abuse when out hiking. Online I have seen entire tent setups made with the stuff and ultralight shelters. If you can get a hold of it I can highly recommend it for a groundsheet. All you need is some scissors to cut it to the desired length.
How to make your groundsheet for a tent
Making a groundsheet or tarp for under your tent is very easy to do. But does require a bit of planning. The general rule of thumb is that you cut it a bit shorter than the entire footprint of your tent.
What you do not want is to have large sections sticking out from under the side. Rain will collect on the pieces and will get in to your stuff on the inside. So set up your tent or look up the dimensions and cut a bit shorter on the inside.
For an example you can look at the cover photo or the one down below where I have laid out my groundsheet as protection for one of my sleeping pads.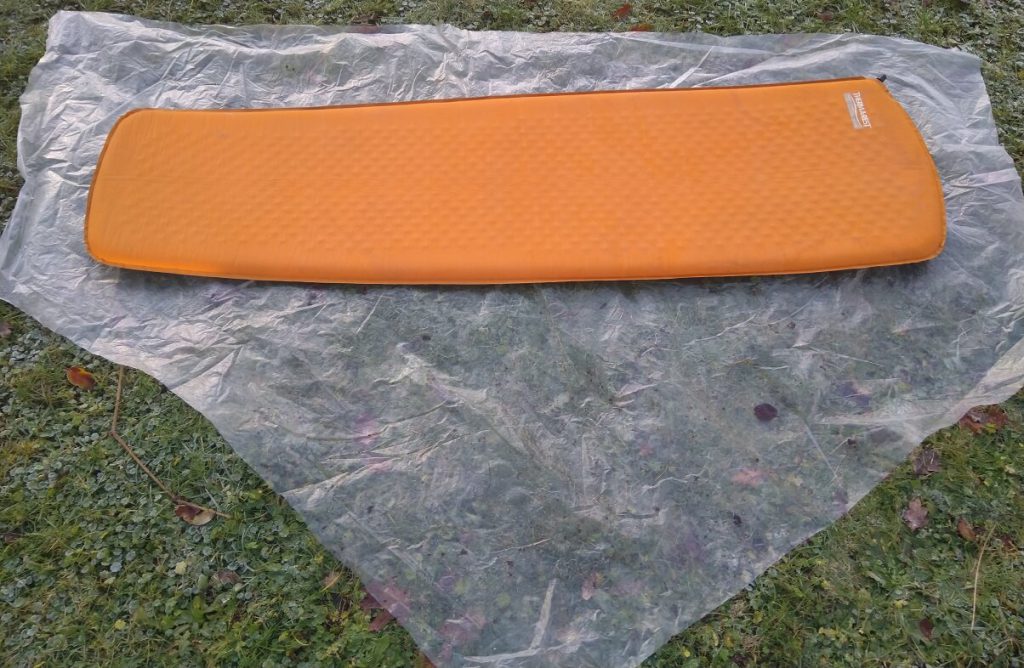 That's all for this article, do you use a groundsheet or tarp underneath your tent? Let me know down in the comments!
Happy Hiking and hike for purpose!