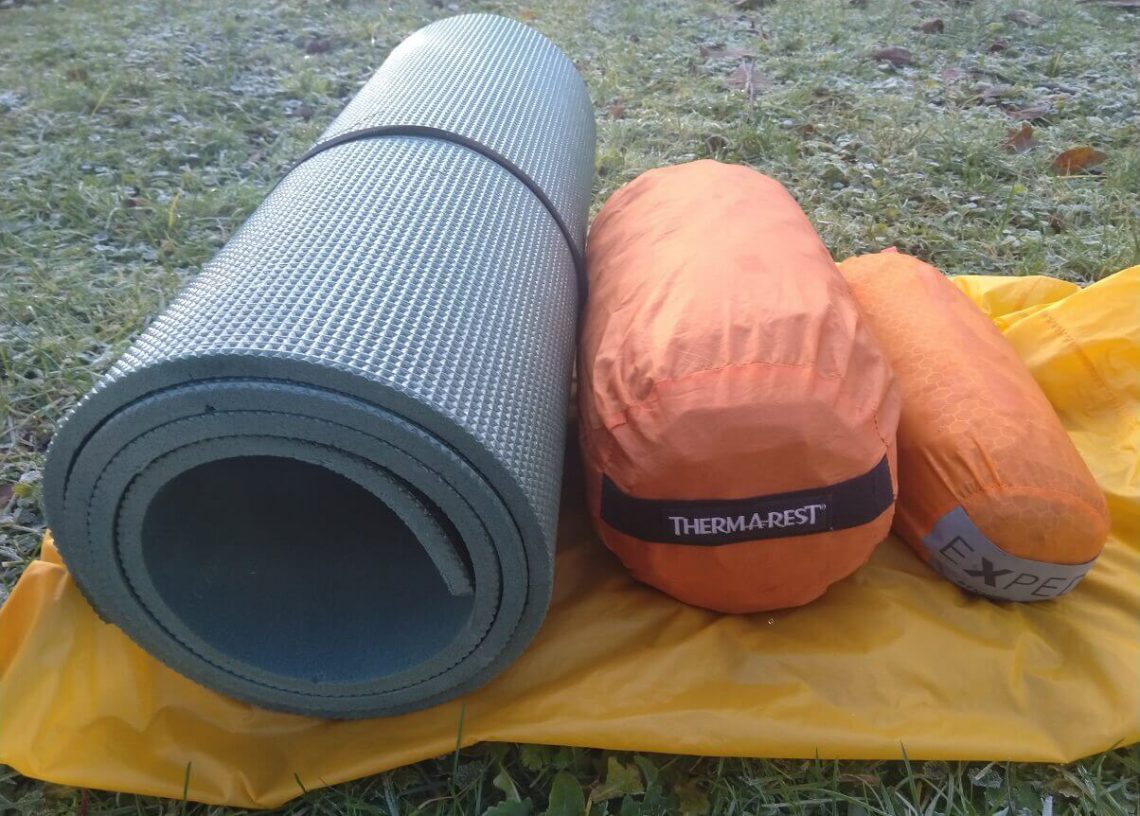 Choosing a sleeping pad for hiking
Getting a good nights sleep is very important when out hiking, a good sleeping pad is a big part of this. In this article I go over the different options out there.
Whether you are going to sleep under a tarp, a tent or in a bivy bag or hammock. A sleeping pad will make a big difference on the comfort and cold insulation from the ground or air in a hammock.
How to choose a sleeping pad for hiking
You have a bunch of different options to choose from and they can be split up in the following order:
Self inflating style sleeping pads
Self Contained inflating style sleeping pads
Blow up sleeping pads
Closed cell foam sleeping pads
Lets talk about the different sleeping pad styles one by one down below. Their differences, advantages and use cases are a big consideration when picking out your sleeping pad.
Self inflating style sleeping pads
Self inflating sleeping pads have been around for a long time now and many hikers and backpackers start out with these style of sleeping pads. With a material on the inside that expands and therefore sucks air in to itself it is one of the no fuss options.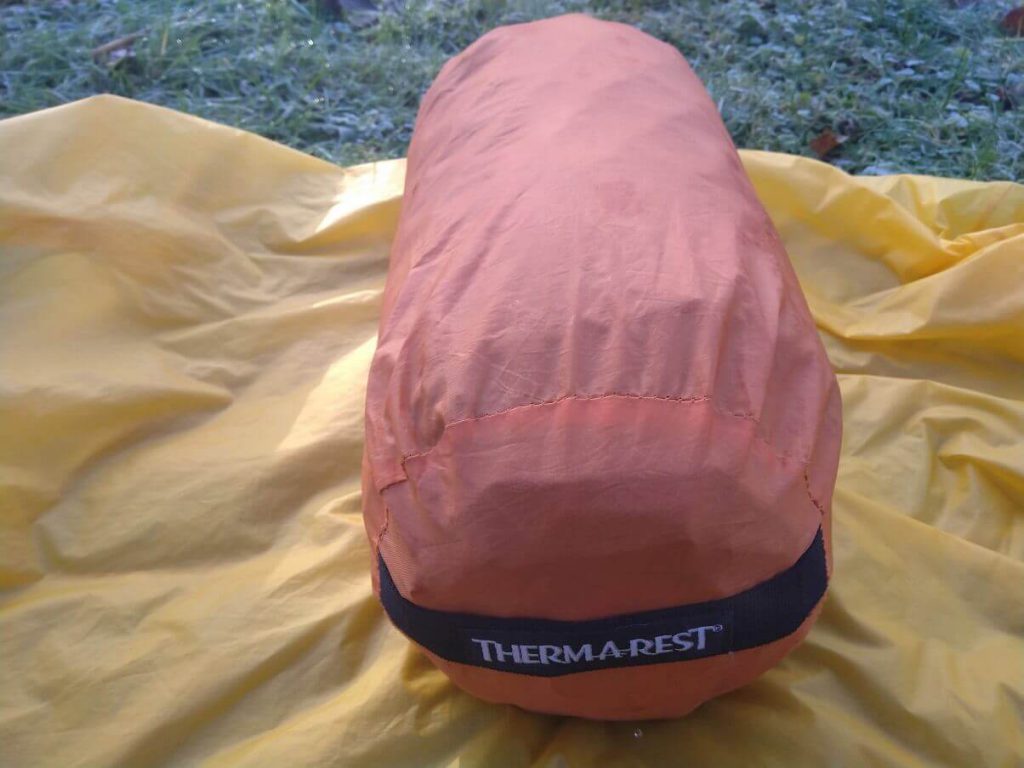 The bigger downside of self inflating style sleeping pads are that they are heavier, and because of the extra material inside are bulky when in the stuff sack. They also do not offer the best R value for the size and weight. Plus I think they are a pain to store again in their stuff sack.
Other options are way faster and easier to store away after a nights sleep. This is because the self inflating material keeps on trying to expand when you want it to be stuffed. You have to keep fiddling with the valve to get all the air out.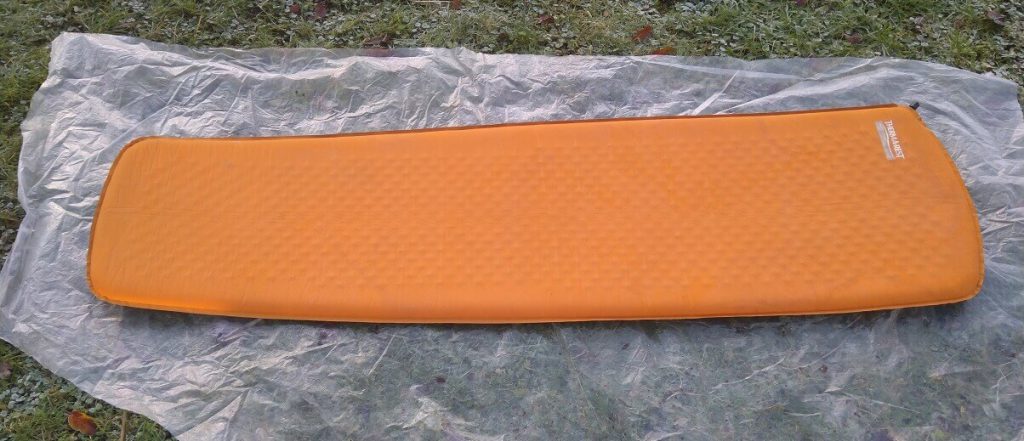 I do not think choosing a self inflating sleeping pad makes that much sense anymore since there are now better options out there for hikers and backpackers. I still have mine from Thermarest that functions without that much issue but have since bought an Exped sleeping pad.
Self inflating sleeping pads are very durable though and can withstand a lot of use. When you store them properly and not stuffed in the stuff sack they will last for years and years.
When I was still working at an outdoor store in the Netherlands we would regularly see people come in with sleeping pads over 10 years old. The Thermarest brand is the most populair in this categorie of sleeping pads.
The difference for me is night and day. More on that later.
Self Contained inflating style sleeping pads
Self contained sleeping pads have entered the market a while ago and the most populair brand that makes them is Exped. These sleeping pads are famous for their integrated pump system in the frame of the sleeping pad. A section of the mat is made from roughly the same material as a self inflating sleeping pad. Keep pumping that section to inflate the rest of the sleeping pad.
This system was and is still great to use and very simple. However it takes quite a bit of time to blow up. The upside is that you cant lose the pump or pump sack since it is integrated into the sleeping pad. They offer insulation in the form of synthetic fibers and even down on the inside of the pad. This makes for a great R value.
Integrated sleeping pads are most often in between the pack size of self inflating sleeping pads and Ultralight blow up sleeping pads.
Ultralight blow up sleeping pads
Ultralight blow up sleeping pads are my current favorite pads and not just for me but for many hikers all over the world. Populair brands that feature them are Sea to Summit, Thermarest and Exped. I choose Exped for reasons that I explain in my separate article on it if you want to read on.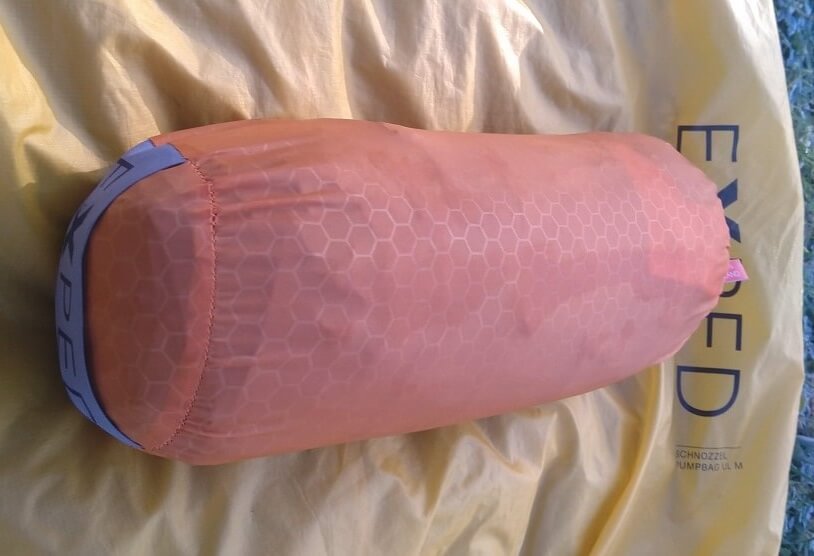 With their lightweight, high R value and most comfortable nights sleep they are an easy win over the others. Plus they are insanely easy to blow up and deflate. No muss, no fussing about. All you need is a pump bag or Schnozzle bag as Exped calls it. You wave it about a few times to get air into it and push it into the sleeping pad. Rinse and repeat until you have it pumped up and that's it.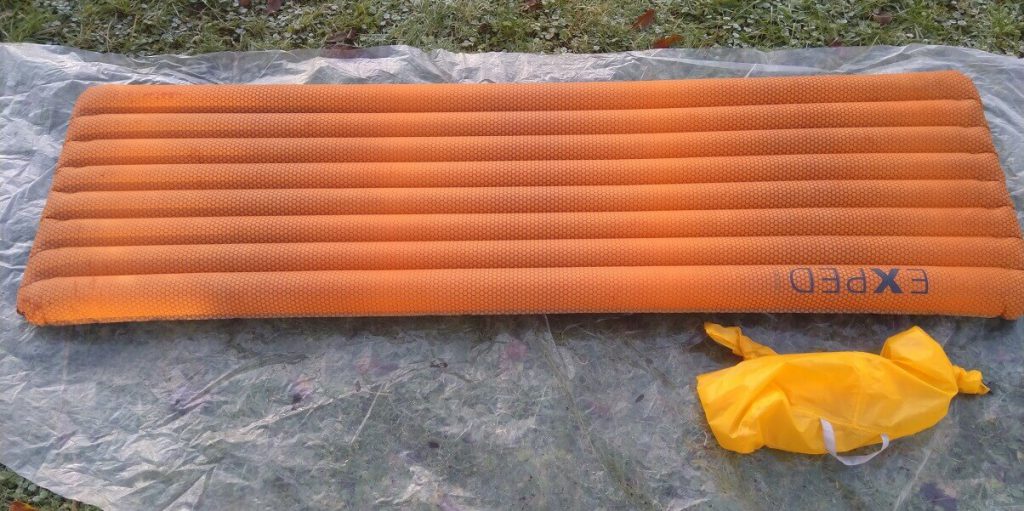 The Exped Schnozzle bag doubles as a dry bag where I keep my sleeping kit in. And if you lose or damage that bag it is always possible to blow up the mattresses with your mouth. Although I would not recommend doing this on a regular basis as the moisture in your breath may damage it in the longer run.
Blow up sleeping pads come in a couple of different options and manufacturers. I would highly recommend sticking with the three brands mentioned earlier though. Yes they are expensive to buy, but they are so worth it. With brands like that you also have a warranty and a company that you can rely on for gear.
These sleeping pads are also the thickest you can get for the the pack size. My Exped Ultralight Synmat has a very small packsize and weight for a thickness of 7 cm! I can roll or lie in every position and not touch the ground. A must for a comfortable nights sleep.
Closed cell foam sleeping pads
An old standby in the hiking and backpacking community are the closed cell foam sleeping pads. They have incredibly high R value and are some of the best insulators from the cold ground. There is a reason that explorers of colder regions tend to drift towards the closed cell foam sleeping pads.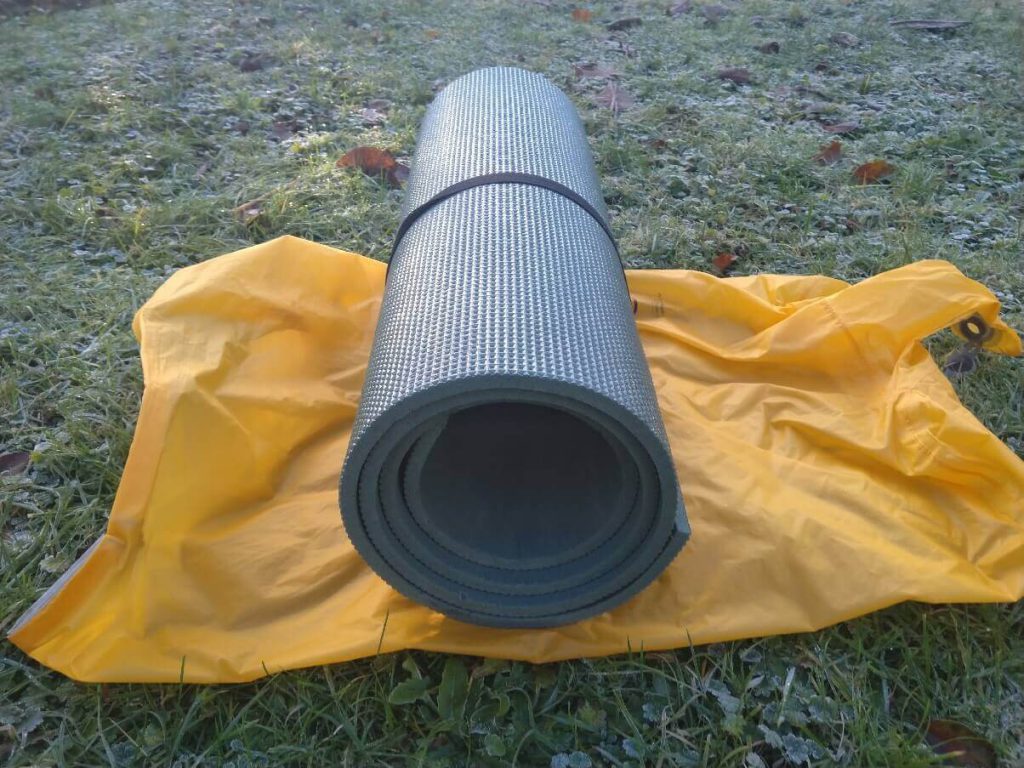 Nearly every outdoor store has their own brand of closed cell foam sleeping pads and they are readily available all over the world. Coincidentally they are also one of the cheaper options out there.
With price ranging from 10 to around 50 dollars they are an easy entry into the sleeping pad world. From brands like Thermarest the Z pad is an excellent choice to keep in your gear closet even when buying a more expensive option.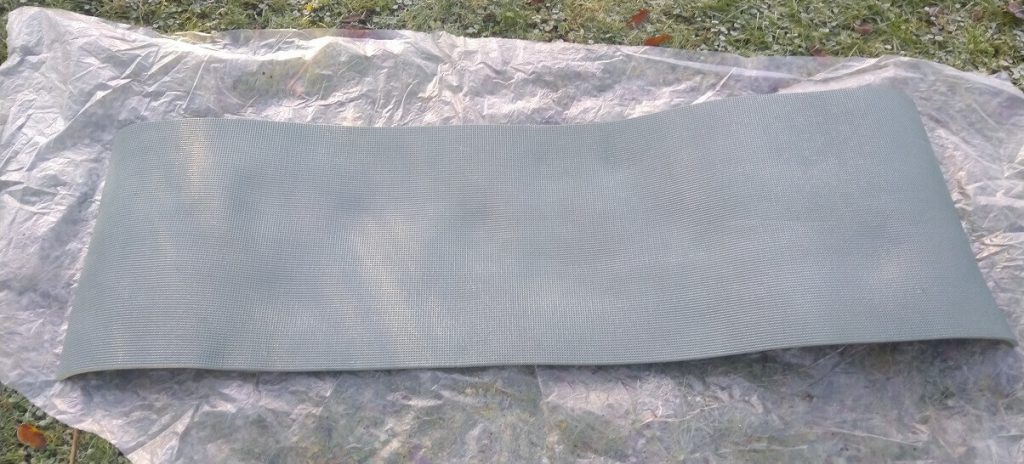 The closed cell foam sleeping pads are also one of the most durable options out there. That is because there are no moving parts and there is nothing to break or leak on them. All they can do is melt and burn when in contact with open flame or coals.
If you are a hiker that also does bushcrafting or is a bit rougher on gear than a closed cell foam sleeping pad is the choice for you. The downsides of closed cell foam sleeping pads are that they are not that comfortable and are very bulky and will take up some space inside or outside your pack.
Which one is the best sleeping pad choice for you?
In my opinion they are 2 sleeping pads that are the highest on this list. When going ultralight and you want to get the most comfortable go with a Ultralight blow up sleeping pad. If you want the most durable and more affordable go with the closed cell foam sleeping pad.
The closed cell foam sleeping pad is useful for other applications as well and can be modified into a sitting pad or a bunch of other options.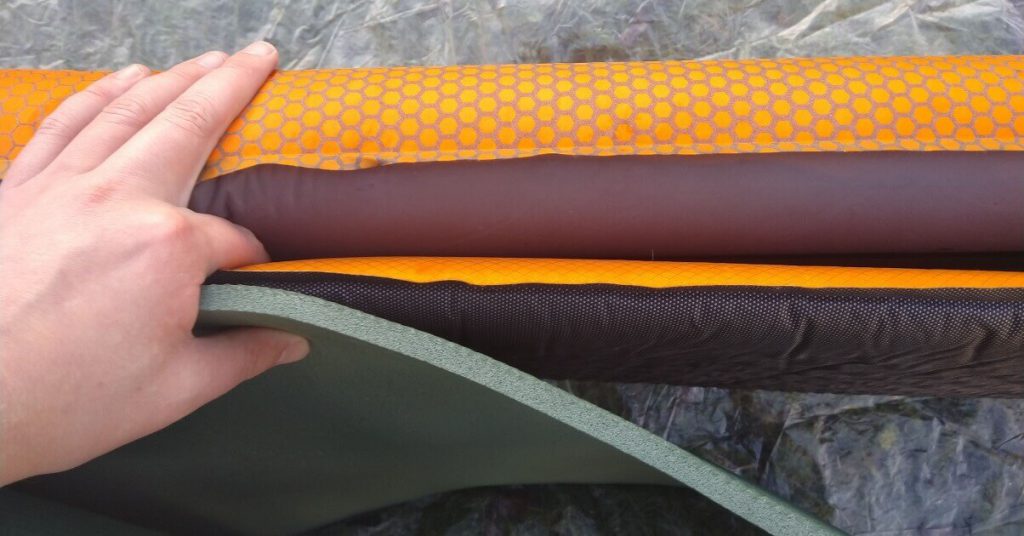 So if you are on a budget, get the closed cell foam pad. If you have the funds to upgrade get the Ultralight blow up style pads from Exped, Thermarest or Sea to Summit. (If better options come along I will update this article, rest assured)
How you sleep and R value
How hikers sleep is also relevant in the question of choosing a sleeping pad. If you are a side sleeper that lies on your hip bone than you need a thicker pad that somebody that sleeps on their back. How much you weigh is also a factor, if you are heavier than go for the thicker model. Lighter means less weight on the sleeping pad and therefore you can get away with a thinner model. And thus less weight.
R value is a way for manufacturers to indicate the cold that the sleeping pad can handle. It is also used in building projects and housing insulation. An R value of 3 is the minimal I will usually recommend for backpacking. If you are going to wintercamp a bunch then I recommend going as high as you can get away with.
What makes a sleep system great
A sleeping pad alone does not make sure that you have a great night out on trail. Hikers do not call it a sleep system for nothing. What comes with a sleeping system is a high quality Sleeping bag, good clothing and in my case a sleeping bag liner and small pillow. For me that way I can get a proper nights sleep with all the comforts from home that I need.
Carrying a hat or buff is also highly recommended, for that extra warmth or pillow case it is invaluable to carry that around with you.
That is it for this article, if you have any suggestions or feedback you can contact me via the comments or in an email. Happy Hiking and Hike for Purpose!