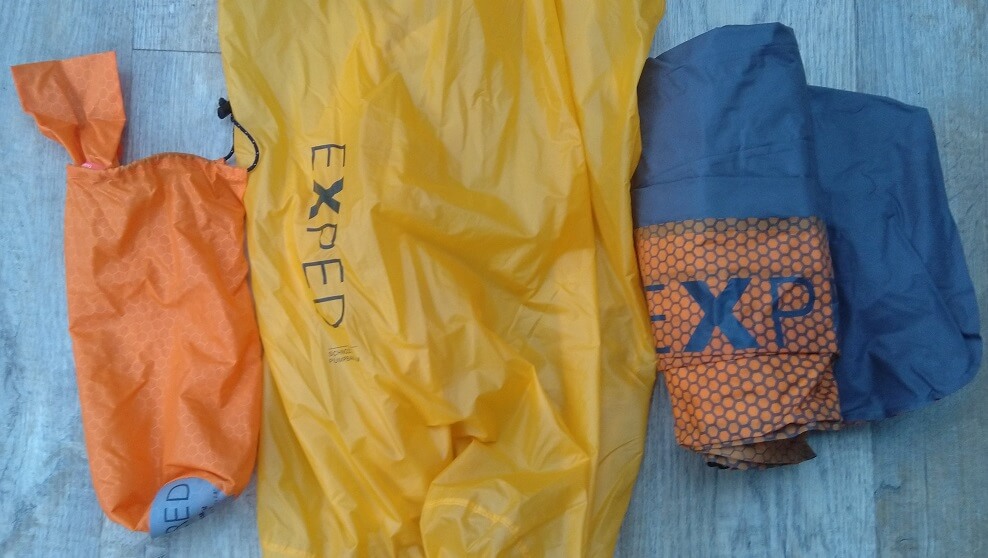 Exped Synmat UL Sleeping Pad review
Getting a good nights sleep is important in day to day life and especially on trail. With the Exped Synmat UL I have been sleeping comfortably for 2 years now. Lets dive into the review!
Exped is a company that started taking over the traditional self inflating sleeping pads by other companies like Thermarest. I like many started out with an self inflating sleeping mat when I first got into hiking and camping. I always slept alright on that mat but when I got older I needed something a little more than 2.5 centimeters to sleep on.
Bullet points
Excellent and comfortable sleeping mat at 7 cm thickness
Takes 3 to 5 pumps with the schnozzle bag that's included to pump up
High R value of 3.3, great for a wide range of seasons.
Lightweight at 475 grams
Pack size of a water bottle
Comes with leak repair kit
Honeycomb ribstop Polyester material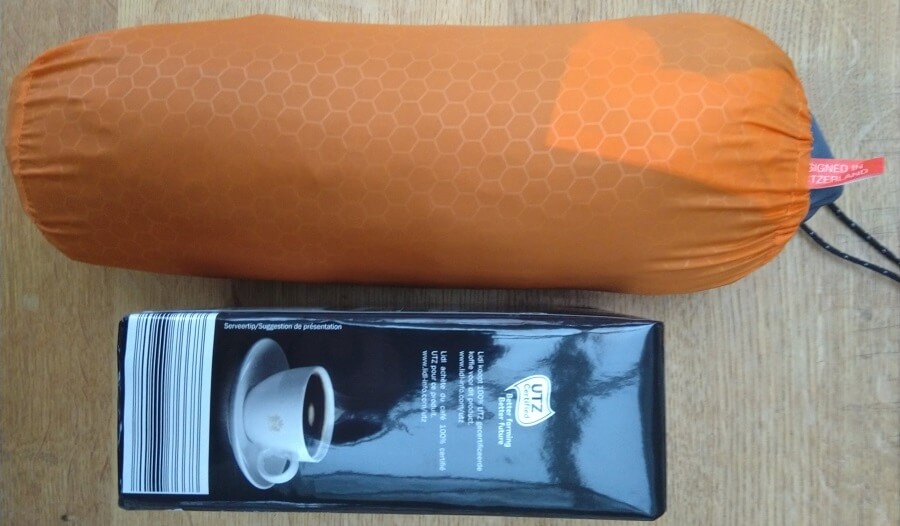 While working at an outdoor store here in the Netherlands I went ahead and tested out many different options. It ended up taking a little longer and a job later to finally purchase the latest at the time from Exped. The Ultralight models that come with high insulation or R value and with a pump bag.
The specifications and weight varies depending on the size that you are going to get. See below for the exact weight and specifications for the medium model.
| | |
| --- | --- |
| Pack size | 24 cm x 9,5 cm |
| R value | 3.3 |
| Weight | 450 gram |
| Length | 183 cm |
| Width | 52 cm |
| Thickness | 7 cm |
The Exped brand
Exped started out as a supplier for outdoor gear and slowly branched out on their own to strive for innovative products. In 1997 they started with their own lineup of products and started getting traction and awards.
In 2002 they released their version of a sleeping pad with innovative integrated pump and down filler for the best insulation. Their newer products include backpacks, tents, trekking poles, sleeping bags and many other gear.
In 2011 they released the line of sleeping pads that this article is about and is still as popular today as it was back then.
Exped started for me when I was doing an intern ship at a outdoor company that organized days for high schools and the like. Next to the Archery, climbing and fun activities we also had outings with coworkers. This as a way to learn new skills and as a way of teambuilding.
When I rolled up with my old Thermarest pad which was 2.5 cm thick I quickly saw what everyone else was using. The Exped down mats and they slept like angels out under the stars. Me not so much because of the rocky ground.
Later in the outdoor store I worked at all of the camping enthousiast coworkers all sported their various Exped sleeping pads. So I can say that they are very popular with the outdoor community in the Netherlands.
My outings with the Exped Synmat UL
After having enough of my old mat I bought the Exped to go on to the Appalachian trail section hike, and later the Hadrian's wall path and the Limes in the Netherlands. Since the different hiking trips I have been in love with it and have slept better than I have in all the other years of hiking.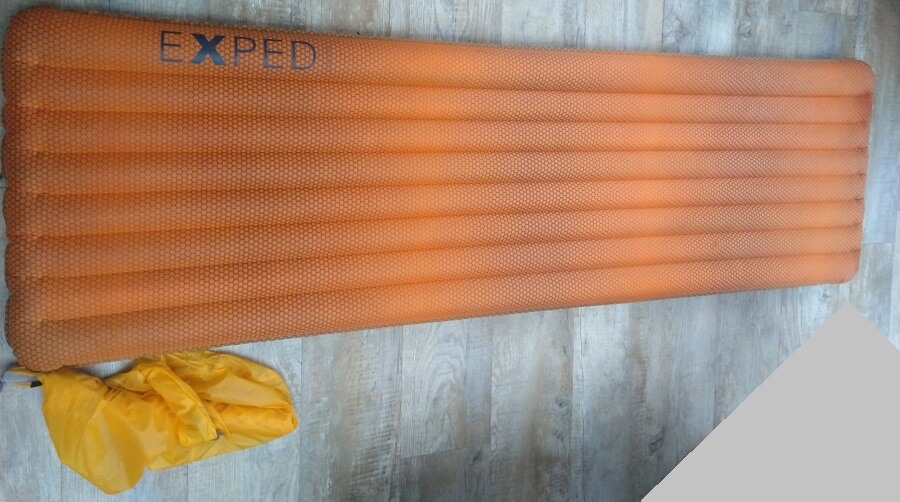 In England I mostly stayed at campsites that had clear ground to sleep on, on the Appalachian trail I wildcamped along the trail and in the Netherlands I also stayed in Campsites along the Limes.
On the different terrains that I have encountered I did not have a single leak while out with the Exped Synmat. I always take care of my sleeping gear as best as I can. So it was protected by a ground sheet and a sheet of farmers plastic during every use. I recommend to not sit or lay on this mat on bare ground as it is ultralight material and will be more vulnerable than your closed cell foam mats.
Inflating and deflating the Exped Synmat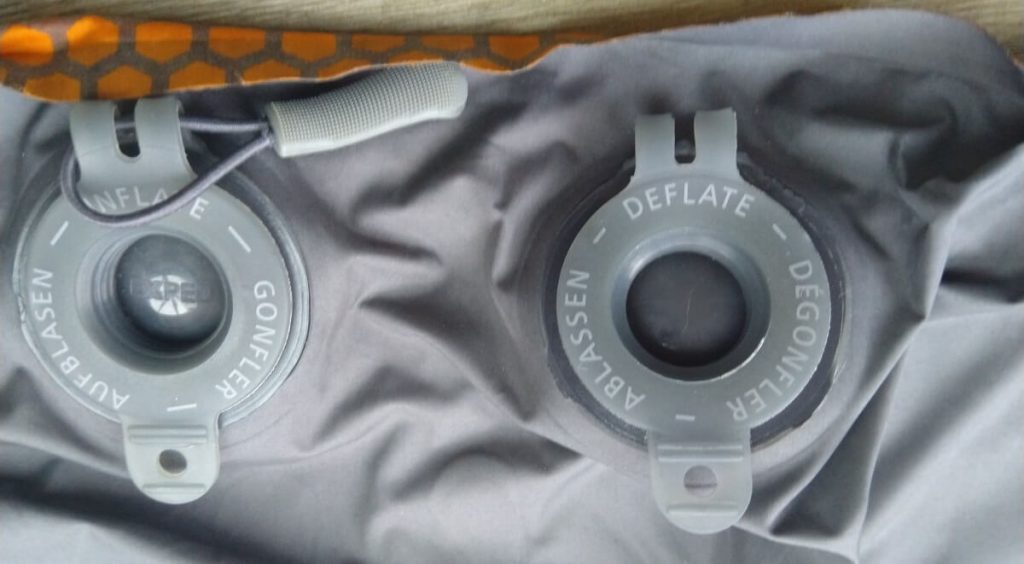 Inflating and deflating the Exped Synmat is a breeze, with just a couple of pumps from the Schnozzle bag you have enough air in it. You plug the Schnozzle bag in the Inflate valve and wiggle it about to get air in the bag, then you fold the closure over and start working the air in to the mattress.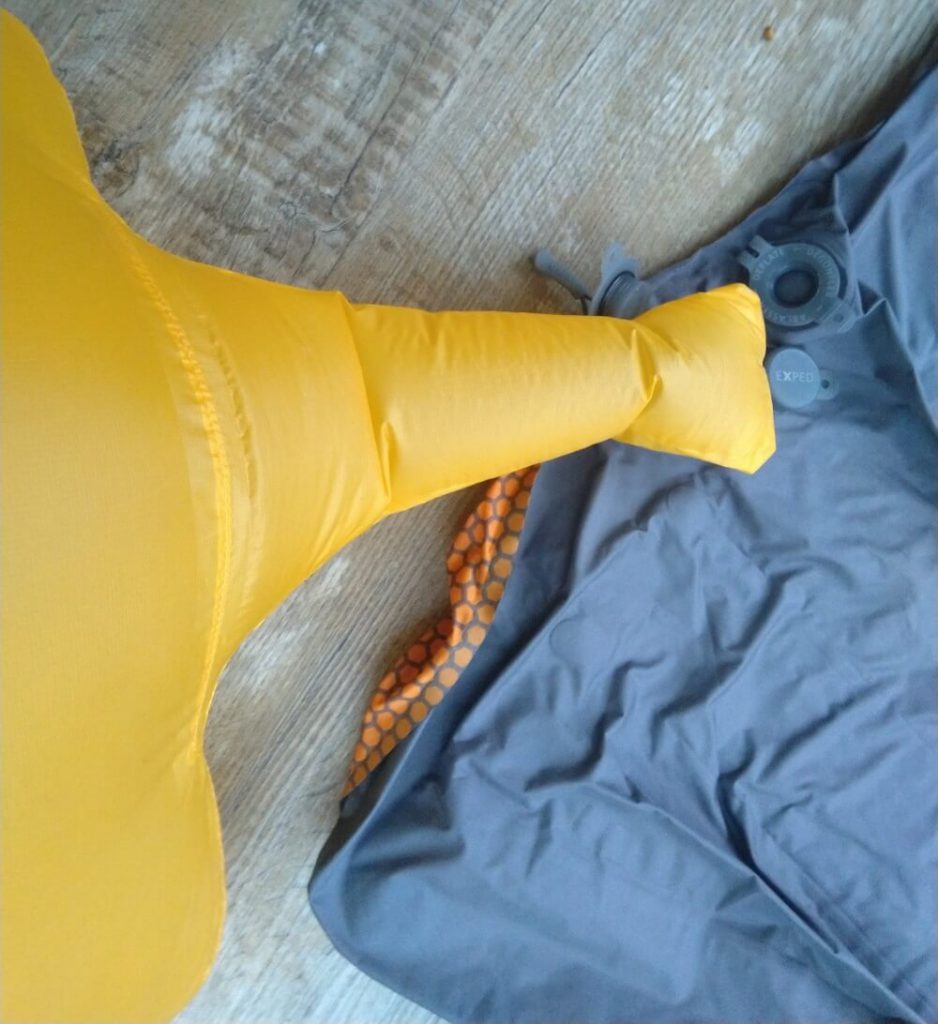 After a few tries you will get better at it and can pump it up in 2 to 5 pumps. To deflate simply pop the Deflate valve to get all the air out. This works best if you are still laying on the sleeping pad.
Folding the Exped Synmat to store in the pouch is easy and can be best done against your stomach. Fold it once in half and roll up the synmat from the feet end. That way the valves are not poking into the fabric, this prevents wear and tear.
Material of the Exped Synmat
The material on the top of the sleeping mat is coated with a Honeycomb pattern to provide better tear resistance and grip for your sleeping bag. The exact specifications of the top materials are:
20 D Polyester
TPU polyether film laminate
Hydrolysis resistant
Honeycomb Gripskin coated
Oeko-Tex 100 certified
The bottom materials consist of the following:
20 D Polyester
TPU polyether film laminate
Hydrolysis resistant
Oeko-Tex 100 certified
And the insulation material is the following Synthetic Material:
60 g/m² Texpedloft Microfibre
Bluesign certified
Length and Width of the Exped Synmat M
The length and width of a sleeping pad is important when choosing one. I usually go for the medium versions that the Exped Synmat is at 183 CM length. I am 188 CM and can sleep very comfortably with a pillow, without and my feet in the sleeping bag are not on the mat. If you want you can also go for the larger versions. This gives you a bit more room to move about during the night.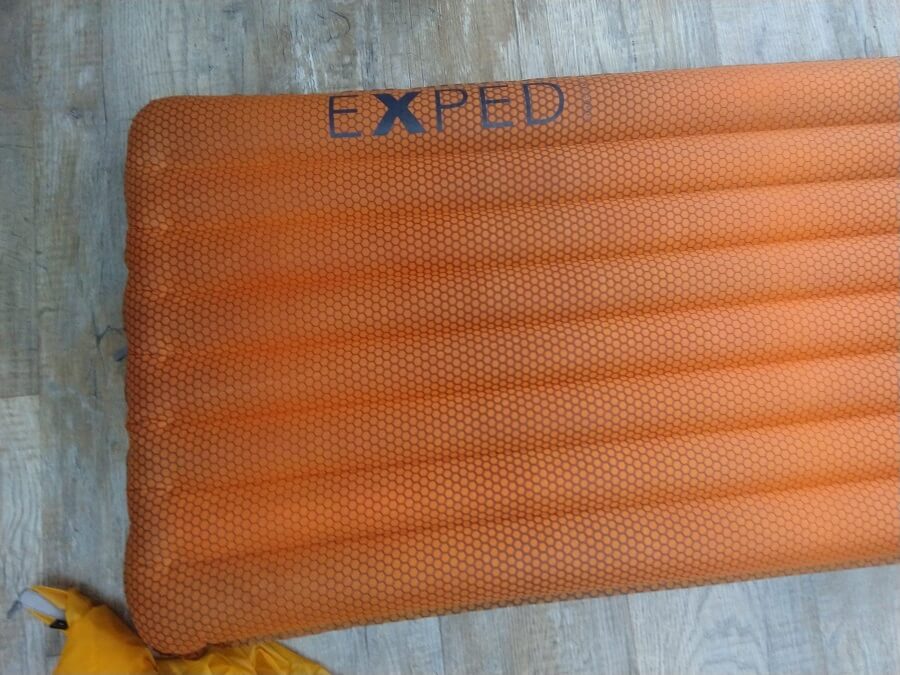 Width of the sleeping mat is plenty in my opinion, since you are in a sleeping bag I have always found that you do not really need that much width. But that is my opinion.
Side sleepers can rejoice with the Exped mats, they are very comfortable and your hip is a long way from sticking into the hard ground. A big plus for comfort.
Conclusion on the Exped Synmat
For the amount of money that the Exped mats go for you expect a comfortable nights sleep, lightweight and small packsize. After many outings I can wholeheartedly recommend the Exped Synmat lineup.
When you want to spring some extra dough you can also check out the Exped Down mat lineup. These come with down inside of them instead of synthetic. And have therefore an increased R value.
That's it for this review, happy hiking and Hike for Purpose!