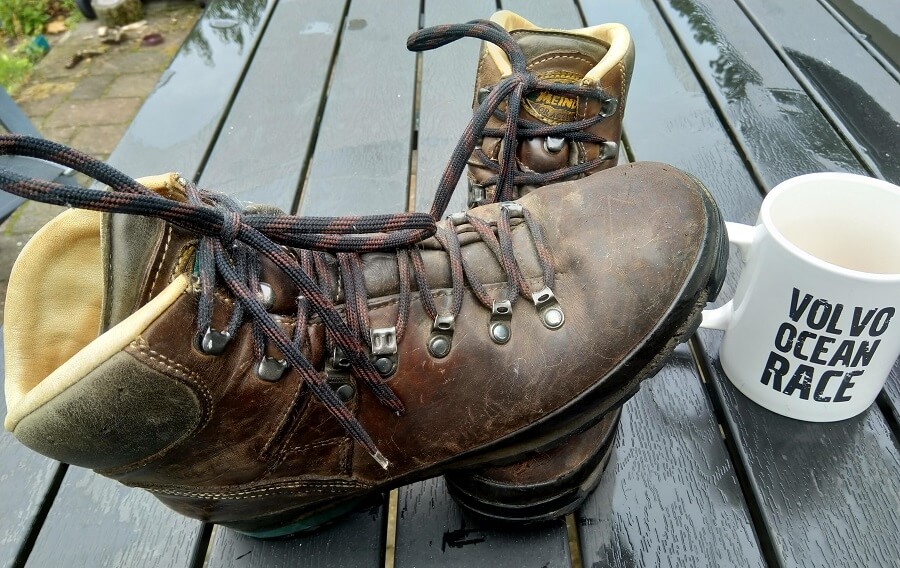 This is my look at the Meindl Borneo boots, after owning and walking in them for 4 years. The boots for the forest industry and for hiking.
The Meindl Borneo boots are for heavier work and hiking, as a class B hiking boot they are targeted more for the mountainous terrain or walking on unsure ground. I have used the Meindl Borneo boots primarily for working in the forest and as hiking boots for in Sweden and the Netherlands while carrying a bit heavier backpack.
Meindl is a German hiking boot manufacturer that has been around for a long time. With the start of the company at the end of the 17th century there is a lot of history there. If your interested in learning more about the company I suggest you take a look at their website, they have a nice slideshow about their entire history.
Features of the boots
The Meindl Borneo boots are made from waxed Nubuck leather and do not feature a Gore Tex lining. A reason for me to go with these boots. Since I have had bad experiences with Gore Tex shoes in the past I made the choice to go for the all leather option.
These shoes can not be called Waterproof, however if you treat them right with bees wax their are as water resistant as you can get. A pleasant thought when hiking through wet grass or though muddy and wet terrain.
The weight of the boots in the smallest size is 790 grams. Larger sizes are obviously heavier.
Memory foam system
With the newer model they have fitted in the shaft of the boot a MFS lining. Which is a Memory Foam System, the memory foam adapts to the shape of your feet and gives a better fit then without.
Its Memory foam system extends also to the heel of the foot which provides more comfort and adaptation. This is not as noticeable in my opinion because of the laces that work for that purpose.
Vibram soles on the Meindl Borneo's
The sole is a Vibram Multigrip sole that performs well in muddy and rocky terrain. Tread on the sole is pretty aggressive and not suitable for extended use on asphalt. If your walking a lot on asphalt look elsewhere. These shoes will wear out faster than you know it. The sole also provided more grip when going downhill and uphill. Another handy feature for hiking in hilly terrain.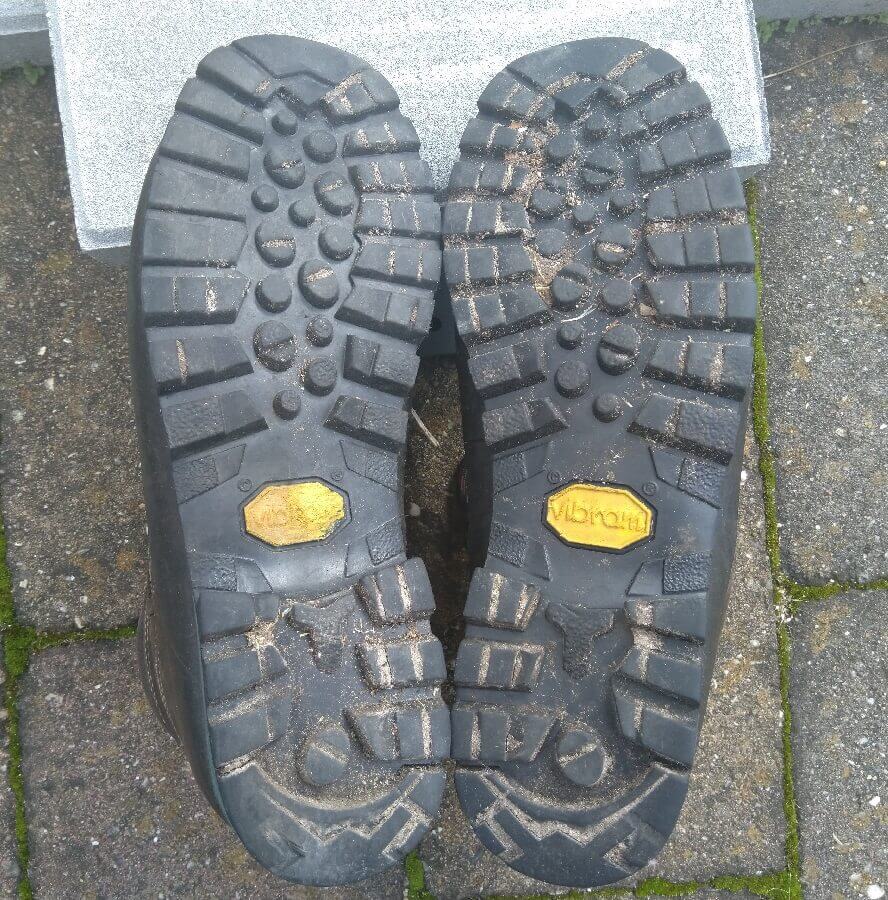 Insoles
The standard insole is from Meindl and features it's Air-Active footbed. This provided some support and makes sure moisture is absorbed and wicked away. I have replaced the standard insoles for the Green Superfeet insoles for more support. I would highly recommend you do the same, they are an excellent insole that last a long time with a lot of comfort. Get yours in the banner down below! This is an affiliate link where you can support the site at no added costs to you.
Digafix lace system
Meindl has imported their Digafix lace system to provide support from the laces where you need it. The standard laces that come with the shoes wear out quite fast in my experience and will need to be replaced relatively quickly.
Cost of the Meindl Borneo boots
With all Meindl boots the cost is quite steep, but you get what you pay for. The shoes will last a good number of years with good maintenance and low asphalt use. But if you do not maintain them they will wear out quite fast. Leather boots need to be fed a good bit of beeswax to maintain its flexibility and water resistance.
These boots usually go for €220,- Euro in my area, in the US and abroad they tend to be more expensive because they have to be imported. If your lucky you can get a deal on these shoes, but because they are such a stable shoe line this tends to not happen every few months. Look out for the summer sales and subscribe to newsletters to score a deal on them.
Upsides of the Meindl Borneo boots
They provide more support to perhaps what you are used to and can be quite stiff if your new to hiking. For me they always worked great when stomping around the forests of the Netherlands and in Sweden. The full leather upper makes them hot in the middle of summer, so I have mostly used them in the winter period in snow and heavy rain.
All the upsides are listed below:
Ample support for hilly and rougher terrain
Keeps your feet dry when properly maintained
Digafix lace system
Memory Foam system
Good footbed and fit for wider feet
Vibram Sole for more grip
Durable
Downsides for the Meindl Borneo
A lot comes down to my personal preference and some experiences that I have had with these boots. Keep that in mind that experience may differ. Take my viewpoint for what it is, a viewpoint from my perspective.
For the backpacking and hiking that I do I have gravitated more towards the lighter boots. As many hikers do. I am not at that point of going with my trail runners yet, since I still like something around my ankle while on trail. The Meindl Borneo come from a long history of traditional hiking and backpacking where it was all about the heavy support.
For some hikers this will be the best boots out there since they are still lighter than some boots that you encounter. And for some hikers they are way to heavy. You will see a lot of the older generation still hiking in these sorts of boots. No offence to anybody from that generation.
I am still with Meindl since I love the brand and their boots. But as I said I gravitated more towards the lighter side. That is why I have landed on the Meindl Sahara boots that I have since had 3 pairs from already. They wear out faster but are lighter, breathe better and are to me more comfortable for the longer distance hiking.
Meindl Borneo boots for the forest industry
Meindl has quite the name for itself in Europe for their forest industry boots. Look around in the Netherlands, Germany or Austria at the boots of forest rangers. Pretty big chance they are wearing Meindl boots. The Meindl Borneo boots do not have a safety nose or kevlar in them, so they are not suited for working with a chainsaw. But in their product line you will also find boots with those features.
Outside of the guys working with chainsaws all day you will find the Forest rangers and hunting supervisors that are often wearing the Meindl Borneo boots. If you are in that line of work I highly suggest them, for all the features mentioned earlier and most of all the comfort they offer for walking through bushes and muddy paths.
Well I hope you have found my review and talk about the Meindl Borneo boots helpful.
Happy hiking and hike for purpose!