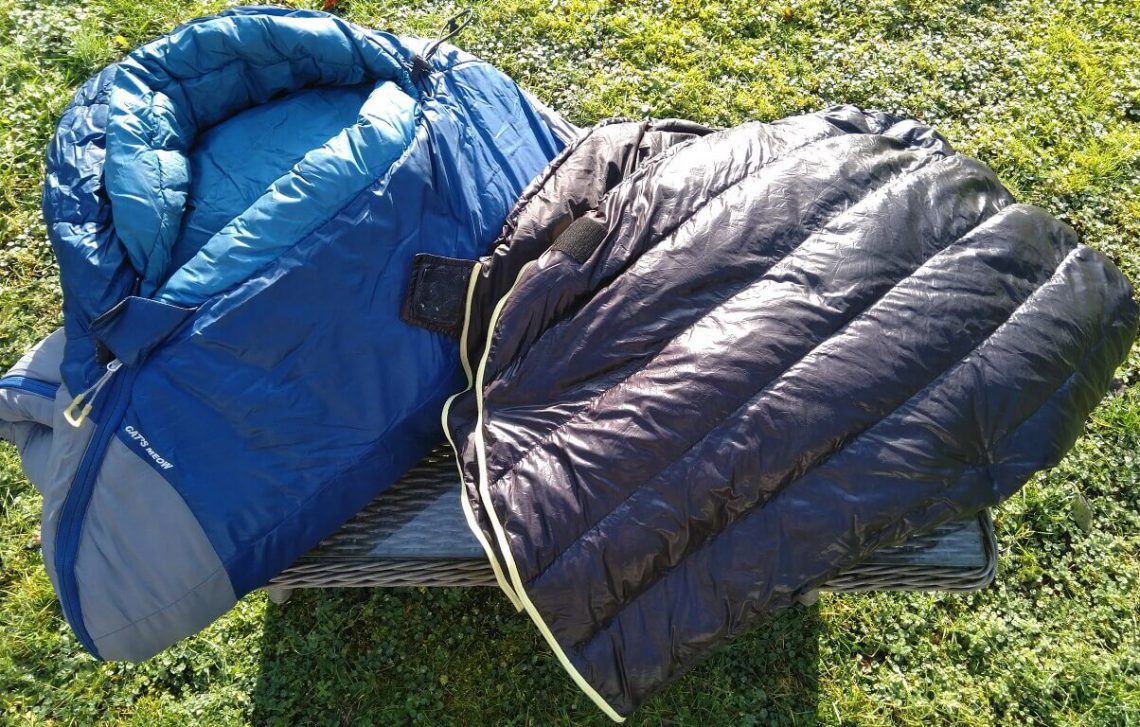 Down vs Synthetic sleeping bags
In the choice between a Down or Synthetic sleeping bag there are lots of opinions and differences. Lets shed some light on the one for you.
---
Quick jump guide
The mayor differences and upsides for Down versus Synthetic sleeping bags are.
| | |
| --- | --- |
| Down Sleeping bags | Synthetic Sleeping bags |
| Lighter weight | Generally heavier |
| Smaller pack size | Bulkier pack size |
| Water sensitive | More resistant to water |
| Expensive | Lower price |
| Requires more care | Easier to wash – fool proof |
Now lets dive into the specifics and recommendations between the two sleeping bag choices.
Use cases for Down sleeping bags
Down sleeping bags come in to their own while hiking long distances and bringing everything you need on your back. Backpacking or hiking so to say. The big difference is the pack size and lighter weight of down sleeping bags over a synthetic one. It all comes down to that you don't need as much down versus synthetic material to have the same temperature rating.
And if you are going to be hiking in spring, summer or fall down sleeping bags are excellent. More on winter hiking later.
So when you are an UltraLight hiker or try to lighten your load on your back one of the first things you have to be looking at is a down sleeping bag. It is a part of the big three. Your tent or shelter, backpack and sleep system takes up the better part of the weight on your back.
Some of the excellent brands that are out there in the Down sleeping bag world are Yeti, Mountain Hardwear, Rab and Fjällräven.
For a more affordable Down sleeping bag take a look at my review of the Aegismax down sleeping bag.
Different Down Fill power
The different down fillings for sleeping bags that are out there are marked by their Fill power. You will see numbers thrown around out there like 700 fill power or 400. The more Down material gets used the more expensive the sleeping bag is. But what does the fill power of down sleeping bags mean exactly?
Fill power in down means the amount of air the Down material can trap in between the feathers. The higher the fill power the more air that gets trapped, the more air you have in your sleeping bag the warmer it is going to be. You heat up that air with your body heat and that heat gets retained in the sleeping bag.
The entire range of down fill power that you will likely find is from 300 to 900 Fill power. The higher the better, but the more expensive. Get the one that you can get a good deal on or can afford. Sleeping good is a big part of enjoying a hike.
Use cases for Synthetic sleeping bags
Synthetic sleeping bags are most used by hikers and backpackers that are looking for a more inexpensive option. And that are going winter camping or are in a very wet region. Synthetic retains some of its insulation value even when it is wet. Down does not.
Further more Synthetic sleeping bags are excellent for hiking to a base camp and plotting out different day hikes in the area. Plus of course car camping where you can stuff everything you want in the back of your car.
The two big downsides as mentioned before of Synthetic sleeping bags are that they are bulkier and heavier. Two things hikers shy away from.
If you are just starting out hiking and want to not invest a large chunk of budget into your sleeping bag, I think going with a proper 3 to 4 season Synthetic sleeping bag makes a lot of sense. Get the warmest sleeping bag you can and you now have a F*** its cold sleeping bag for your later winter or late fall hikes.
Later down the road you can invest in a Down sleeping bag for all the rest of the year hiking. And you have the options to choose between the two. Realistically the down sleeping bag will be most used is my experience. Yours may differ.
Different Synthetic fillings
Synthetic material is still under development and can differ greatly between the different brands. They all promise roughly the same properties like excellent compression and insulation. The Synthetic fillings that you most likely will encounter are.
Thermolite Synthetic material, also used in gloves and winter boots.
Dura loft
MTI Pro filling by Mammut or Ajungilak MTI Endurance
3D Sensofiber
Supreme Microloft by Fjällräven
I would not get caught up all that much in the different names and composition in the materials. But rather choose a brand you can trust and have long histories with outdoor products. Brands like Mammut, Marmot and Fjällräven are all brands that are popular for sleeping bags and a solid choice that will last you for years and years.
Sleeping bags for thru hiking
Down sleeping bags are very popular and they have been for a long time. Lightweight and very compressible they are an excellent choice for a hiker. On most trails and long distance hikes you will mostly see hikers carrying a down sleeping bag.
On the Camino Portuguese I saw the opposite when it comes to sleeping bags. A lot of first time hikers make do with a synthetic sleeping bag for their first hike there. And you will see the hikers that have hiked a few hikes before carrying a down sleeping bag.
At the different Camino's you can get away with a less than excellent sleeping bag since you are mostly staying in Hostels along the way. They most of the time also offer more blankets that you can use.
If you are going to be thru hiking on of the American big trails or staying in tents a whole hike I would highly recommend going with a down sleeping bag. Mostly for their lighter weight and smaller pack size.
What is the best material for a sleeping bag?
The best sleeping bag material is hard to say for everyone. Like I have mentioned before in other articles and will again in future ones, it all depends on personal preference. I love my down sleeping bag and take it out hiking with me 90% of the time. But when it gets really cold or wet I will still fall back on my trusty synthetic sleeping bag.
I highly recommend the route of going with a winter / cold and wet weather synthetic sleeping bag first and to invest in a more allround Down sleeping bag later down the road.
That combination will not render you with two sleeping bags for the same season and will not make one or the other obsolete. If you have a different idea on this combination please let me know down in the comments and others can learn from this to!
Advice on buying a sleeping bag
Check out deals and lighting deals often for good scores on sleeping bags, when a new model of a sleeping bag comes out the old one gets put on sale. In the grand scheme of things waiting for that perfect deal may be a big ask.
Just look around and see what is available in your price range and brands that are trusted. Read the reviews and see what people think and go for it. Brands that I have mentioned in this article are all brands I have had experience with and held first hand.