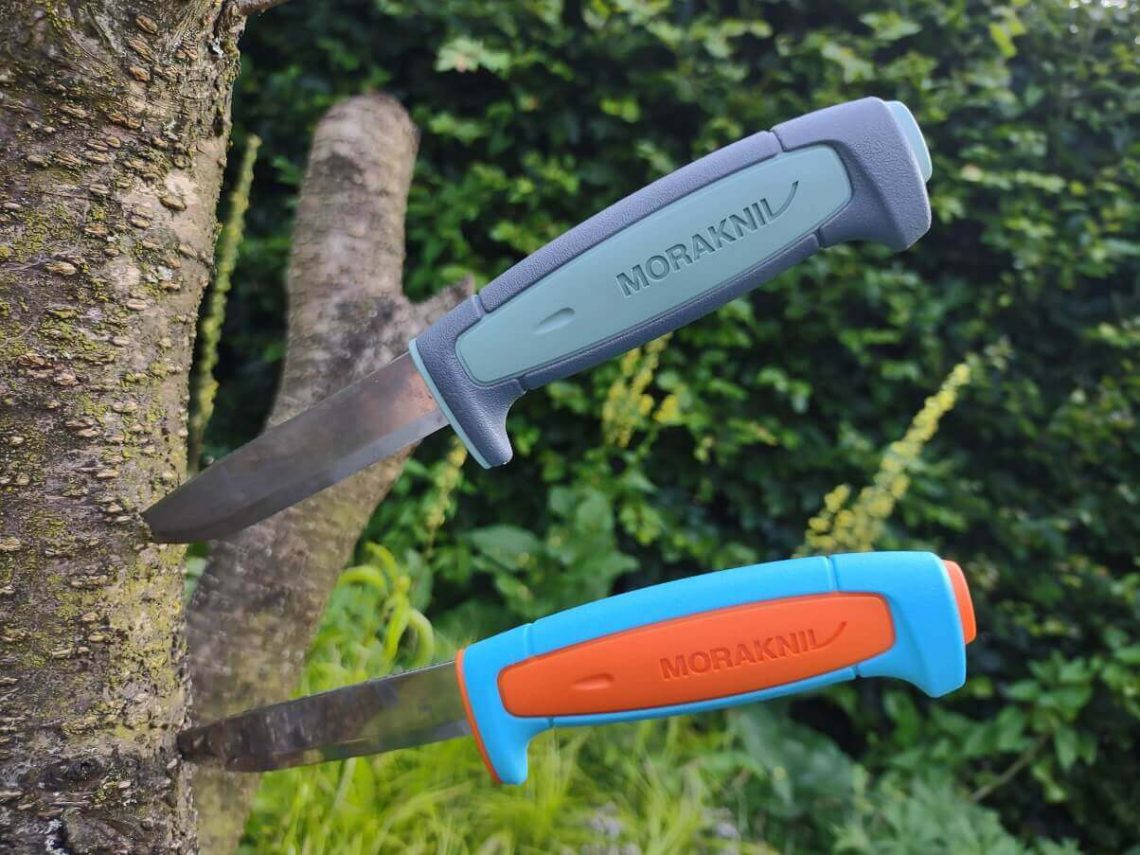 Need a knife that is affordable, lightweight, and does what it needs to do? The Mora Basic 511 and 546 are excellent choices for any hiker, camper, and bushcrafter. Let's get into the review.
Knives are a standard item in any hikers backpack, you encounter a lot of cutting tasks when you are out in the outdoors. Whether it is for food prep, cutting an improvised tent peg, or starting fires. A knife makes your life a little easier. Mora knives are a staple in the outdoor community and are popular for a reason. With their affordable price, comfort in cutting tasks, and durability while still being made in Sweden. Mora knives win the hearts of many outdoorsmen and women. Discover why in this blog post.
Quick jump list
Affiliate links may be mentioned in this article, by purchasing a product through those links I may receive a kickback. At no extra cost to you.
Difference between the Mora Basic 511 and 546
The difference between the two main Mora Basic models is the option for stainless steel and carbon steel. Asides from that the only difference is that the colors are inverted. The main differences between the two versions are your use for them. When you expect to work in wet environments or cannot spend the same amount of time caring for your knife when wet or used. Then the Mora Basic in Stainless is the better option for you.
When you are able to take a bit better care of your Mora knife I can highly recommend the Carbon steel versions of their knives. In my experience, they hold their edge better and can be more durable in the long run. The cutting edge tends to roll rather than chip when you accidentally clip a nail or something. And can therefore be easier to resharpen. If you want to read more about the advantages and differences you can do so in my previous article, Mora Carbon vs Stainless steel.
Primary advantages of the Mora Basic
It is a smaller version of the better-known starter knife the Mora Companion, for my use during hiking trips this smaller size makes it a perfect option for when you want a full-sized knife, but are still concerned with the weight of one. With the Mora Basic weighing in at 80 grams this is comparable to the weight of my normal hiking knife, an Opinel number 9. Which weighs in at 57 grams. For only a few grams more you have access to a fixed blade. Which is a bonus in some aspects.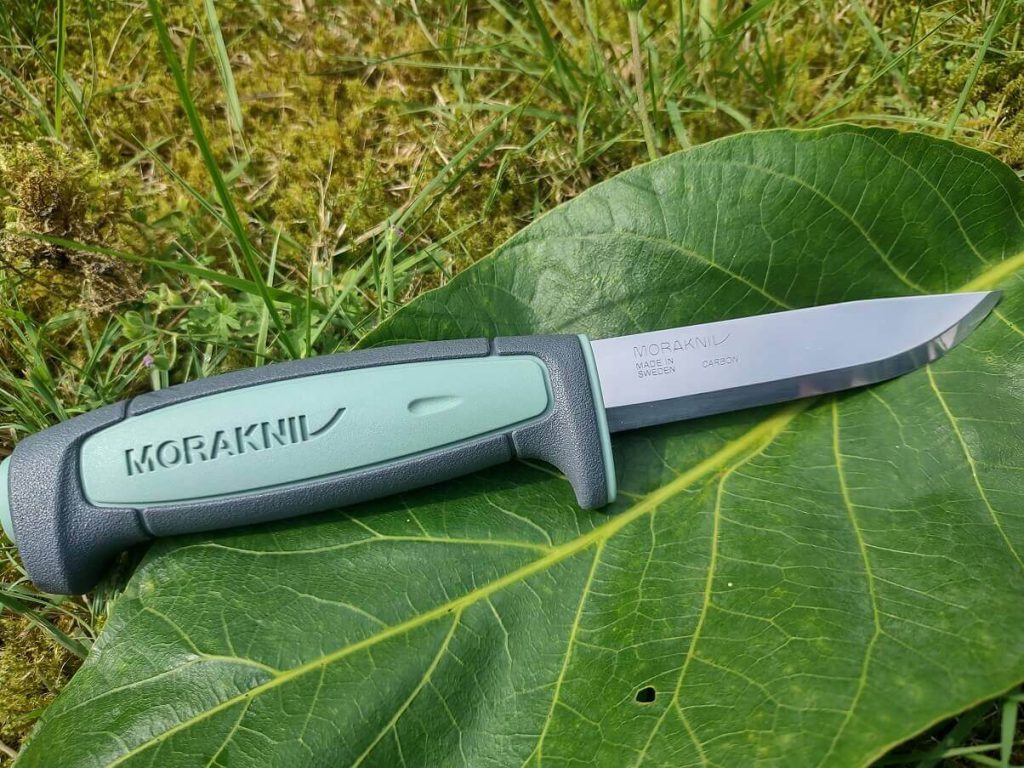 The handle of the Mora Basic
The molded plastic handle is extremely comfortable in my opinion and can be used all day without many hotspots developing. For larger carving projects these knives are also very suited and while being still grippy, they do not bite into your hand like some of the other more tactical knives do. There is a reason these knives are so beloved in the bushcraft community. They are getting more use out of their knives than hikers do. It features a guard to prevent your fingers from slipping up and cutting yourself. And also has a stop on the back which locks it into place in the hand. For very large hands this might give some issues, but for my glove size L hands, it is a good fit.
This particular model of Mora is also popular to introduce younger generations to knives. Since they are very affordable, have all the features that you want for a kid's knife, and in the Carbon Steel versions a good teacher on knife care.
Scandinavian grind and clip point profile
What sets the Mora knives apart from other low-cost fixed blades is that they do not use a hollow grind on their edge profile. Commonly seen on other options, a hollow grind is not as durable an edge or as suitable for outdoor use as a Scandinavian grind or Full Flat grind. Because they bite into wood and rope and can be easily sharpened with no special equipment. I use a Spyderco sharpening stone for all my sharpening needs. And once I have them sharp a leather strop or belt to give the bite back to the edge.
The blade profile lends itself to all sorts of outdoor use and food prep, and with its sharp point, you can give precise cuts in smaller areas. Not the most pretty, but highly functional. That is the key way to describe most Mora knives. Although I do love the colors of the special editions.
Low cost and loved for it
Mora knives are very affordable, I pick them up locally in the Netherlands for 7 euros for this Carbon Steel model. I do not understand how they manage that with a knife made in Sweden. And such an amazing knife in return for it. Just goes to show that for some gear in hiking you do not have to spend a fortune to get quality. If only that were true for ultralight tents.
Mora Basic full tang knife or partial?
The tang or piece of the knife that is covered by the handle is only partial and does not go down all the way to the end of the handle. This can be perceived as a downside for the Mora Basic, but you have to keep in mind its price and use cases. This is not the knife that you hammer through tough oak trees or go nuts with. Its small size lends itself more towards the finer cutting tasks. You would not want to chop with such a small knife as well. The pain that will cause to your wrist is not fun. Sure you can baton it through smaller branches to get inside it for the drier wood. But wouldn't use the Mora Basic for going through nine-inch logs.
The tang in the knife is secure enough because of the molded plastic handle, and I would be surprised if anybody got one to fail with fair use. If you did that make sure to reply in the comments! With a photo of course. I have an old Frosts knife that I have owned for over 15 years and beaten to hell and back. Even that one is still good to go to this day.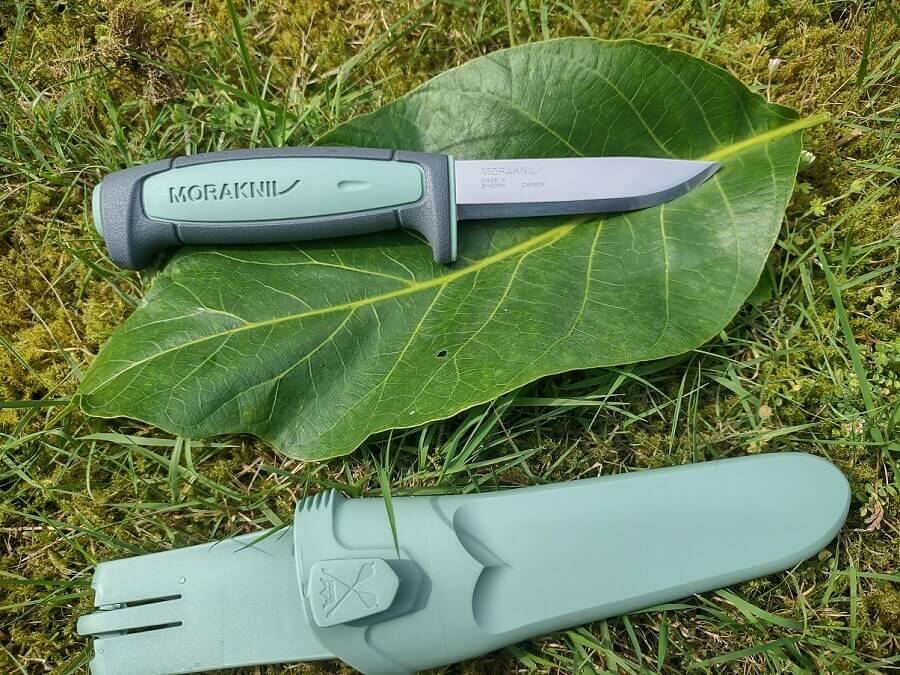 Sheath or scabbard of the Mora Basic
The sheath for the Mora Basic knives is nothing to write home about, it is just a molded plastic sheath that does its job fairly well. The only complaint I have with all of the sheaths of Mora knives is that they tend to loosen up a bit over time. You can remedy that with a heat gun and some pressure. That way you can get it to be secure again.
There are a ton of aftermarket sheaths available for a lot of the Mora knives, and I have even seen people that ordered a custom Kydex sheath for it. This adds way more cost of course, but you can always use the sheath for your next Mora basic knife as well. Try out the plastic sheath that it comes with I would say, and if it bothers you that much you can always order a better sheath later.
Mora Basic line versus Mora Companion
Comparing the two most popular lines of Mora knives is not completely fair, since they are focused more on the particular use. You can use the knives almost interchangeably, however. The main difference between the Mora Companion knives and the Mora Basic knives is the size. Whereas the Basic model is slightly smaller. And the Mora Companion has a rubber handle that some people prefer for extended carving tasks. When you're looking into them both then I would say just buy both. They are so inexpensive that you can get quite the collection of Mora knives for very little investment.
That's all for this review of the Mora Basic knife, support the site and get it via the link below if you want to add it to your collection! Would be appreciated.