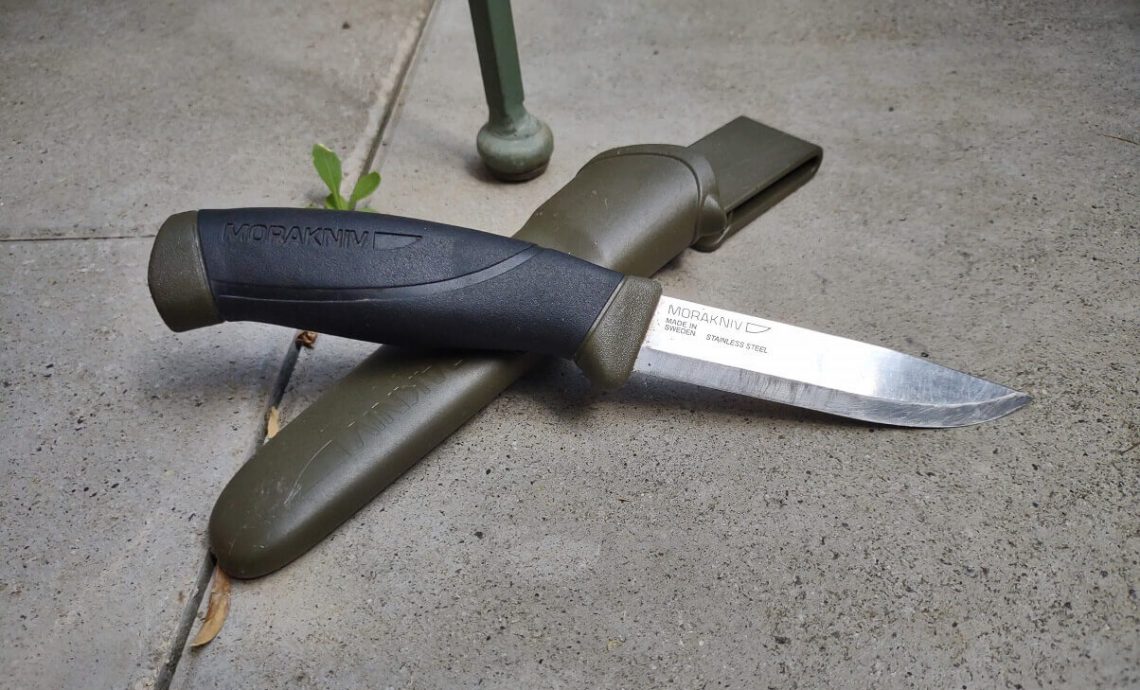 Mora is a well known name in the Outdoor community, from bushcrafters, preppers, campers and hikers, nearly everone has heard of the knife brand. Their inexpensive lineup can supply a knife for many different uses and tasks. One of the most popular knives in their lineup is the Mora Companion. Let's explore all the qualities of the knife in this review!
Quick jump guide
With a knife like the Mora Companion, you can complete a bunch of different tasks on hiking, camping, or trekking trips. Personally, a full-size / fixed blade knife like the Mora Companion is not on my side when going on hiking trips, where I often don't have a use for a full-size knife. Not necessarily for the weight, but more for the form factor and ease of carrying. It is therefore in my opinion more suited to camping trips, where you don't aim for Ultralight gear, but make proper camp with a fire and tasks that follow that. It was therefore on my belt on a canoe trip in Sweden and many trips where I set out to camp in one area. To each their own of course.
Affiliate links may be mentioned in this article, by purchasing a product through those links I may receive a kickback. At no extra cost to you.
Construction & Weight
One of the advantages of the Mora Companion is that is very lightweight, and therefore comfortable to carry on many different occasions. The Mora Companion is one of the lighter full-size knives you can carry, but still sturdy. It can take a beating and be used for batoning, cuts, and pretty much any task you can think of. Due to its price and construction, it is however not a full tang construction, but a partial tang that stops just in the handle before it reaches the end.
This means that if you put enough force on places of the handle that is not meant for that, you risk breaking the handle off. In my almost 22 years of using knives, which included a lot of different Mora knives, I did not see or hear anybody actually doing that. Mora knives are tough little knives, that are used in a bunch of different areas.
| | |
| --- | --- |
| Weight without sheath | 84 grams / 2.96 oz |
| Total weight | 116 grams / 4.9 oz |
| Blade lenght | 10.4 cm / 4.1 inch |
| Total lenght | 22.5 cm / 8.75 inches |
| Blade thickness | 2 mm / 0.08 inch |
| | Buy now on Amazon |
Scandinavian grind
The Scandinavian grind of the cutting edge is popular with beginners and experts alike, with easy sharpening and durability you can comfortably cut into a bunch of different materials. With the Scandinavian grind, it partially bites deep into green wood and can be used on anything else with success. Using the Mora is often also a matter of applying different cutting types, don't expect you can chop down a tree with these types of knives.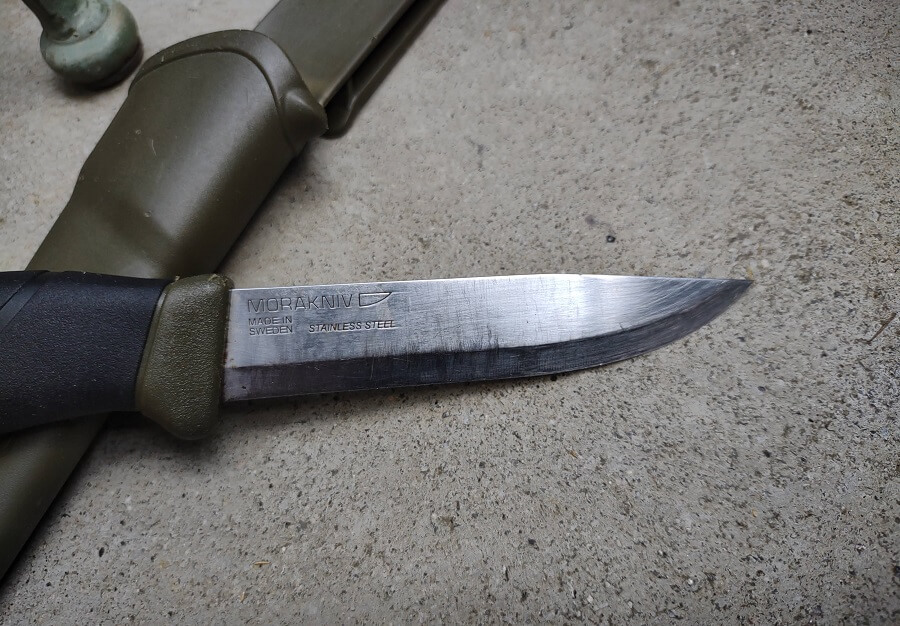 You can however take down green saplings by bending them over and placing a well-made cut at the bend. Same deal with applying chest cuts to get more power behind the cut. This type of knife grind is hundreds if not thousands of years old and has therefore a long history to back up its reputation as a solid grind.
Blade shape of the Mora Companion
The classic blade shape of the Mora Companion is a simple drop point, which ends in quite a sharp and robust point. With the main focus being utilitarian over the looks, the Mora Companion gets the job done without any fluff. The blade is quite slender, and therefore suited to a lot of different tasks.
if you want to strike a firestarter with the back of the knife you have to spend a minute or two with a file, the Mora Companion comes with a rounded edge at the back. Not the best for magnesium firestarters. But easily remedied.
Comfortable rubber handle for no slip-ups
The handle is a combination of hard plastic and rubber that's been molded around the knife, the rubber makes it into a grippier texture than you have for example with the Mora Basic. And is very comfortable to use. With less chance of developing hot spots while performing camp tasks, and is also suited for your wood carving projects. Try doing those with a tactical G10 and metal-handled knife for more than an hour. You can see that knives also have different purposes and use cases. Just like many things.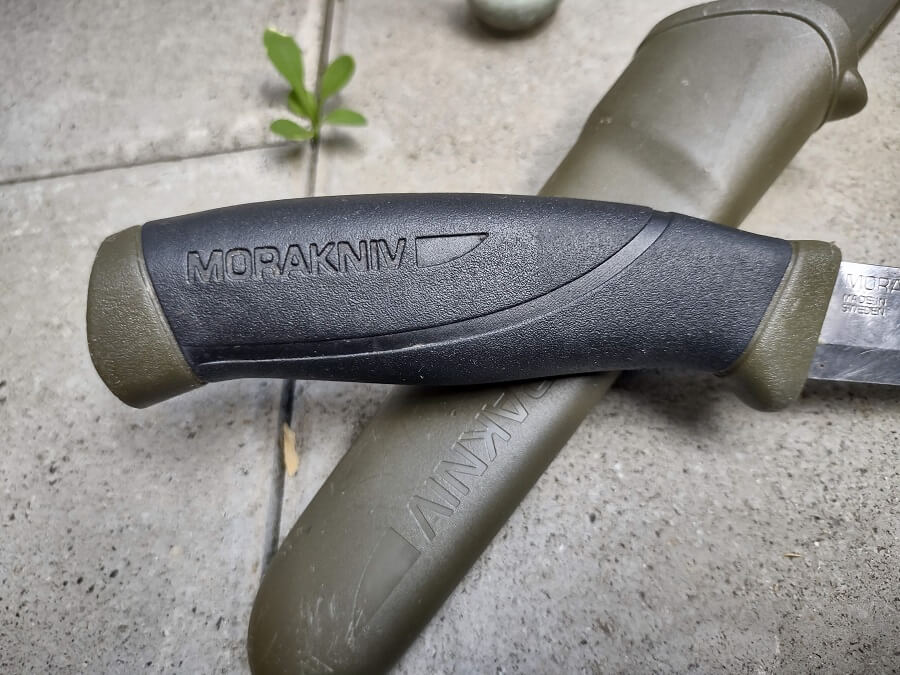 The time and place where Mora knives come in are in the woods and backcountry.
Low price
Like almost any Mora, the price is one of the main factors why also this model is very popular as a starter knife. For the latest price, you can check over on Amazon how inexpensive it is at the moment. This makes it the go-to knife for many boy scout troops, bushcraft courses, and more.
Alright sheath for the price
The sheath is nothing special to write home about, for the price you however cannot expect to much. And it serves its purpose, with a nice clip on function to loop it around a belt or strap. Over time it will bend out of shape and loosen up. Enough for it to make it less secure. If you experience this, you can use a heat gun and some patience to make it tighter again. When you like the knife so much that you want to invest in a different sheath then their are many aftermarket options out there for you. You can get awesome kydex sheaths for Mora knives to level them up.
Steel choices and models for the Mora Companion
With more Mora knives you have the option if you want to get it in the Carbon steel version or the Stainless Sandvik option. I usually recommend going for the Mora Carbon steel versions, since I like it a bit better than their Stainless steel. However, if your going to be in a wet area, or want one for your bug-out bag that doesn't require maintenance, then you can go for the stainless version.
If you want to read all about the different steel types, then I recommend checking out my earlier article where I cover this in detail. You can do so here:
Furthermore, you can get the Mora Companion also in a heavy duty version, this does nothing other than making the blade thickness slightly thicker. So you have a bit heavier duty knife. You can choose either and be fine. Or get both for the price. These knives are inexpensive enough to start a collection for very little investment. Same as the popular and classic French Opinel knives.
In conclusion, the Mora Companion it the choice for many users around the world for its price, features and comfort in use. Get yours now to join the Mora fan club!