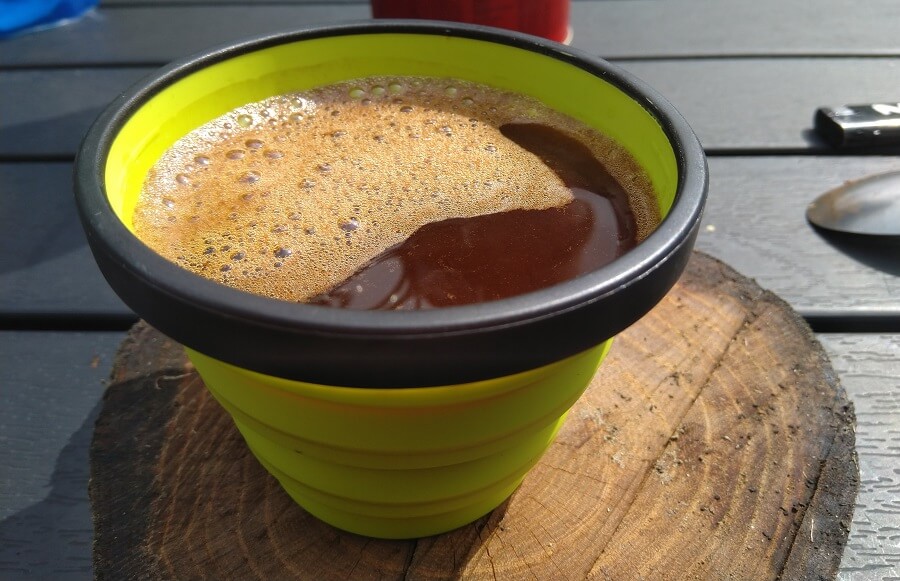 Sea to Summit X Cup review -Space saver
Carrying a cup around is something most hikers do. And a lot of hikers don't and instead opt for just the cooking pot. I always liked carrying a small cup with me. And the Sea to Summit X Cup has been in my pack for several years now. Here is why.
If you enjoy having a cup of coffee in the morning or tea you can easily drink out of your cooking pot. If you are rocking a titanium cooking mug like the options from Toaks or MSR out there this cup is probably not for you. However if your cooking kit looks more like mine perhaps a separate cup for drinking is just what you are looking for.
Technical specifications
BPA free food grade silicone throughout
Volume 1 cup, or 250 ml. Ideal for trail cooking.
Volume marks on the inside
Folds flat for storing in your cook kit
Unbreakable and heat proof up to 300 F or 150 Celsius.
1.6 oz / 45 grams
Using an Sea to Summit X Cup out on trail
Popular for many years now, the Sea to Summit X Cup and X line is a wide array of trail cooking gear that collapses flat. This makes it ideal for storing in your backpack out on trail. The X Cup is a nice cup to have while out hiking. Especially as a measuring cup for making and preparing your trail meals I have found.
On my Hadrian's Wall path hike I decided that I wanted a cup with me. I have several metal cups that are heavier and maybe easier to drink out off. Except they are always a pain to store in my backpack. An Sea to Summit X cup is way easier in that regard.
The main three things I use the X Cup for is to drink coffee in the morning, measure out trail meal stuff for dinner and drink tea at night. Or whisky or wine if the trail gods provided any.
So I recommend the X series and especially the X Cup for your hiking needs. If you want to check out the latest price over on Amazon you can do so via the link. When you make a purchase their we receive a percentage as kickback without any added costs to you.
If you have a favorite mug or cup out on trail be sure to let me know in the comments!
Happy hiking and hike for purpose!