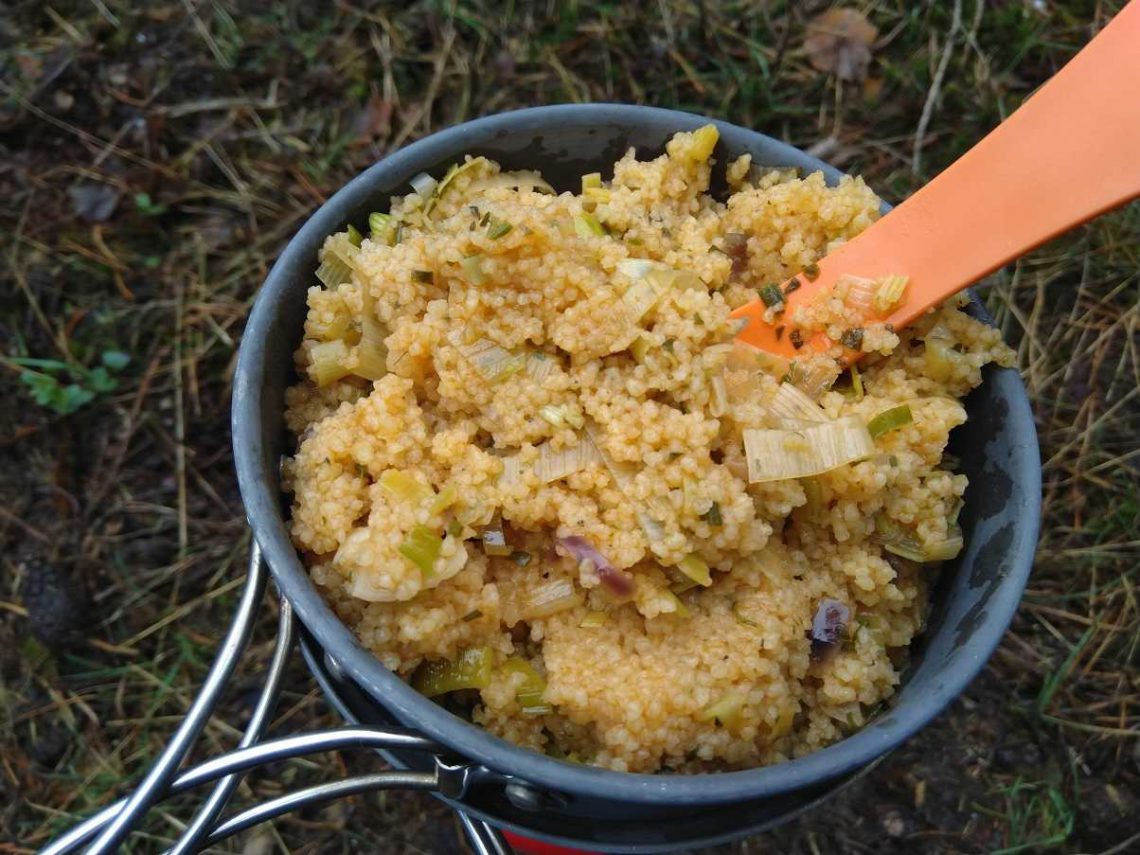 Trail Meal | Couscous with vegetables
Couscous is one of the easiest trail meal recipes you can try out. Combined with dehydrated vegetables and some spices you have a comfy meal out on trail.
There are many different ways to cook Couscous and pretty much every Mediterranean cuisine has one favorite way of making it. Out on trail hiking you want your meals to be quick, easy, tasty and with minimal clean up. So I adapted my recipe from various sources to make it to my tastes. Feel free to do the same with your Couscous recipe.
Ingredients
1 cup of Couscous, I use Moroccan Durum Couscous.
1 cup of dried vegetables. I'm using Leeks and Onions since I had them leftover. Some other ideas are dehydrated Paprika, Mushrooms, Corn (Mais) and zucchini.
1 bouillon cube
1 tablespoon Italian spices
1 tablespoon dried paprika
1/2 tablespoon cayenne pepper (Optional)
2 1/2 cups of water
Olive oil
Salt and pepper to taste
The gear you need for cooking out on trail:
Mess kit – I carry my Esbit cook kit for this.
Tea towel for cleanup
Spork
Gas stove , alcohol stove or any kind of heat source really.
Pot Cozy can come in handy
Preparing the vegetable part of the meal
I am a big advocate of investing in a food dehydrator for making your own backpacking meals. You can read more about it on that article. This trail recipe for Couscous is very versatile and depending on your tastes you can throw any vegetable in your dehydrator that you love.
Be sure to slice them thinly though as Couscous only needs to soak in boiling water instead of keeping it on a flame.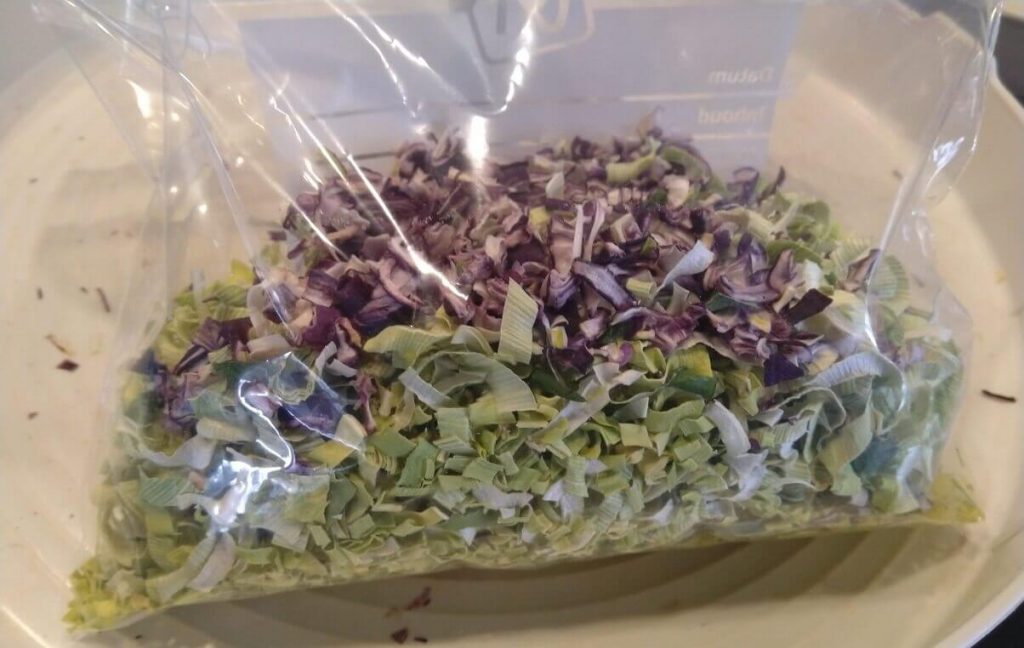 Since I made a big batch of dehydrated Leeks and Onions earlier that is what I am using. Again, feel free to use what you like.
Packing it all up for on trail use
Packing the Couscous recipe up for cooking out hiking of course requires a Ziploc baggie. In there you can put all the ingredients that you will need. But store the Couscous separately. You can combine the spices in a small bag or container and do the same for the Olive oil. Olive oil is a great calorie booster for relatively low weight considering.
Storing the Olive Oil can be done in a small bottle, here I use a little recycled Gordon's gin bottle for. Pretty much any small lightweight container can be used for this purpose. Total weight of this meal in my configuration:
210 grams with olive oil
175 grams without olive oil
Preparing the Couscous with vegetables out on trail
Cooking the Couscous requires little time and effort. Like all trail meal recipes it comes down to throwing the ingredients into the water in separate steps. And waiting for a bit to everything to re hydrate.
Step 1, Take your pot and put it in your Bouillon cube, dehydrated vegetables and the spice mixture.
Step 2, Add in two and a half cups off cold water. Cover and put to the boil. Once boiling add in a little olive oil.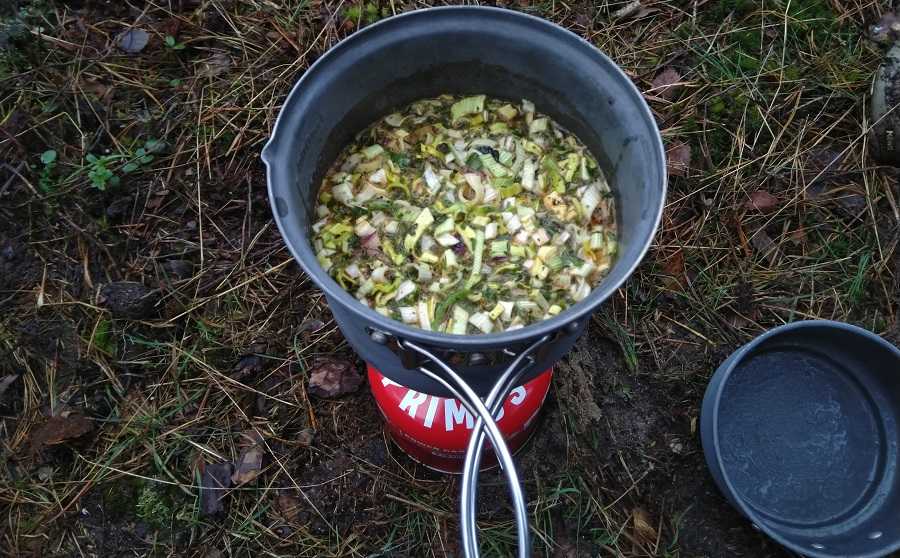 Step 3, Once the mixture has boiled for a minute or two add in your Couscous and lower the heat. Add in more salt, pepper and a little more olive oil. Kill the heat and cover with your lid. When you have a pot cozy now is the time to use it. If not, I didn't do that either and it worked out alright in February.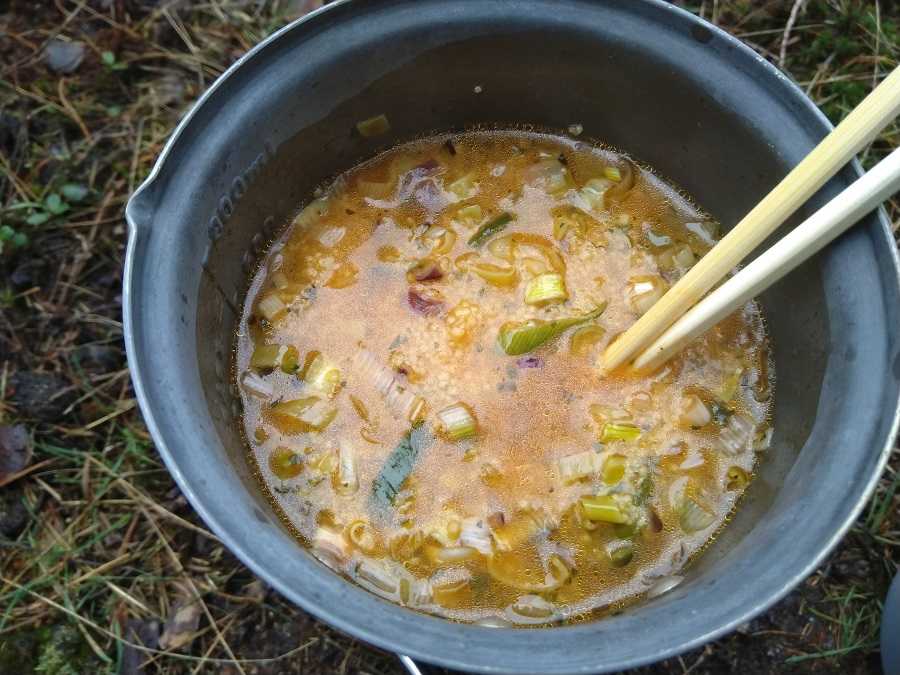 Step 4, Is two wait ten minutes. After that dig in! Your Trail meal is ready.
That is all for this recipe, if you want to learn more trail recipes head over to the category Hiking food for all of mine.
Happy hiking and hike for purpose!