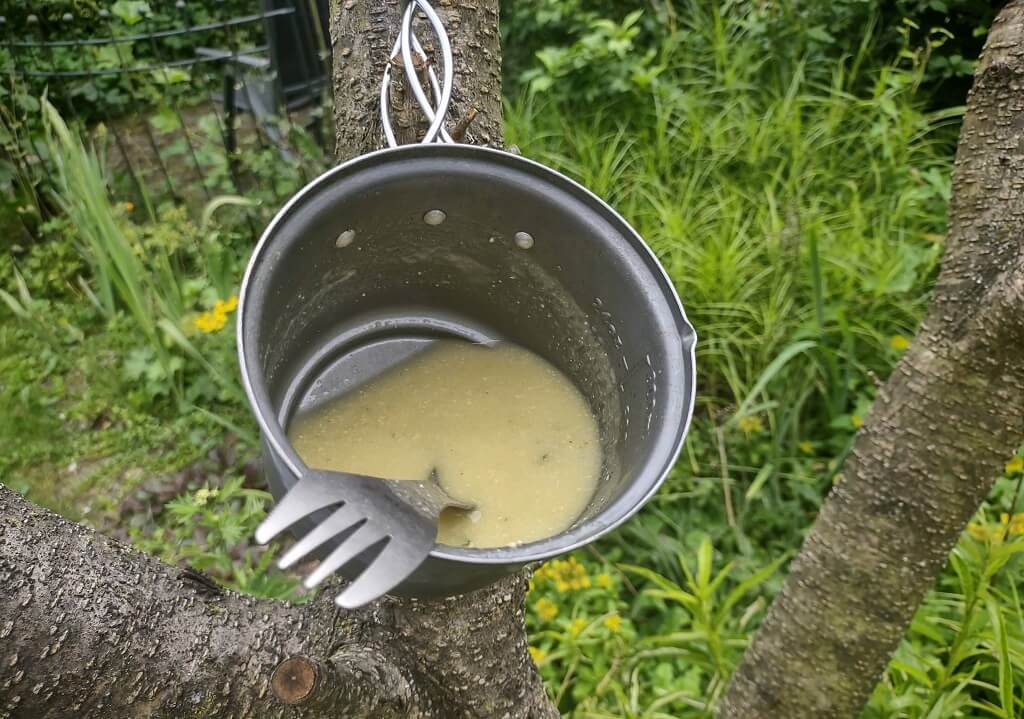 Trail Meal | Zaanse Mustard Soup
In the Netherlands lies the Zaanstreek, one of the original industrial areas above Amsterdam this region is known for its hearty and warming recipes. This mustard soup is one of them. With a few twists to make it more hiker-friendly. Let's get to the recipe!
Mustard has been milled in Zaanstad in the Netherlands for a long time, the most famous company that still does it now is the Huisman brand. A family company that has been making mustard for over 4 generations. The "grove" or course kind is my all-time favorite to put on my bitterballs and croquettes. This mustard recipe has been a long time in development, and after trying many different ways of making it I finally landed on the following recipe. Here is what you will need for the Old Zaanse style Mustard soup:
Snackbar packet of Mustard, or take a tablespoon or so in a small container with you. Mustard can keep outside of the fridge.
two tablespoons of regular flour
two tablespoons of oil, sunflower oil tastes best
1 boulion cube, beef tastes best. Easily keep it vegan by adding a vegetable one
Bacon bits, some fried onions or chives for garnish
350 milliliter of water
Salt and Pepper to taste
Traditionally this recipe is made with butter instead of oil and adds cream at the end. But to save on weight and bulk, I opted that out.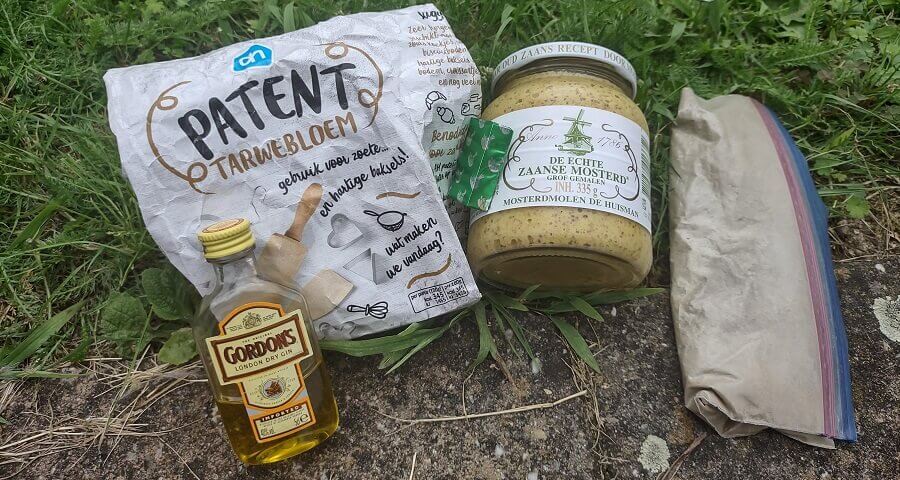 Making the Zaanse style Mustard Soup on trail
For cooking the mustard soup you will need the following tools:
Cooking pot
Burner, preferably one that can simmer
Spork
Tea towel for cleanup
And that's pretty much it, it requires minimal cooking and can be whipped up in under 10 minutes. Like pretty much all hiking cooking it needn't be rocket science. Quick, easy, and tasty is the goal.
Cooking instructions
Step one is to get your pot on low heat with the oil in it. After you see that it's getting hot you can put your two tablespoons of flour in it. Now you should keep stirring until you can smell the flour a bit. It will look a bit like this: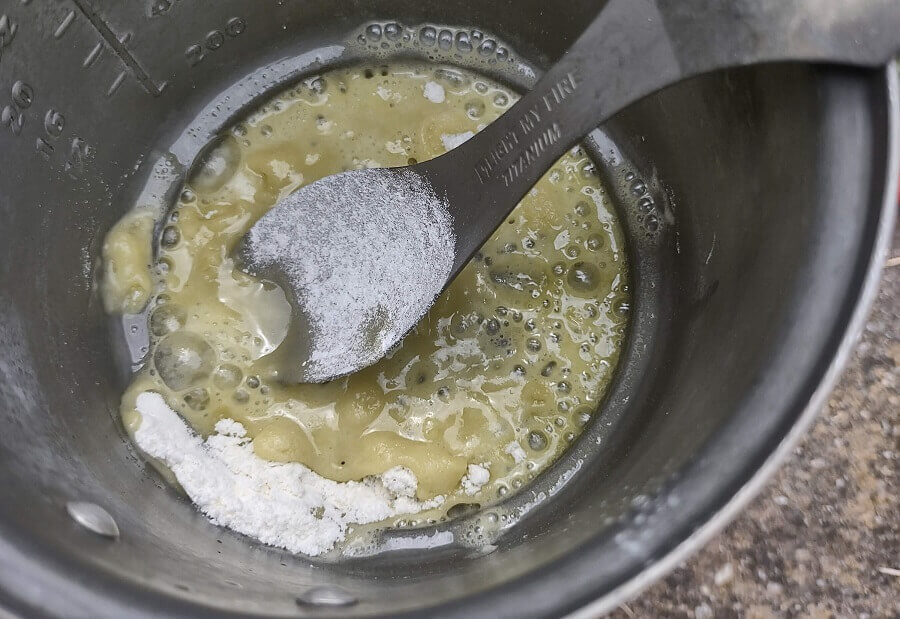 Once you see all the flour bubbling away like in the top half of the picture it is now time to add in your water and stock cube. Keep stirring and scrape a bit on the bottom to get it dissolved all the way. With cold water, you minimize the chance of lumps. It's the consistency you want until you get the following, see the video below.
When it reaches a boil and you see it thickening up, now is the time to add in the star of the show, the Zaanse Mustard. After that, you really don't want to cook it more. Add it in, keep stirring for a bit and kill the heat.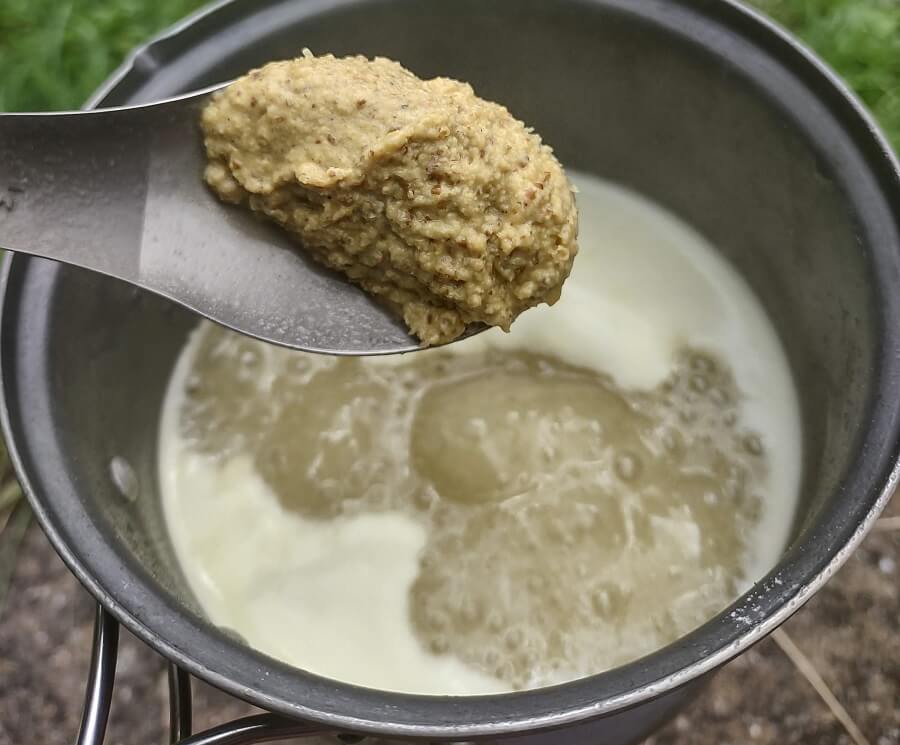 Cover for a minute or two with the lid or in a pot cozy. And stir to serve. That's it. time to eat! Calories will vary a bit depending on the ingredients, but it should be around the 250 calorie mark for this recipe. All "dry" ingredients in total should be around 75 grams. So not that bad in the weight department that you take out with you.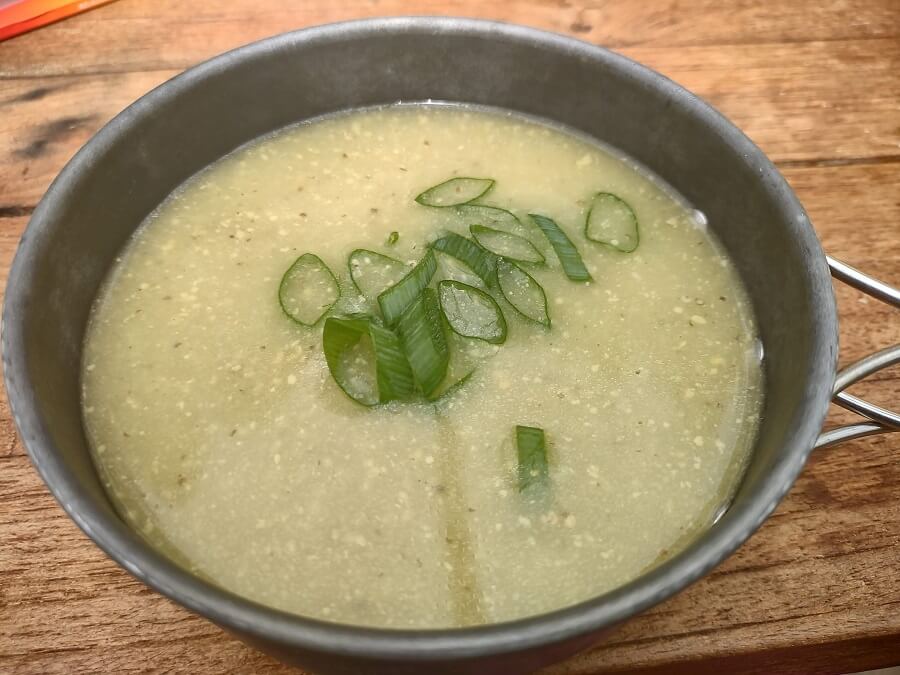 Excellent on a cold and windy day. Simple and filling like all Dutch food. Although my grandma's soups will always be best. Hope you give this recipe a try, until next time.
Happy hiking and hike for purpose!