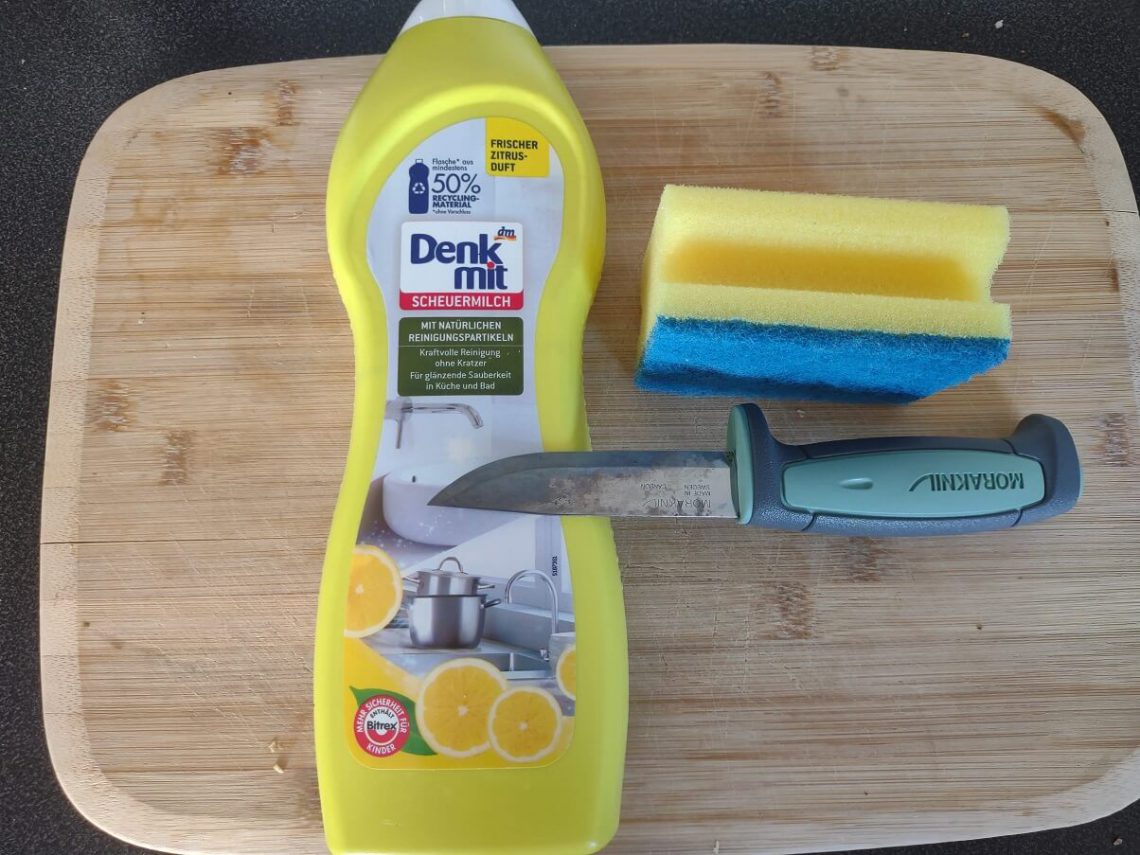 Carbon steel Mora knives get a Patina with use, this is not something you can really avoid, but you can stop it from developing further. In this article, I share some tips on how to prevent it, how to remove it and how to care for your Mora knives made out of Carbon Steel.
Mora knives are the go-to option for many bushcrafter, hikers, or campers starting out. Or just like the simplicity of the Mora knives. For peanuts, you can have a very capable knife that can be used for everything from food prep to woodworking. For example, the Mora Basic knife has a small, light-fixed blade knife that can be used as a great hiking knife. Or general purpose camp knife.
Using and simply touching the blade of the knife and not wiping it off afterward you can start to see a patina developing. Let's get to the bottom of what it is, and how to prevent or force it.
Quick jump list
Affiliate links may be mentioned in this article, by purchasing a product through those links I may receive a kickback. At no extra cost to you.
What is a Patina?
A patina on a knife can occur on practically any knife, stainless, carbon, or anything in between. If your knife comes into contact with acid or tannins from woods like hazelwood or birch, you will start to see it affecting the look of the knife. Certain stainless steel types can handle this incredibly well, while others like 8cr13mov can perform quite poorly. With Carbon steel in particular you can see this as fast as a few minutes after the cutting task. Spots start forming and if you leave them for long enough, rust.
A patina in itself is nothing to worry about. If you want to keep your carbon steel Mora knives in perfect condition then get ready with a scouring pad and polish every time you even look at them.
Preventing and Removing a Patina on Mora knives
If you want to prevent a Patina from forming on your Mora knives it is important to take care of it as soon as you finish your cutting task. Wipe the blade off with a clean cloth, and make sure to lightly oil it straight after. I always recommend using food-safe oils for this, like a kitchen oil, or Ballistol. Because a camp, hike, or bushcraft knife eventually comes into contact with food at some point in my experience.
When you want to remove an existing spot of patina on your Mora knife you can do so with common household kitchen stuff. Simply use a (not too coarse) kitchen scouring pad with some polish compound and go to town on it for a minute or two on each side. Rinse it off underwater, and don't forget to oil it immediately after. Here are the before and after pictures, takes all about 5 minutes.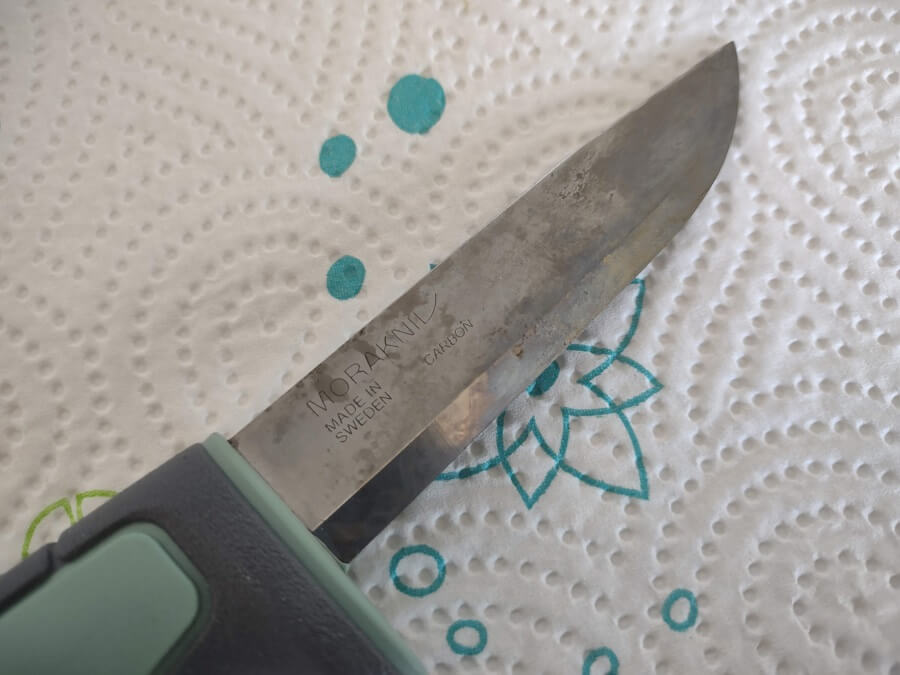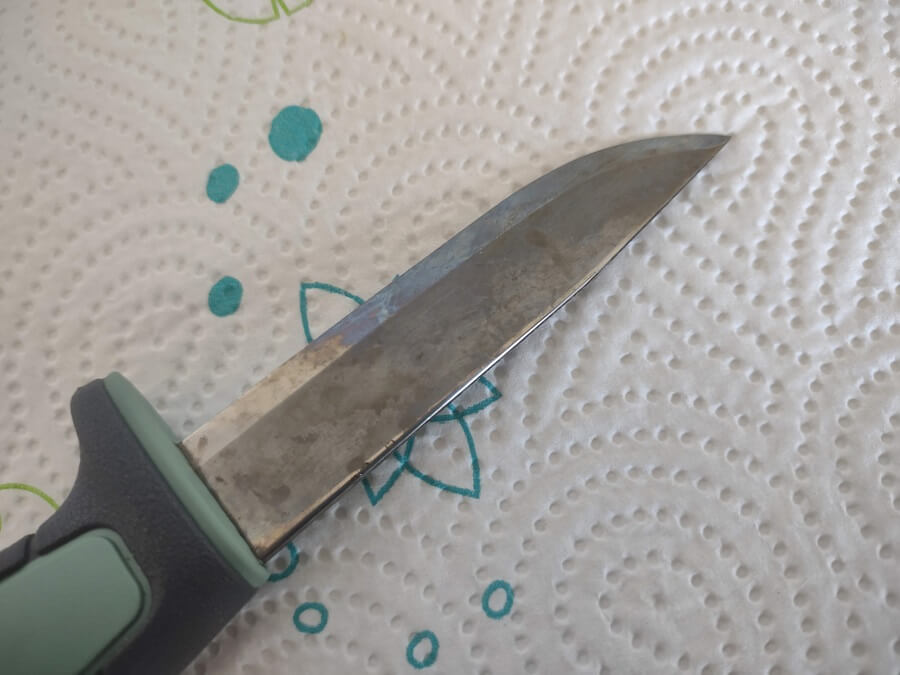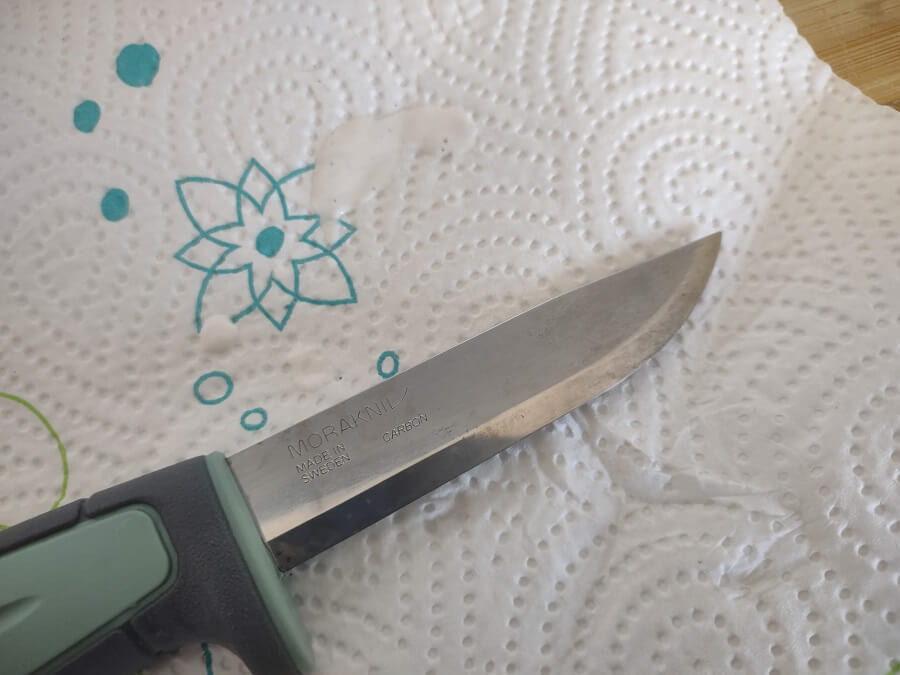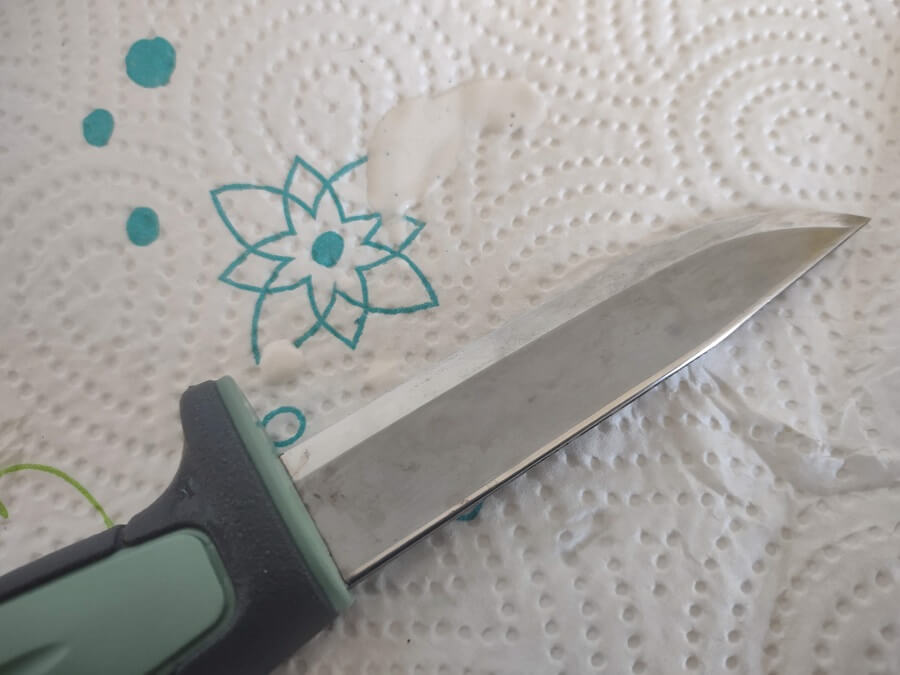 Easy stuff! You can do the same with a bit of polish used on silver. But I do not think you have to go overboard on Mora knives. These are workhorses after all.
Forcing a Patina on Mora knives [maintaining a healthy patina]
If you want you can also force a Patina on Mora knives, you can do so quite easily again with stuff that's probably already around in your kitchen. And simply white distilled vinegar or mustard can do the job in a jiffy. When you force a Patina on a Mora knife, you in fact protect it a little bit more from it developing further. The same way people acid etch and sketch, you can also do designs and fancy patterns on it.
It comes down to putting the acidic stuff on the face of the knife, letting it sit for like 10 minutes, and seeing what develops. You can also even boil the Mora knife for a quick minute in vinegar and let it sit afterward in the hot vinegar until you have the desired effect. You can really see it react with the vinegar.
I always don't really bother with any of that stuff and develop a natural patina on it in use. With regular tasks and especially food prep, you can see it start to form with no effort. You do you of course.
If you are interested in different ways to acid etch your Mora knives, there are a lot of people over on YouTube that done just that already. And explain the process further. Simply search for "Mora forced patina". To discover a bunch.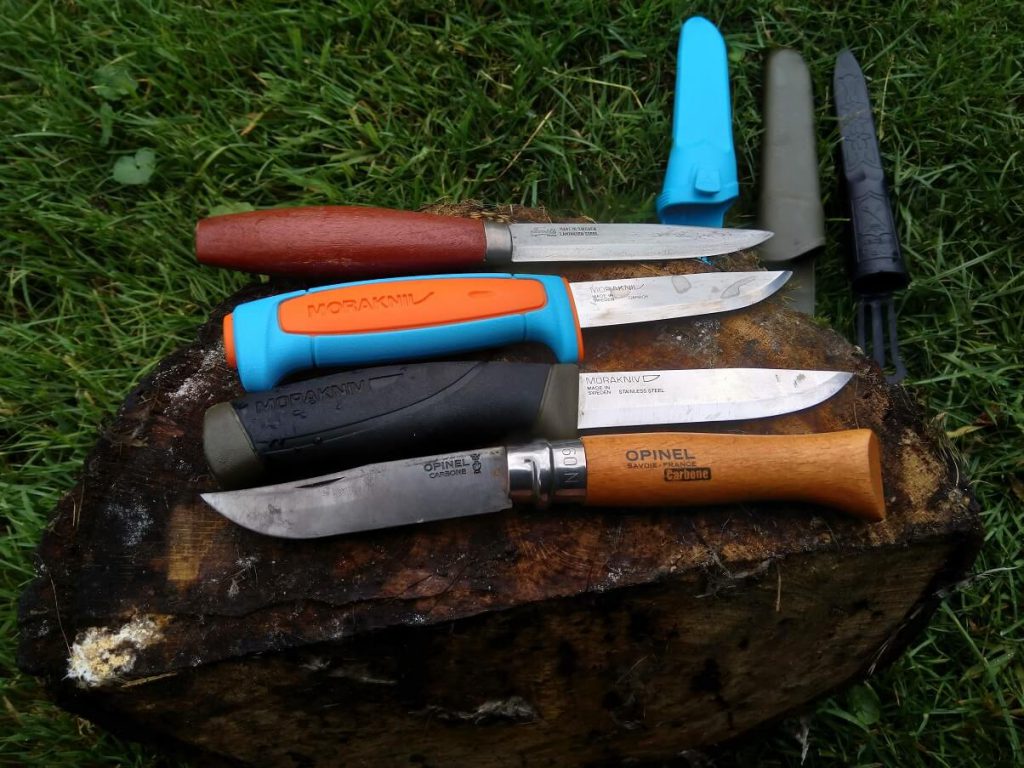 When appropriate, go for a stainless Mora
Certain circumstances ask for a stainless steel Mora knife, in different areas on the planet with high humidity or constant soaking rain. It is very difficult to prevent rust from forming instead of a nice-looking patina. A patina can help actually in those situations to make it more resistant to harmful rust. But it can be not enough. So if you live in those types of environments or do not want to deal with all the above, then simply go for a stainless Mora option. If you leave those long enough in saltwater those will also start to be affected. But are more resistant to it than High carbon steel knives.
Given my environment and use, I tend to favor the Mora Carbon steel option, if you want to read exactly why, you can read my full article over here: Mora Carbon vs Stainless.
That's it for this article, what is your favorite way to develop a Patina on your Mora knives? Let me know in the comments!
Happy hiking and Hike for Purpose!