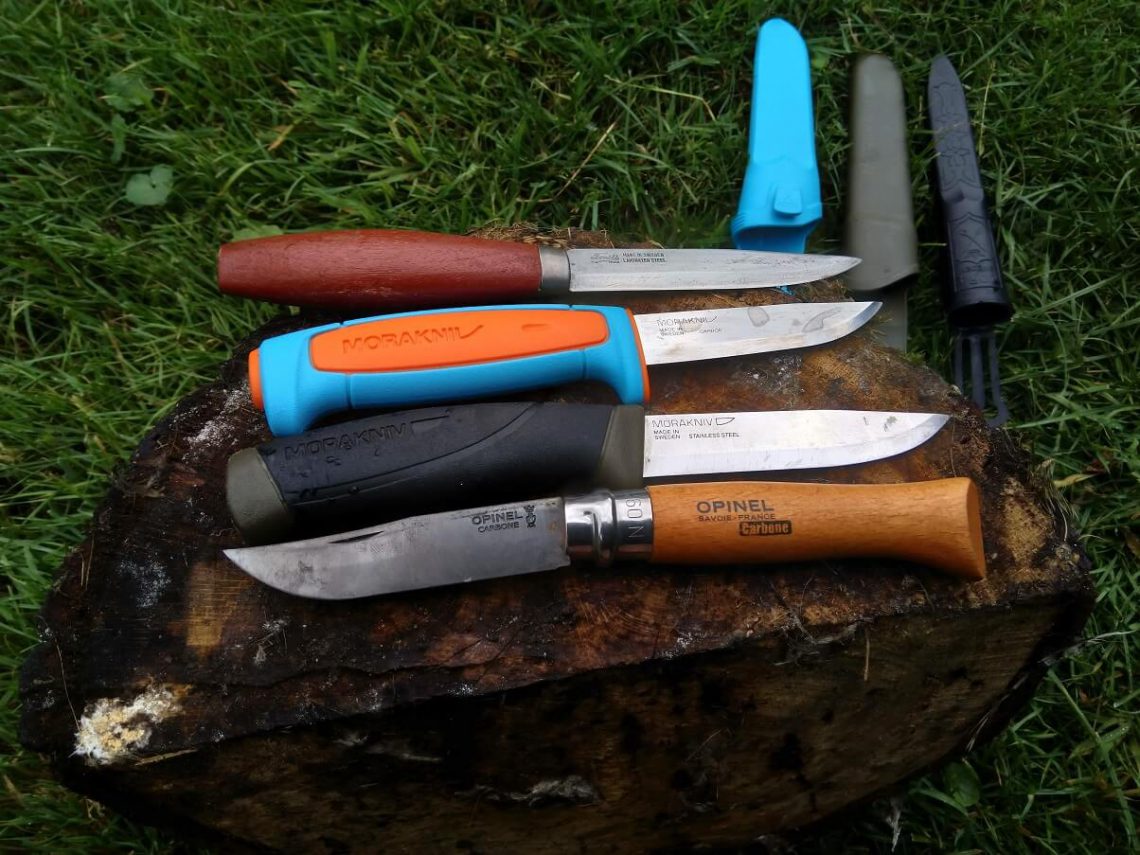 Opinel and Mora knives are a staple in the outdoor community. For every cutting task, they are at the ready. In this article, we discuss the differences and choices between the two knives.
When getting started in hiking, bushcrafting, or just looking for a knife for cutting chores around the house. The names Opinel and Mora are often recognized in articles and videos. They are old brands that have gained quite the following in the different outdoor communities. Reliable, affordable, and easy to sharpen for first-timers. Let's dive deeper into the choice of deciding between the two.
Quick jump list
Affiliate links are mentioned in this article. Support the site by clicking on the links and making a purchase, at no additional cost to you.
With both types of knives, I have more than a decade of experience using them for everything that I could throw at them. Working with wood projects, cutting branches, and carving. And food prep.
Opinel knives
The french Opinel knives are a favorite of mine for many adventures. On pretty much any hiking trip you will see me carrying one with me. The blade shape lends itself perfectly for food prep, eating, and making a cut here and there. Besides that, they are very lightweight and easy to maintain. Sharpen them before you go and maintain them with your belt while your out hiking or camping.

The Opinel knives always bite into any wood thanks to its Yatagan blade shape and edge profile. Ideal for cutting a walking stick or decorating it when sitting in front of a fire. With a handy modification to your Opinel knife, you can even open them one-handed. Great for when you need to cut something and your hands are full.
If you want to read more about Opinel knives I have just the articles for you! Read more about the knives and steel types in the following articles:
Mora knives
Mora knives from Sweden are a long-standing favorite among the outdoor community. With their affordable price, Scandinavian grind, and comfortable handles they make for great first bushcraft knives. With those benefits, they make for a popular knife in the outdoor community for any task.
The knife company has been around for a long time since 1891 they have been making knives of some sort or another. With the merger of 2016, they have been exclusively selling knives under the Mora brand. Which makes a wide range of knives. The most popular one that is steeped in history is the iconic red-handled Mora knife with a plastic sheet. As pictured down below.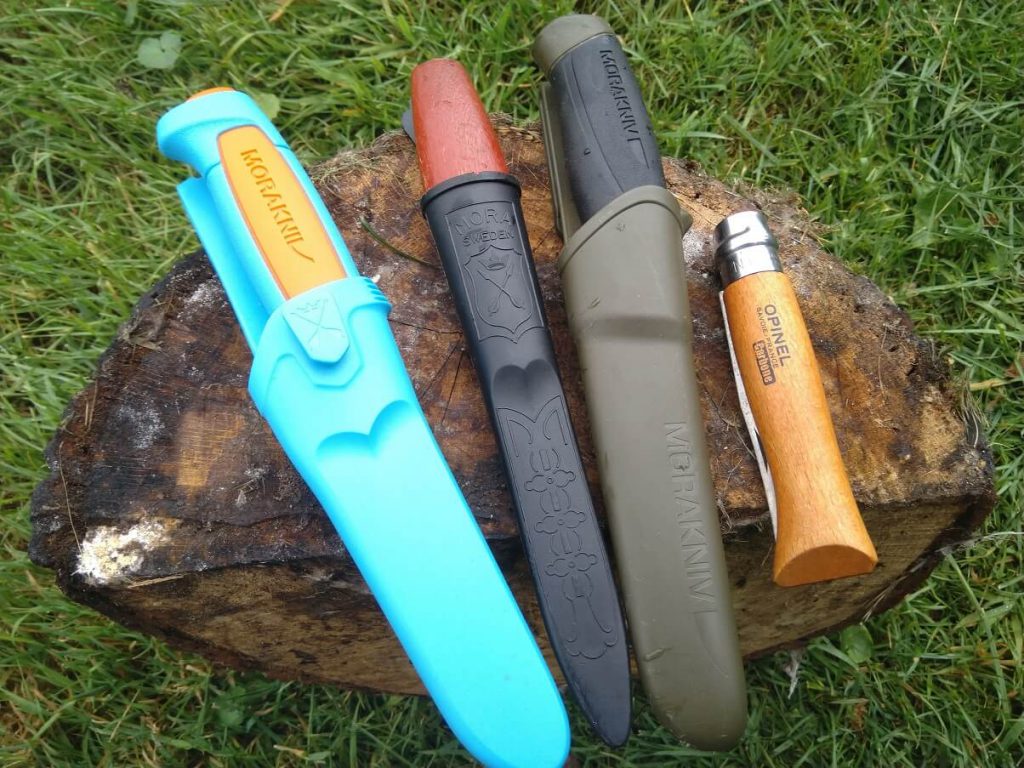 Steel types of Mora and Opinel knives
The steel types for both Opinel and Mora are quite similar. Both feature a stainless steel and a carbon steel version that have the same properties. For hiking, this generally boils down to where you going to be hiking in. Hot and damp weather eats up carbon steel. And a stainless steel knife is the go-to choice for that use.
For everything else, I tend to prefer the Carbon steel versions of these knives for their more durable edge. Stainless steel chips more easily, Carbon steel rolls. A rolled edge is more easily resharpened than a chipped one. Down below are the steel types for both knives shown in a graph.
| Knife type | Steel type |
| --- | --- |
| Mora Carbon steel | UHB-20C, Triflex steel, HRC 61 |
| Mora Stainless steel | 12C27 Swedish Stainless |
| Opinel Carbon Steel | XC90 steel |
| Opinel Stainless steel | 12c27 Sandvik steel |
Use cases for both
Mora knives are fixed blades, which are more appropriate for wood carving and projects like you often do when fixed camping. Bushcrafting or woodcraft. For hiking, I prefer a folding knife like the Opinel knives for their appearance. Which is not scary in any way for most cultures. Always make sure you abide by the local laws and customs when hiking in different countries.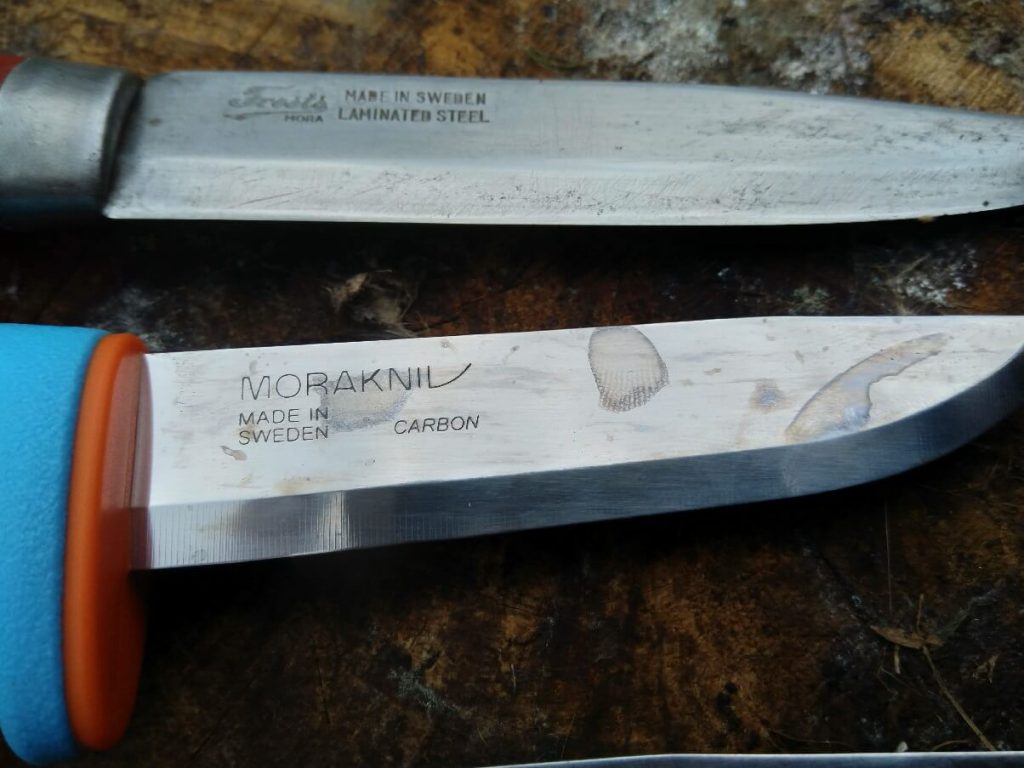 Your opinion may vary according to what exactly your going to be doing on hiking, camping, or bushcrafting trips. If you are going to be processing wood for fires or have a lot of cutting to do than a fixed blade knife is more comfortable to use, more durable, and tougher for those situations. If you however want to do more delicate tasks like food prep or basic cutting tasks. An Opinel knife is my go-to knife choice.
My choice for different sort of trips
So my preference for hiking trips is the Opinel knives, either the Opinel No 8 or 9 in carbon and stainless steel. For the following reasons:
Lighter weight
Better suited for hiking trips and meeting people
Durable and sharp edge perfect for trail cooking and minor cutting tasks.
And for the more bushcraft type of trips and camping in a fixed place. Mora knives are my go-to. For the following reasons:
Edge is more durable for heavier tasks
Able to split firewood
Cutting tasks are more comfortable. Can be easily converted to a drawknife.
Get both! Or two of the same
When shopping around for an Opinel Knife or Mora knife I would recommend just getting both. They are fairly inexpensive knives and in most cases, you can get both around the 40 dollar mark or even way below that.
Get the Opinel knives over on Amazon
Get the Mora knives over on Amazon
This makes it an inexpensive collection of knives that you can pretty much do everything with. Both knives bite deep into any material thanks to their edge profile. Both knives are easy to sharpen for beginners and both knives are incredible value for the money.
When you want to get more into the different types of Opinel Knives or Mora knives this is also a nice collection that can be had for little investment. Or a lot. Depending on the knives that you like. A beautiful olive wood-handled Opinel can be just as pretty as some of the very expensive knives.