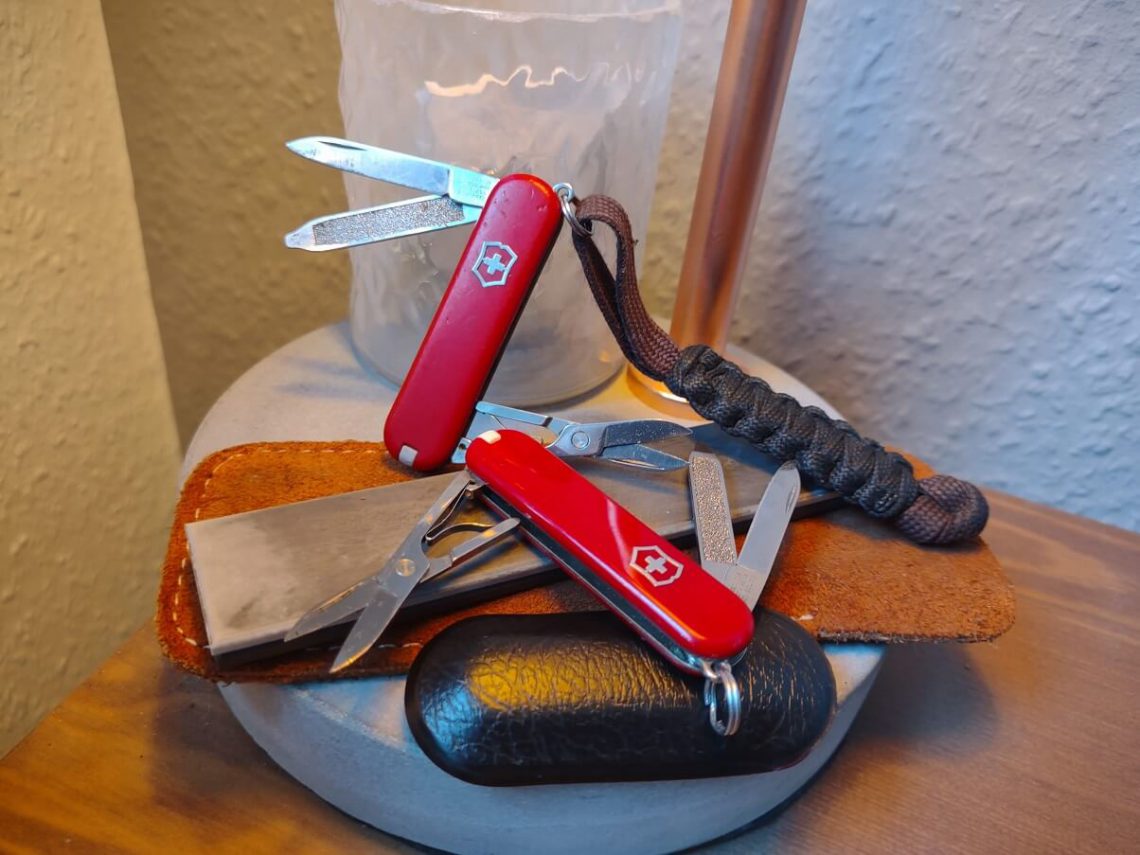 Victorinox Classic review
The Victorinox Classic is one of the classics as its name suggests, this little pocket knife gets gifted probably more than any other knife. Does it provide everything you need for Hiking purposes? Let's find out.
Victorinox is the company that makes Swiss Army knives for as long as Swiss army knives have been a common term. The great steel quality and long lasting knives make for an excellent gift to anyone that is looking for a present for a hiker, or somebody's first knife. Not threatening and legal to carry pretty much anywhere, the Victorinox Classic SD is a great option that is also very lightweight to carry.
Everything you wanted to know about the Victorinox Classic will be handled in this review. Use the quick jump guide below to jump to the information you want about it.
Quick jump Guide
Affiliate links may be mentioned in this article, by purchasing a product through those links I may receive a kickback. At no extra cost to you.
Features of the Victorinox Classic
There is a lot of functionality packed into this little knife, with their clever design there is a feature in every square millimeter of this knife.
Let's first get the dimensions out of the way, in the table below you see the height and length when folded up. Or how you carry it.
Next up you can read a little more about all its functionality down below. And some of its further use cases of the Victorinox Classic SD.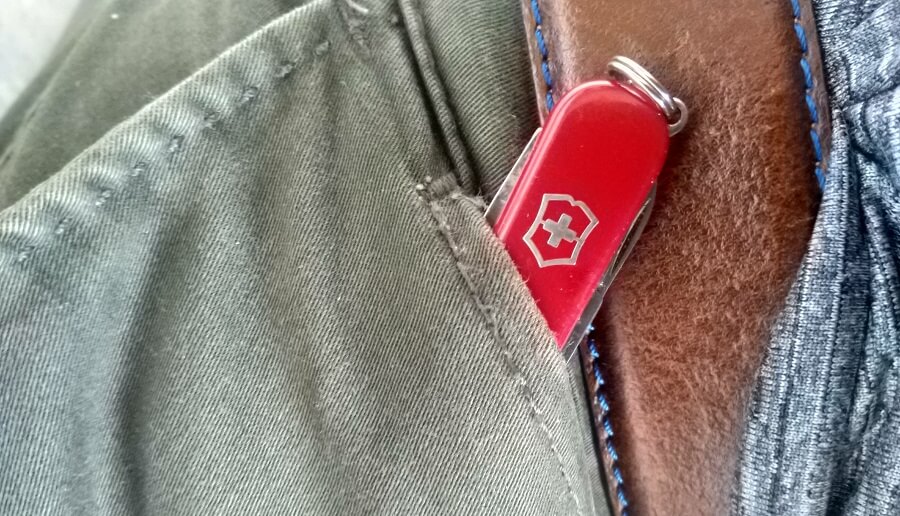 Knife blade
Let us first start with what everybody carries a pocket knife for, al be it hiking or daily use. The actual pocket knife blade of the Victorinox. The knife blade is a short one and is suited for cutting open your mountain house meals, cutting open boxes, and thin rope. Any woodcarving or similar bigger projects do get kind of difficult with such a small knife blade.
But for cutting a piece of French bread, or similar small food prepping tasks that gets asked of a knife on hiking trips it is a good choice.
The blade steel itself and most other components of the knife are of a Stainless steel INOX. Which means that the knife can handle most conditions without developing rust. Leave it in a saltwater environment long enough and as with almost any knife, it will develop rust.
The little knife blade can be easily sharpened with a sharpening stone or system. I am a big fan of the Spyderco double stuff sharpening stone. Which is great for sharpening at home, for keeping the edge biting on hiking trips I run it over my leather belt. One of the easiest ways to touch up an edge while on the go. Without carrying dedicated gear for it.
Scissors
The Scissors are a great addition to any pocket knife, great for making precision cuts and first aid. Like cutting plasters or band-aids in a precise way to fit in a tight spot on your finger. The scissors are spring-loaded and therefore easy to use one-handed, without having to reset the scissors every time you make a cut.
For hygienic purposes like cutting your fingernails and toenails while out on hiking trips, the scissors also come into play. Without the risk of cutting yourself, you can keep them neat and clean while out on the trail. Which lessens your chance at blisters and rub spots on your feet.
File and screwdriver
The file comes also into play for the hygienic aspect. After cutting your nails you can file them down for any sharp edges that may have formed. This also helps with the risk of developing issues with your feet when hiking during the day.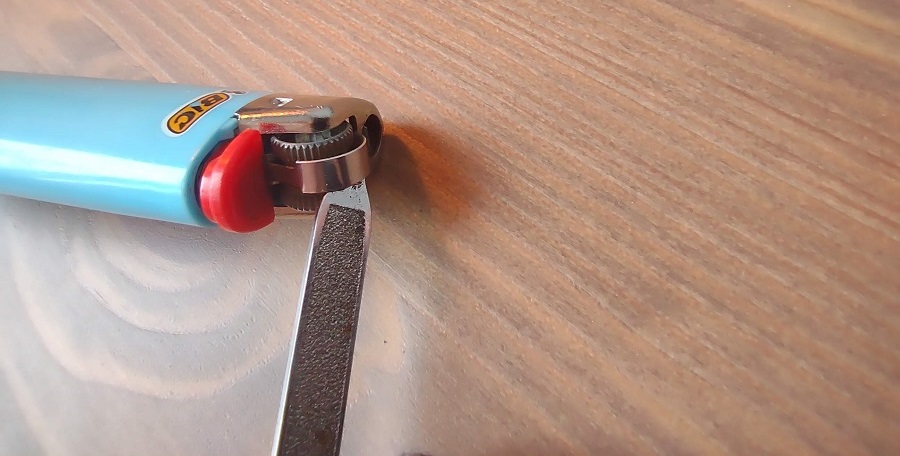 Other uses that you can use are to file down a sharp point or touch up the tips of your hiking trekking poles. Anything you use a file for really, only scaled down to mini size.
The screwdriver on top of the file can handle most small screws that you encounter in for example a computer build. On occasion working in IT I pretty much built an entire PC or Intel NUC with just that screwdriver. Is it the best option for that use case? No, but it is what you always have on you because of its size.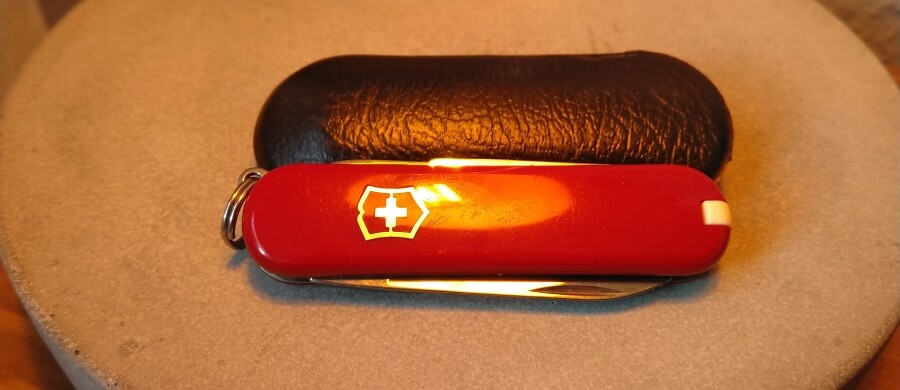 During hiking trips, you don't encounter many things that you need to screw down. The only thing that I use it most for is to tighten up my Kovea stove. Since that has a screw-on top of it to secure the pot supports.
Toothpick and tweezers
The toothpick is probably one of the most used features of this knife for many that own it. Some people may be grossed out by it, frankly however it is nothing to be worried about. You handle way more gross stuff daily. Just clean it well after use and it's good to go again. If you are not going to use it to clean your teeth you can always use it to poke things, for example picking a port clean on one of your devices.
Tweezers are another useful feature of the Victorinox Classic, for removing splinters, assisting in blister treatment, or just reaching for a small item in hard-to-reach places. You can also use it to remove ticks, although this is not recommended. And I suggest you use a tick spoon for that. Since using tweezers can risk leaving the ticks head inside of the bite. Which causes a lot more problems.
Handle material and variety
The great thing about Victorinox knives is that you can get them in many different variations. Nearly every year they have a special edition that has different color handles and more. You can also get them in the Alox handled version, which is the traditional army way of having the Swiss Army knives.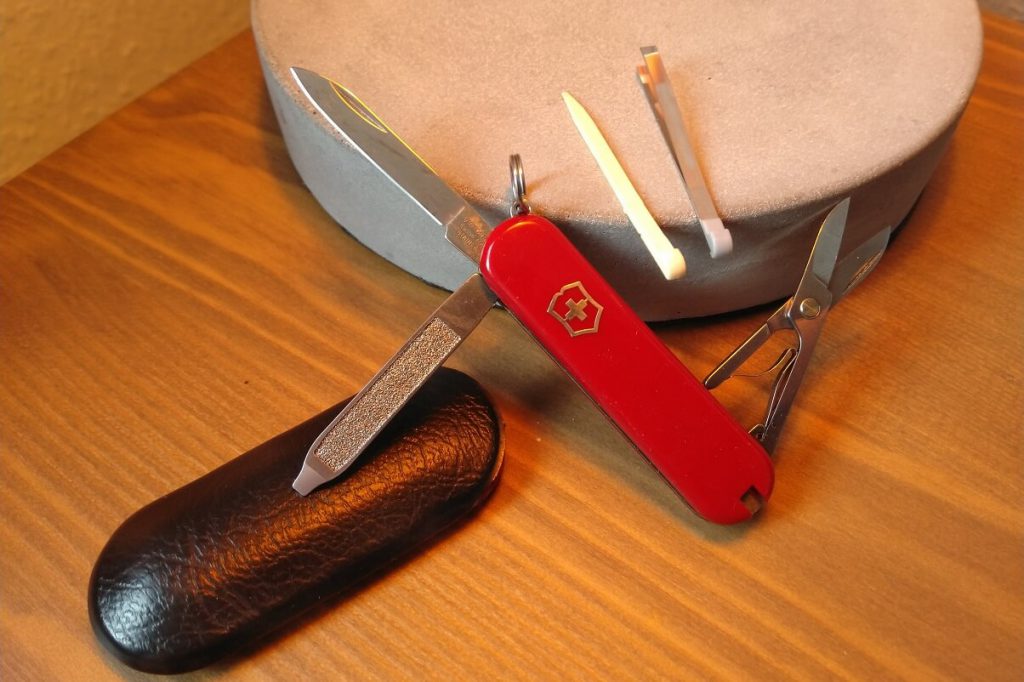 Different handles mean that sometimes you lose the Toothpick and Tweezers though. So be aware of that.
The standard handle is made out of ABS plastic and comes in their signature red color. These handles tend to last a long time. They do warp in great heat and moisture. As you can see from my review of the Victorinox Spartan review.
Is a Victorinox Classic enough for hiking?
This question gets asked a lot by Hikers, in my personal opinion, and how I hike. No, only carrying a Victorinox Classic in most cases is not enough for my hikes.
I combine my favorite hiking knife, the Opinel No 9 in carbon steel with me. And carry either the Victorinox Classic or Victorinox Spartan with me. As a hiker that enjoys cooking, cutting and carving sticks, etc. I love being to be able to do that comfortably with my larger Opinel knife. And because of its lighter weight too. I hardly notice a big increase in the weight issue for my hiking "Toolbox". When I go out hiking in a wetter environment then I combine either one of the Victorinox knives with the Opinel No 8 in Inox that I have.
Get the Victorinox Classic now on Amazon.
As always, your opinion may vary if the Victorinox Classic is enough for you on hiking trips. Share your thoughts on it down below in the comments!