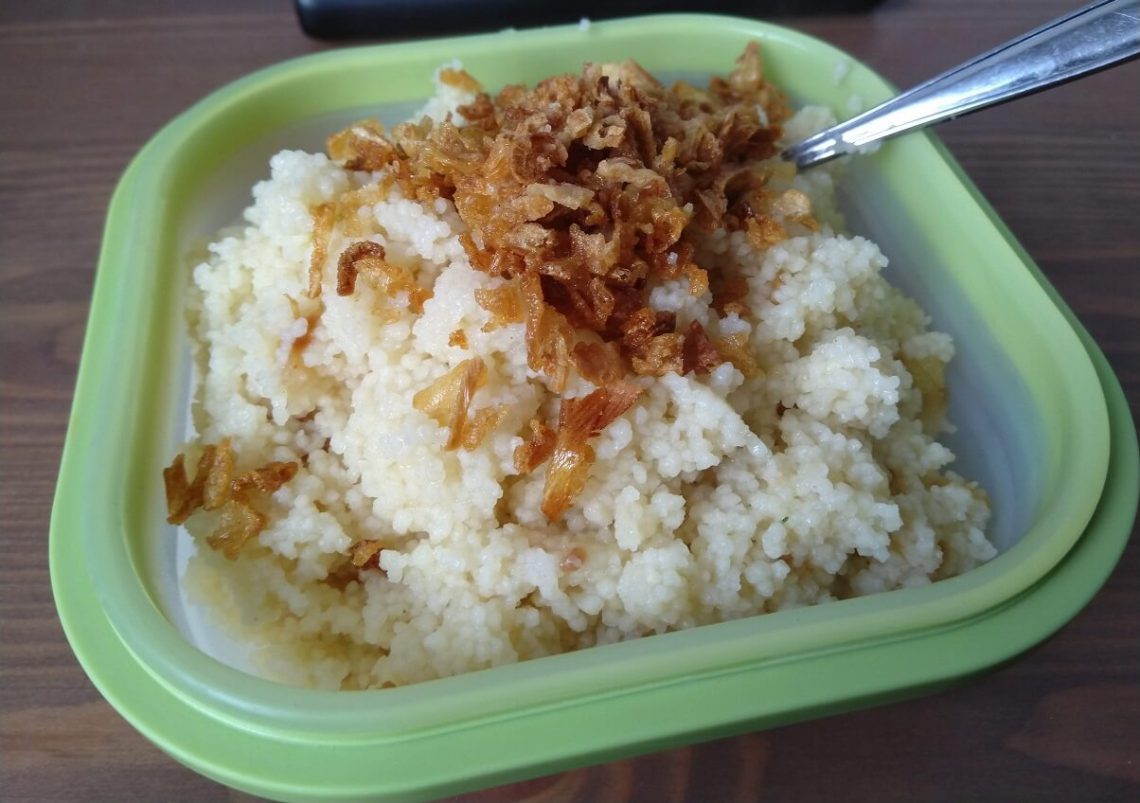 Trail Meal | Fried Onion Couscous
Couscous is a staple in the hiking community for its ease of preparing out in the backcountry. With one pot needed and not much cooking at all, you have yourself a filling meal. Here is another Couscous recipe to put in your backpacker's pantry!
I thought of this recipe by buying some of the well known ready-made fried onions in the supermarket a few months earlier. With pretty much stuck in a partial lockdown in Germany my mind went to thinking off a few trail meal recipes again. Here is Fried Onion Couscous!
Ingredients for Fried Onion Couscous
Couscous – preferably the Durum Couscous for better flavor. One cup.
1 Bouillon cube, this time I used a very good Chicken stock cube.
Fried onions, you can get these in the Netherlands and Germany pretty easily. Half a cup.
Salt and pepper to taste, or hot sauce.
Little olive oil if available
Two cups of water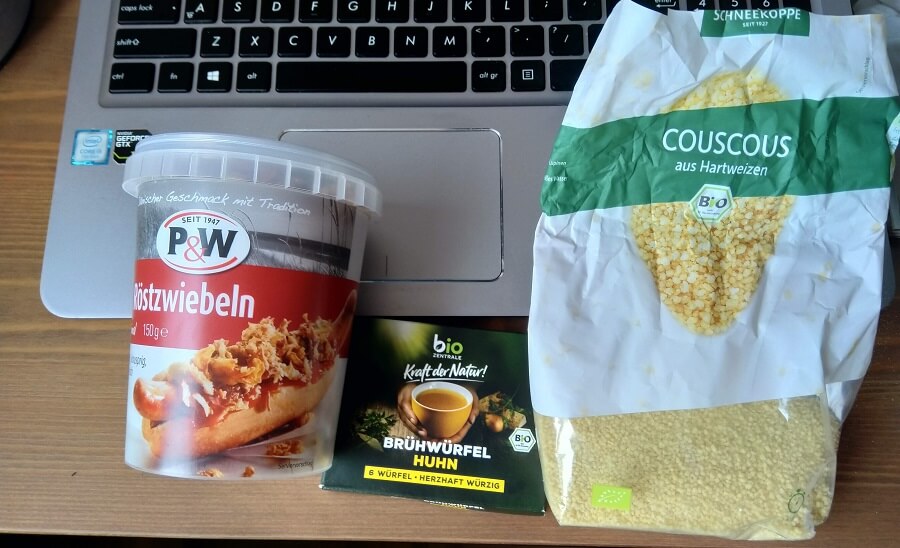 Calories:
| | | |
| --- | --- | --- |
| Couscous | one cup | 112 kcal |
| Fried onions | half a cup / 50 grams | 295 kcal |
| Bouillon cube | one cube | 30 kcal |
| Total | – | 437 kcal |
*Rough estimates by package information.
Total weight for the meal: 160 grams
Cooking gear
Cooking gear you will need to prepare the fried onion couscous:
Cooking pot
Backpacking stove
Tea towel for cleanup
Preparing the Fried Onion Couscous
Cooking the Couscous is everyone familiar with I assume. But here is my method:
Step one: Put two cups of cold water and your bouillon cube on the burner, could be a gas stove, alcohol stove, or whatever your favorite backpacking stove is.
Step two: wait for it to boil and add your one cup of couscous. Plus some of the Fried onions to partially rehydrate. Let it come back up the boil and turn off your stove. Else the couscous will burn on the bottom.
Step three: Cover with lid and let it all sit for a few minutes. Usually takes about 5 minutes.
Step four: Remove lid and fluff up the couscous, add the rest of your fried onions on top of the meal. And at last, you can dig in! Add hot sauce or salt and pepper when needed.
And that's it for this trail meal, as always feel free to adapt it to your own taste. Add in fresh greens or some dried sausage. Lot of things you can do to it further to make it your own!