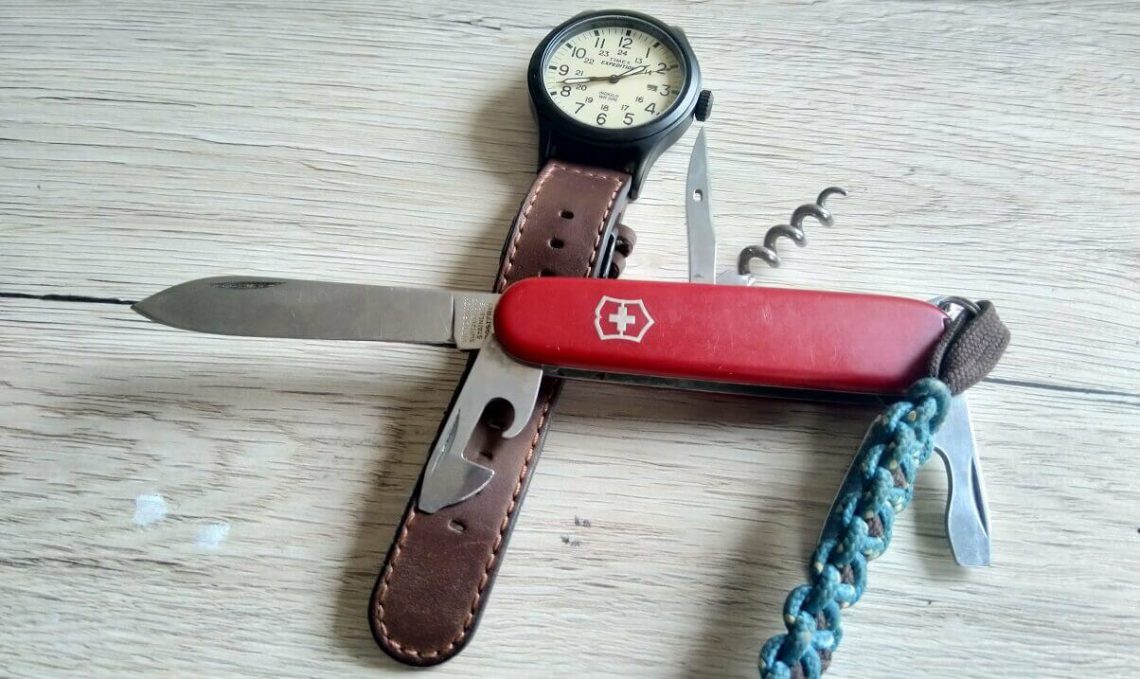 Victorinox Spartan review – Great for hiking
Victorinox is one of the first pocket knives people think of when asked about pocket knives. And for good reason. Here is why you should add a Victorinox knife to your backpack for hiking.
Not every knife brand can say that they have established themselves as much more than just that. A manufacturer of knives. Victorinox has over the years expanded to many different products.
From quality Swiss Watches to luggage designed for years of use. In this review, I am going to be focusing on their Victorinox Spartan pocket knife. A classic in their knife lineup and suitable for all manner of hiking and everyday use.
Affiliate links are mentioned in this article.
Features of the Victorinox Spartan knife
Main stainless steel blade
Secondary stainless steel blade
Corkscrew
Auger
Wire stripper
Screwdriver
Can opener
Bottle opener
Tweezers
Toothpick
Steel and Materials for the Victorinox Spartan
The steel that is used on Victorinox knives varies by the type of knife you get. For several knives in their lineup there is a choice to get a Damascus version. The majority of knives however use their Stainless steel INOX. Which has a high hardness and can be sharpened relatively easily on a stone or sharpener. The blade holds an edge well in my experience and is very rust resistant. Making it a solid choice for daily use and hiking.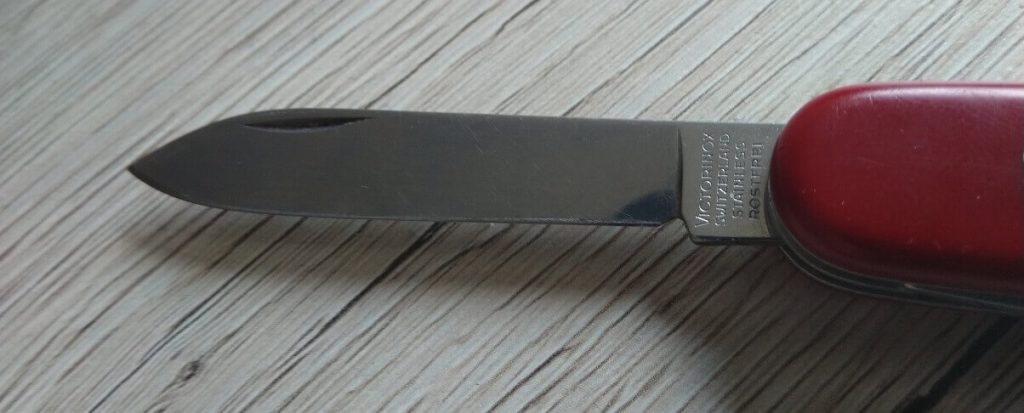 When it comes to the red covers on either side of the knife they use a plastic on the Spartan model. This plastic is a weaker point on the Victorinox knives and will degrade over the years. As you can already see on mine the handles can get warped.

In my years at an outdoor store that was something, the occasional customer would get back for. To get replacement handles for their beloved Swiss army knife.
Victorinox Spartan and hiking
The Victorinox Spartan is the knife I took with me for the section hike of the Appalachian Trail and the Hadrian's wall path hike. For everyday use out on trail, the 2 things I used the most were the main blade and the toothpick.
As an everyday carry knife the Victorinox Spartan excels and can be carried almost anywhere. For people who carry knives with them in day-to-day life to open letters, boxes or cutting a piece of string a Victorinox is a great choice.
At 59 grams however, it is a bit off weight in your pocket while hiking. And some of the tools you may need while out working in your yard or office you may not need when out hiking. But they sure a nice to have on you.
A legal knife to carry almost anywhere
Even in Britain with their knife laws the Victorinox Spartan is a good option to carry around. With their harsh knife laws complying to the British standard is sometimes difficult. Most of the Victorinox options are however legal to carry around with you. The reason you are carrying the tool is hiking.
For more information on the legality of knives in your country or hometown I would suggest contacting the local Police department or knife laws. Always double-check with them to avoid any miscommunication.
Even with nonhikers or knife people a Victorinox does not capture the attention when using it or pulling it out to open your beef jerky. The knives that will draw attention are best to keep at home in my opinion. As hiker trash you will stand out enough as is. Why add to that with your latest tactical blacked-out knife.
Short History recap of the Victorinox brand
Victorinox is a Swiss brand that established itself as a manufacturer of knives for the Swiss army. Hence the common name for them is Swiss Army Knives.
What started in Ibach, Switzerland in 1884 has since grown out to a mayor brand that is trusted by hikers, military and enthusiasts all over the world. From their army knives, kitchen knives, watches and luggage Victorinox is a name that speaks volumes for quality.
After the acquisition of the Wenger company in 2005 they are the sole manufacturer of Original Swiss army knives. Copied by many and in all formats, the original will always be the first on the list to add to the collection.
Victorinox Cadet and Pioneer models
If you prefer a bit smaller profile and a little lighter weight take a look at the Victorinox Cadet and Pioneer versions of the Swiss Army knife. These knives feature an Aluminium handle instead of the Plastic one. Making it more robust, slimmer in profile and depending on the model slightly lighter weight. The main things you lose however are the tweezers and the toothpick. So take that into account.
Asides from the Victorinox Cadet and Pioneer models there is a big lineup of other choices from Victorinox. Look around and see which model fits best in your needs and you find the best-looking. The eye wants something as well of course. You can check out my review of the Victorinox Classic on the following page!
If you are looking for a gift item in these knives why not take advantage of the engraving services that Victorinox provides? What better gift than a personalized one. Pictured with the Victorinox Spartan is the Timex Expedition, you can read my review on that watch.
Happy hiking and hike for Purpose!