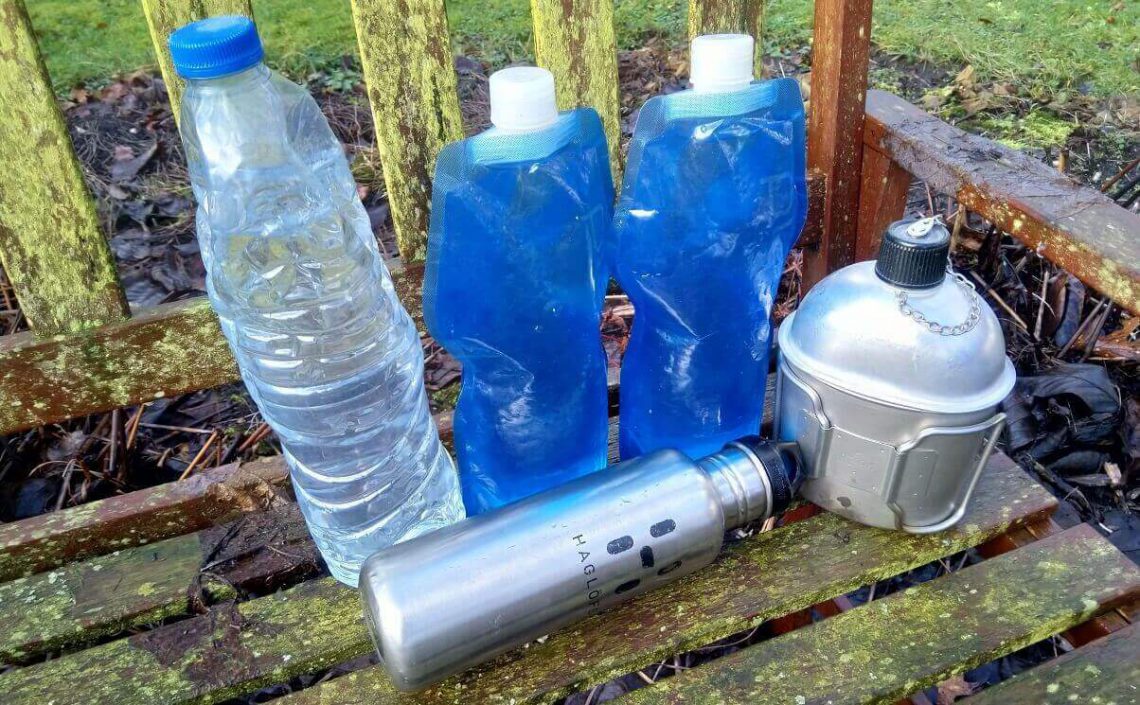 Different ways to carry water when Hiking
Carrying and drinking water is an absolute necessity when hiking long distances. Without it and it not only uncomfortable but outright dangerous. In this article I'm going to cover the different ways of carrying water with you out on trail.
Carrying water while out and about has been a cause of concern as old as history itself. Many different ways where thought of during the ages and many of them remain exactly the same in essence.
Find a waterproof container and carry it with you. The waterproof container could be a gourd hollowed out, a bladder or skin. Or a metal canteen.
Today we see the same water bladders made from plastic like the ones from Platypus and Camelbak, and the military surplus canteens made from aluminium or stainless steel. The ever popular Nalgene bottles are a favorite of many hikers and office workers alike.
Different options that I have had experience with are the following:
Nalgene bottles
PET bottles, or recycled Cola, Water or soft drink bottles.
Stainless steel Klean Kanteen bottles.
Platypus water bladders with / without a drinking tube
Camelbak water bladders with drinking tube
Which water carry method is best for you?
Lets go over each method of water carrying one by one. Talk about their advantages and disadvantages. And help you decide which one to carry for your hikes.
Nalgene bottles
Nalgene bottles have been popular for a long time in the hiking world and has since filtered down into all different work spaces. Virtually indestructible and nice to drink from with their big mouth opining. They are a solid choice for every hiker.
When I was 15 and just got my first job at an outdoor store this was one of my first purchases there. For 5 euro's with my employee discount I bought the Nalgene bottle that is still in the same shape and form a decade later. Ready for another hiking adventure. Minus a scratch or two.
Downsides of the Nalgene bottlle are that they are quite heavy, bulky and sometimes difficult to store in your backpack. And the upside of their wide mouth is also a downside. Drinking while walking almost always ensures you spill some water down your shirt.
PET bottles
PET bottles are bottles that you recycle from different Soda or water bottles. These bottles are usually extremely lightweight and surprisingly durable. I carried a 1 and a half liter water bottle the entire Coastal Camino from Portugal to Finisterre, Spain without needing replacement.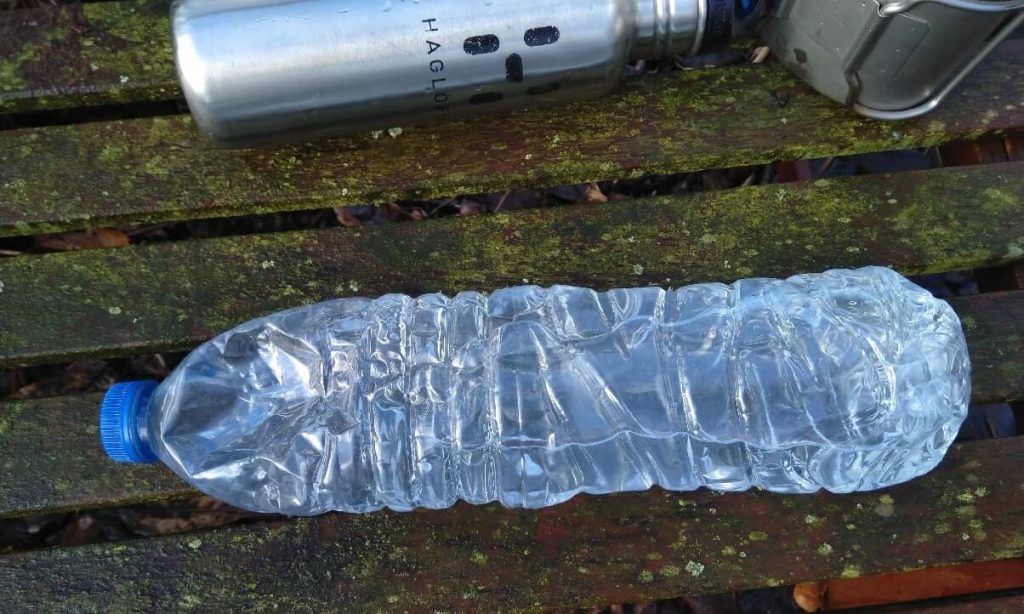 Other brands that are popular with Thru hikers in America are the Smart water bottles. These offer a good form factor that is easy to slide into a backpack. More so than other bulkier options.
And the good part of these kinds of bottles is that they can be easily replaced for a dollar or two. Plus in many countries in Europe you can even get 25 cents for them back when you turn them in.
Water filters are often designed to screw directly onto these bottles, another handy feature to have when you are unsure of the water quality.
Stainless steel / metal bottles
Stainless steel and metal water bottles are excellent for bushcrafters and hikers alike. Added bonus that comes with these bottles is that you can boil the water in them.
Plus they can come with a metal cup that slides into the bottom of these bottles. Giving you a canteen cup that sprung an entire cooking form in the hiking and bushcrafting community. Hikers and bushcrafters even make bread and pizza in those cups.

I tend to prefer taking my Klean Kanteen water bottle with me when I know I am going to be lighting a campfire or want something durable with me. With nothing to break or go wrong these bottles are very popular. Plus a standard 750 ML of wine fits right in. Also handy for a pick me up while on trail.
I like the stainless steel bottles from Klean Kanteen more than the SIGG aluminium water bottles. The SIGG aluminium water bottles always have a plastic liner in them which make them unsuitable for placing on top of a campfire. And in a couple of older SIGG bottles I noticed that the plastic liner kind off falls apart after years of use. Something you do not have with bare stainless steel.
Platypus water bladders
Platypus water bladders are a favorite of mine to take with me as the back up option. Combine the Platypus water bladders with a nice PET or Nalgene bottle to cover all the bases.
Platypus water bladders also come with a screw top mouth that is the same as the PET bottles. Which make it handy to screw on your Sawyer Squeeze water filter on. That way you can re hydrate with water that you get from nearly any water source. On the more popular trails this is very useful and gives you an extra piece of mind.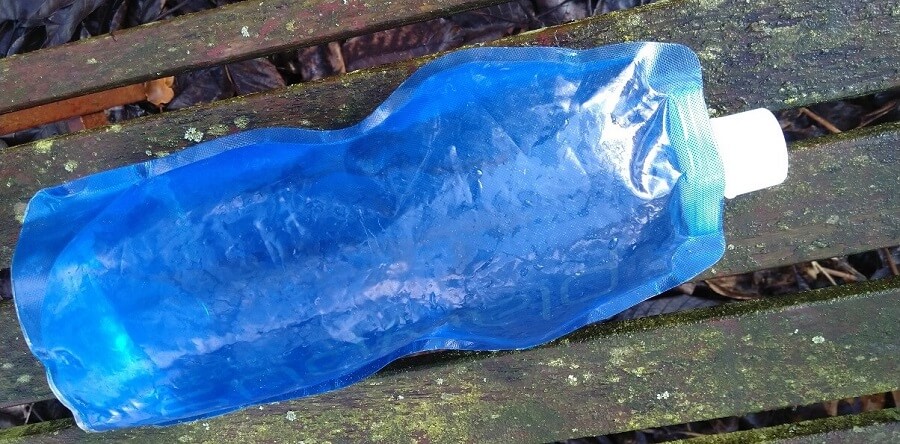 Made of a very resilient plastic they can take a beating and are easy to drink from. Be sure to hold it on the thin side. That way you don't get water down your shirt.
Once emptied they can be rolled up and stored very small, which makes it super easy to throw a couple of these bottles in your pack for when you need more water.
That is typically what I do when out hiking. Two Platypus one liter water bladders, plus a PET bottle that I pick up or a stainless / Nalgene bottle. PET bottles are by far the lightest main bottle option to take with you out on trail.
The advantage of carrying multiple 1 liter water bladders is that you can more easily shift the weight in your backpack. That way you can carry a lot of water more comfortably.
Camelbak water bladders
Camelbak water bladders are popular in the military and for many hikers / runners. With variable sizes ranging from 1.5 liters all the way up to 3 liters of water they can supply plenty of water for you when out hiking. With their signature large opening for filling they are easy to refill.
Drinking the water goes via a drinking tube that you can thread on your backpack strap for easy access. For hikers that forget to drink often and do not take as many water breaks this is very convenient.
My style of hiking does not fit in with the Camelbak system, I like to take my water breaks and then push on again. With the slimmer water bottles you can also easily take out your standard water bottle from the backpack without having to take it off. This does take some practice.
If you are the type of hiker that pushes on and does not like to stop frequently then the Camelbak drinking tube system is for you.
My favorite water carry combination for hiking
As I touched on in the Platypus heading my favorite way of carrying water out on the trail is to have.
Two 1 liter Platypus water bladders and 1 PET bottle for easy drinking. That gives me around 3 liters of water. And in my experience 3 liters of water will take me anywhere from 15 to 25 km to finish off. Depending on how hot the weather is and a million other factors. At every water source I encounter I always ensure to drink as much as I can stomach.
This proces is known as camel up on a water source. Water that is inside you is better than on your back. Plus you will sweat out a large portion when hiking. Don't overdue it though because throwing up the water you just chugged is not that fun. And can rob you off a meal that you carried with you for a large section of a hike. Trust me I have been there before.
If you are really limited in the amount of water sources that are available then it is a good idea to carry more than that. Platypus and other manufactures offer 2 liter water bladders that are handy for that. And there are also water bladders available with a zipper style bottom, for easier filling.
Let me know if you have a favorite way of drinking water when out hiking!
Happy hiking and hike for purpose!