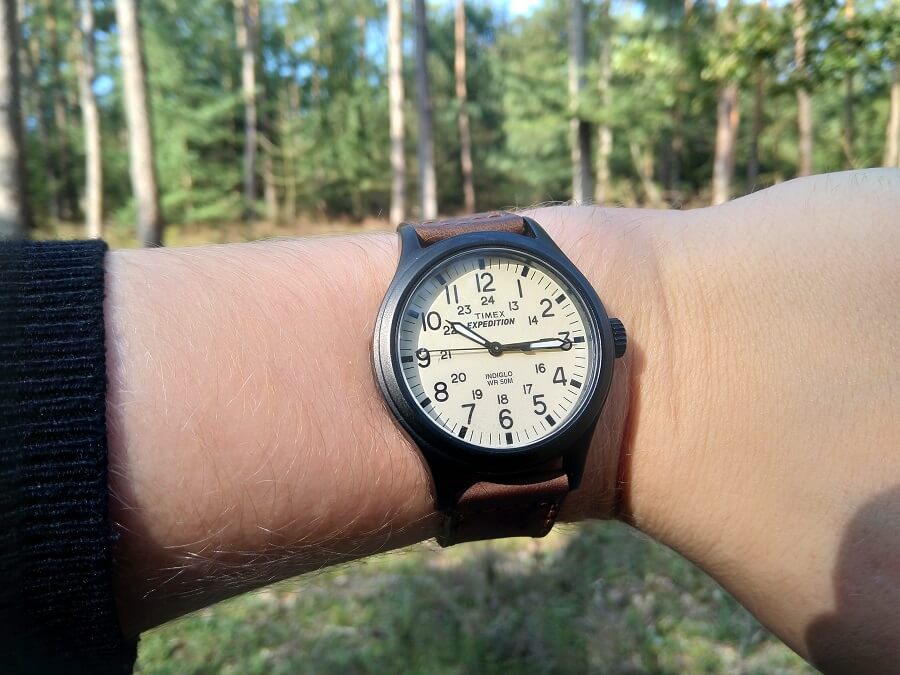 Timex Expedition a hikers watch
Watches are useful while hiking long distances or short, it is often handy to be able to roughly estimate how much longer you will need to walk. And a watch gives you that option. The Timex Expedition is my hiking watch now for a 6 months and I could not wait to write a post about it. If your into watches and hiking I hope you can share your favorite hiking watch down in the comments!
Short History of Timex
Timex started in the United states in 1854 as the Waterbury clock company and evolved over the years to Timex. With popular one dollar pocket watches to high tech electronic watches in the 90's. With their popular slogan "Keeps a licking and keeps on ticking" they made it so that for every third watch sold was a Timex watch.
My personal Timex history began with a vacation to Canada when I was 12 years old. From a family we were staying with I received a Timex electronic watch as a present. This was my first very own watch and I used it extensively while I was working an internship at a outdoor camp when I was 17. Day in and day out of working with groups of children and adults requires a schedule.
Now quite a few years later I fell back in love with watches, not just as a time piece. But as a new hobby and collector.
Specifics of the Timex Expedition model T49963
Model year 2017
Glass material: Mineral
Case Material: Stainless Steel
Case diameter: 39.3 millimeter
Case width: 10.5 millimeter
Band width: 20 millimeter
Weight: 59 grams
Movement: Quartz
Battery: CR2016
Water resistance: 50 meters or 5 bar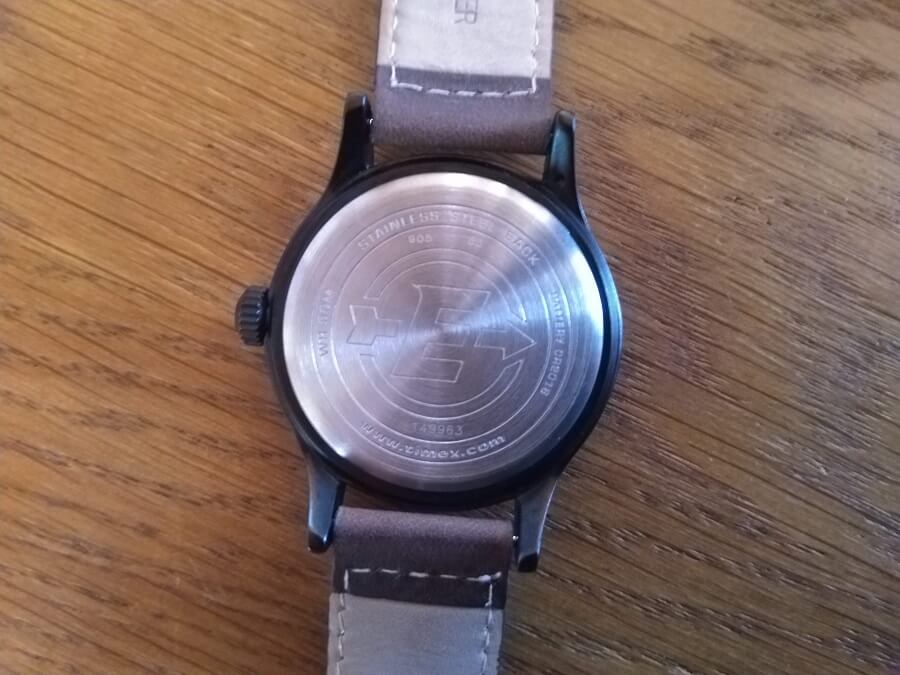 Model and features of the Timex expedition
The Timex expedition, like all Timex watches comes in a few different variants and flavors to suit your personal preference. When researching my new watch I looked at quite a few different models. The one that caught my eye is the one i'm wearing now.
The specific model number is the Timex Expedition T49963 and comes with a leather strap and a beige watch plate. The hands are luminescent in the dark after being in the sun. And the famous Indiglo back lighting from Timex is also included. This is a feature that makes it incredible in the dark. One push on the crown and you have the light needed to read the time.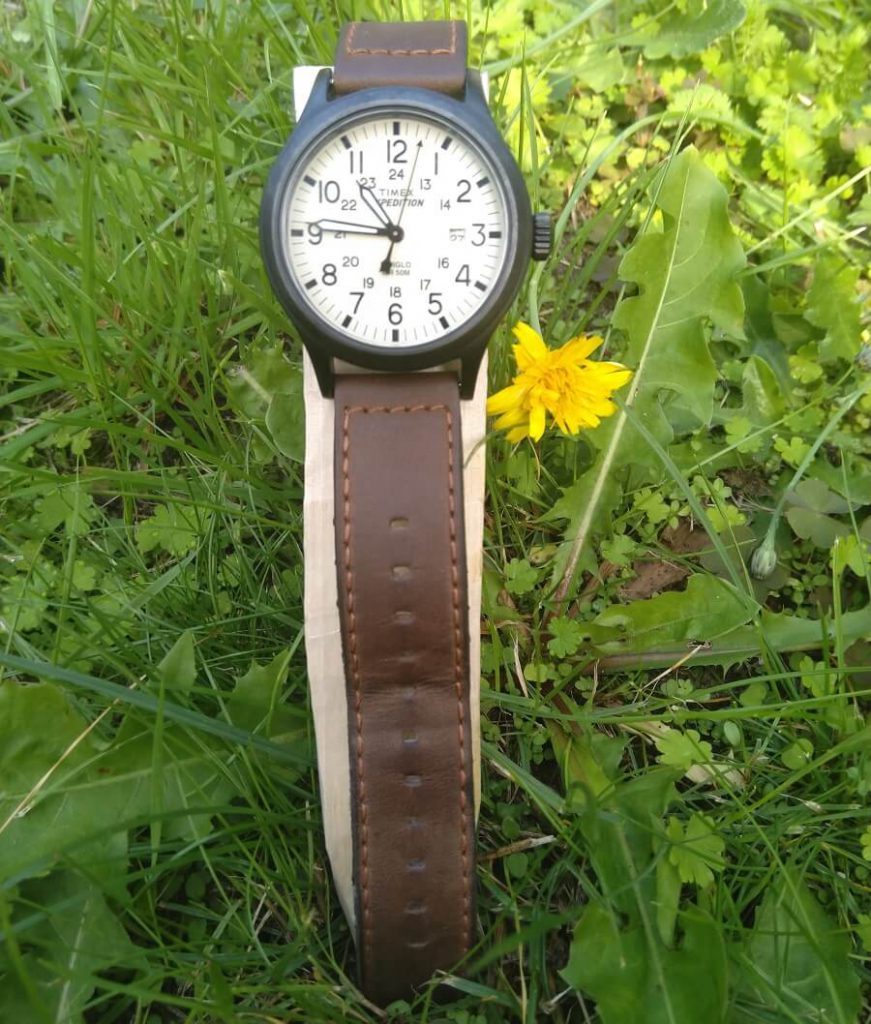 The specific model comes with a Genuine Leather strap, this is a lesser quality of leather. But after months of wear, tear and sweat while hiking it still holds up well. Considering the price for around ~ 50 euros or dollars you cant ask for to much when it comes to the leather.
Water resistance for the watch is 50 meters. So you can get it wet but it should not be a dive watch or swimming watch. The leather strap wouldn't like water as well.
Quartz movement
A quartz movement or the inner workings of the watch that makes it tick, is battery powered in this Timex expedition. In my months of use I did not need to adjust it once to meet the time again. It is very accurate and reliable. Until you have to change the battery.
As mine is not old enough to need to replace I did not need to do this yet. But my advice and experience from other quartz movement watches I have owned is to take it to your local sources to get it replaced. From the official Timex website they recommend to take it to a jeweler that you trust. On Google reviews you can check out the best one in your area.
if you feel comfortable enough you can do it yourself, in the previous Timex link you can follow those steps for that.
Timex Expedition watch case
The watch case is Ion plated steel and is very pretty to look at. I love the black finish it gives and it suits my needs for this watch. The back of the case as pictured earlier in this article is a brushed stainless steel. The Ion plating can scratch and I did scratch mine a few times.
Keep in mind that this is not an expensive watch and I consider it a beater. The more scratched up it gets the more character. The Timex Expedition is not a watch that you can wear formally in my opinion.
The expedition watch face
The face of the watch is analog and also features the military time beneath it. This comes in handy occasionally and is a handy feature. With the ability to read the time also comes a date function. The date and time can be set using the crown. First position for the date and second position for the time.
Let down of my particular model
As this is a cheaper watch some issues may come up. The biggest flaw with my Timex expedition is that the hand that traces the seconds does not line up perfectly with the second indentations. On some examples I have seen this is not the case, on some other examples this is the case. It depends which one you get. It doesn't make a difference functionally but is an issue with the aesthetics.
If it bothers you I suggest contacting Timex for their warranty service. As I have stated before this is my beater watch that I use for hiking. And does not bother me enough to send it back for 2 to 4 weeks.
The Timex tick
In a few of the Timex watches the complaint stands that they are loud in the ticking. Personally I have always grown up around ticking clocks and watches and do not mind them. Its easy to lay it on a soft surface at night when your trying to sleep when it bothers you. I find that it puts me to sleep when I lay it next to me on the nightstand. Your preference may differ.
Other popular Timex models
The watch I have been eyeing for several weeks now is the Timex Weekender, this watch is a bit of a mix compared to the Timex Expedition with some more formal options. At the time of writing this article I could not control myself any longer and ordered it with a nylon strap. In a few months I will write an article about the Timex Weekender as well and give you my 2 cents regarding the watch.
For a more formal watch there is a remake of a very popular model from the 1960's. The Timex Marlin, also widely seen in the popular show Mad Men. Which I consider one of my all time favorite shows. As this is a more expensive watch with a Automatic Movement I will not be using that watch for hiking. But you can be sure that it is on my watch wish list.
Questions about your watch habits for hiking
I hope you have enjoyed this article about my current favorite hiking watch. Do you wear a watch while hiking or do you prefer to lose yourself on the trail? If you wear one which is it?
I am excited to get to know your favorites and will see you in the next post!