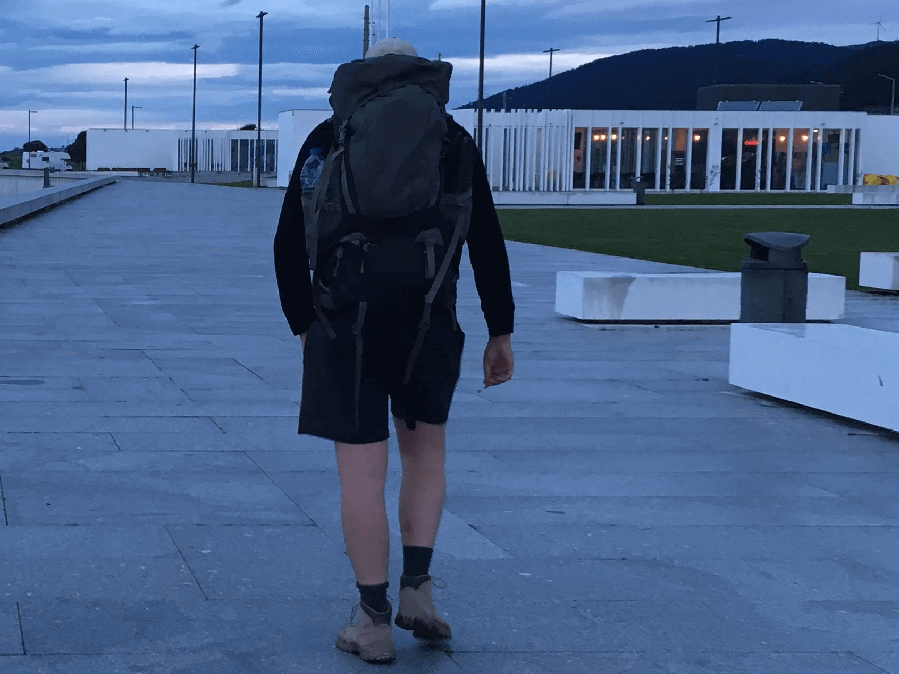 How to choose a backpack for hiking
Choosing a backpack for your outdoor adventures can be difficult. In this post I will go over some of the different brands you will encounter while shopping around. And the steps you need to take to decide on a backpack.
What kind of backpack do you need?
That depends, what are you going to do exactly? Do you want to take short weekend hikes? Or do you want to go on long distance hiking trails?
For the first categorie you can pick up a small 20 to 30 liter backpack and call it a day. But for longer distance hikes where your planning to take camping gear and more equipment, then you will need something else.
What weight are you going to carry in your backpack?
General rule of thumb is to carry no more than 10 % of your body weight on your back. You can base your kit around that and what you need. Once you have determent your specific loadout and gear then start looking at backpacks that you can get away with.
My preference lies in the 65 liter backpack mark, this because I like to camp and walk longer distances. I do not fill it completely and always have some room to spare for accidentals. Some people have enough with a 30 liter or 40 liter backpack, it all depends on your gear and how ultralight you want to go. You can be the person that cuts off the tags from your clothing and takes a finger toothbrush to save weight. Or you can splurge a little on heavier and sometimes more comfortable gear.
Gear changes over the years
The gear over the last few decades has shifted a lot and evolved to not have to carry a 20 kg backpack anymore. You can still pack canvas gear, or you can go for sil nylon. Like many things in outdoor backpacking, you can take it anywhere you like.
Keep this in mind with putting together your own hiking gear list. Lighter weight gets more expensive and you get what you pay for. (Usually)
Choosing a backpack brand
There are a lot of brands out there concerning the backpack market, you have most backpacks by established brands that have been around for years. And you have some newcomers made by startups. In the traditional outdoor stores it can be more difficult to locate the newer ultralight newcomers. Brands you will find over a large portion of countries are the following.
Osprey
Osprey has been around since 1974 and has established itself as a reliable brand with excellent gear. Next to backpacks they have a extensive line of products to choose from. From experiencing their backpacks for myself and research online and reading reviews people are happy with them and consider themselves a loyal customer.
They have several options to choose from for every sort of outdoor activity. When walking a Camino you will see a lot of Osprey packs. Same thing goes for long distance trails all over the world. When trying on Osprey backpacks you will notice that some models have a single fit and others have different sizes you can set them to.
Osprey has quite a variety of models to choose from and range from durable and tough as nails to more of the ultralight models. Backpacking models range in the 45 to 80 liter packs and popular model lines include the Kestrel, Atmos and Exos packs.
MacPac
MacPac is the backpack brand that I have had the most experience with and always favored above other brands. This because the fit is perfect on my back and the features are what I'm looking for in a backpack. My MacPac Torlesse 65 has served me well over the past 8 years and it is my go to pack for nearly any outing.
Lowe Alpine
Is a popular brand in the European Union and was founded in Colorado. They are famous for their TFX back system that is very easy to adjust to your liking and their super durable fabric of which they make the backpacks.
Other Ultralight backpacks
Popular new coming or start ups that focus on Ultralight backpacks are getting more and more popular. The bigger brands are catching up to them and recognize the trend that's following. Brands like Zpacks are paving the way for many Ultralight backpackers and are getting more and more popular.
Brands to avoid
Any in house brand from outdoor stores are to be avoided, in nearly any case they are cheaply made and the stitching is not great. Fit and comfort is very important for a day of hiking.
When working at a popular outdoor store for 6 years I handled and tried a lot of different backpacks when they came in. You learn to spot the differences pretty quickly and I suggest you look for yourself at an outdoor store near you.
Look at the nylon quality from the straps used and how much and what kind of padding there is on the shoulder and waist straps. The corners of these are high stress points and need to be double stitched at least.
Next look at what kind of zippers they use, are they of the popular YKK brand? How easy are they to open? Waterproof or resistant zippers always break and are less durable in my experience.
How to determine the fit of a backpack
The fit of the backpack is very important, even more important than the different layouts. When you have all your gear together you take that gear with you to the nearest outdoor store. Here you try on a selection of different brands with the gear loaded. Make sure that everything looks good and listen to the employees that work there.
Important is that the shoulder straps fit nicely on your shoulders and there are no potential hotspots. The waist or hip strap needs to be on your hips and ideally a little above. So that when the weight and day wears the weight is not on your ass.
Get to know all the ins and outs off your backpack
And always put your gear in the same place, in the same pouch. This routine makes it easy to find everything in the dark or in a hurry and gives you a certain piece of mind in your home away from home.