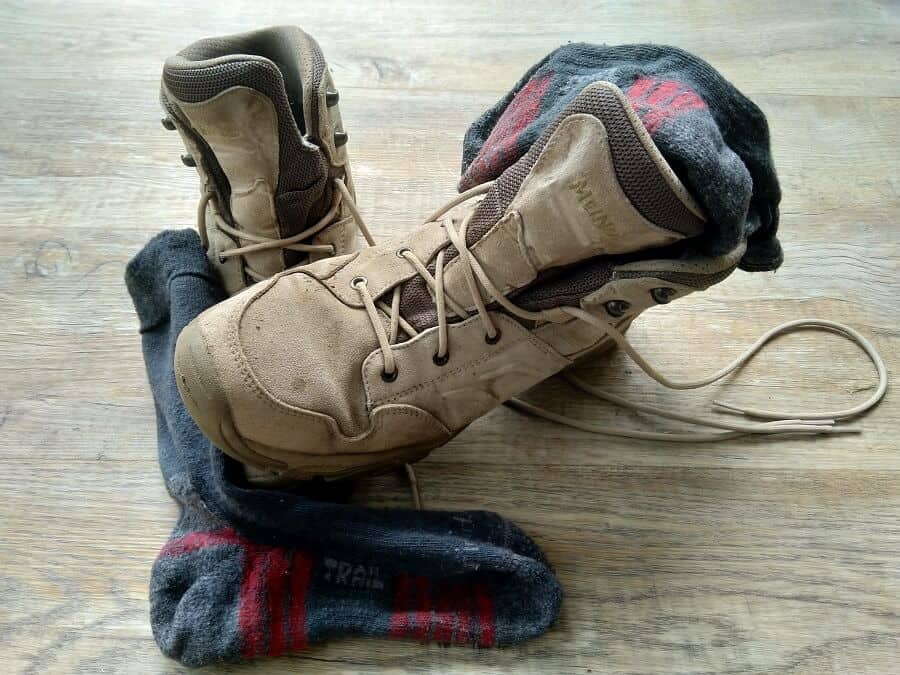 How to break in Hiking boots
Modern hiking boots do not need near as long as a break in period as the full leather boots of old. However they and your feet still need to be broken in before hiking. Lets go over the different ways to do that.
These 4 steps you must take to insure your hiking boots are properly broken in.
Just go out and hike as much as you can
Wear the right socks
Change out the insoles with the ones you are going to be hiking in
Walk barefoot to toughen up your feet
How long does it take to break in hiking boots?
There is no magic way to break in hiking boots, the ways I have tried and read about are always a singular experience and not the way. You have the trick or hack to fill your boots up completely with water and walk until you dry them out. Walk with double or triple socks, or wearing them overnight.
It all comes down to how much time you spend in your boots before really hiking in them.
Set goals for yourself and buy the right hiking boots for you when you still have a few months to prepare for your hike. Do not buy boots a day before setting off. Give yourself plenty of time to get comfortable in your hiking boots.
The goal I always set for myself before embarking on a hike or trail is to walk 3 times a week for a month without a heavy load, and one month before with the full gear on you. I start out with smaller hikes and branch out to a full days worth of hiking.
How many kilograms or pounds you have in your backpack also is a big factor in the comfort of the hike. Try to pack as light as possible and set out on try out camping trips to test out your gear.
These try out camping trips do not have to be out in the middle of nowhere. However you still should hike a good days worth and sleep outside. Not only is this a good exercise for your hiking boots and feet but also for the rest of your gear.
Wearing the right socks
Wearing the right socks for you is incredibly important on how your hiking trip will go. Start out with low quality cotton socks and reap the rewards of blisters, hot spots and sweaty feet. If you want to read the full article on different hiking socks you can do so in my separate article on that topic.
The right socks in my experience are a mix of synthetic material and wool. These blended socks give you the advantages of both worlds without compromise.
Good moisture wicking socks ensure that sweat can escape and wool is excellent for this, synthetic fibers make sure that the socks last for a long time. 100 % wool socks are notorious for degrading fast and wearing out after a season of hiking.
Brands to look out for are the BridgeDale socks, Falke, SmartWool and Darn Tough socks.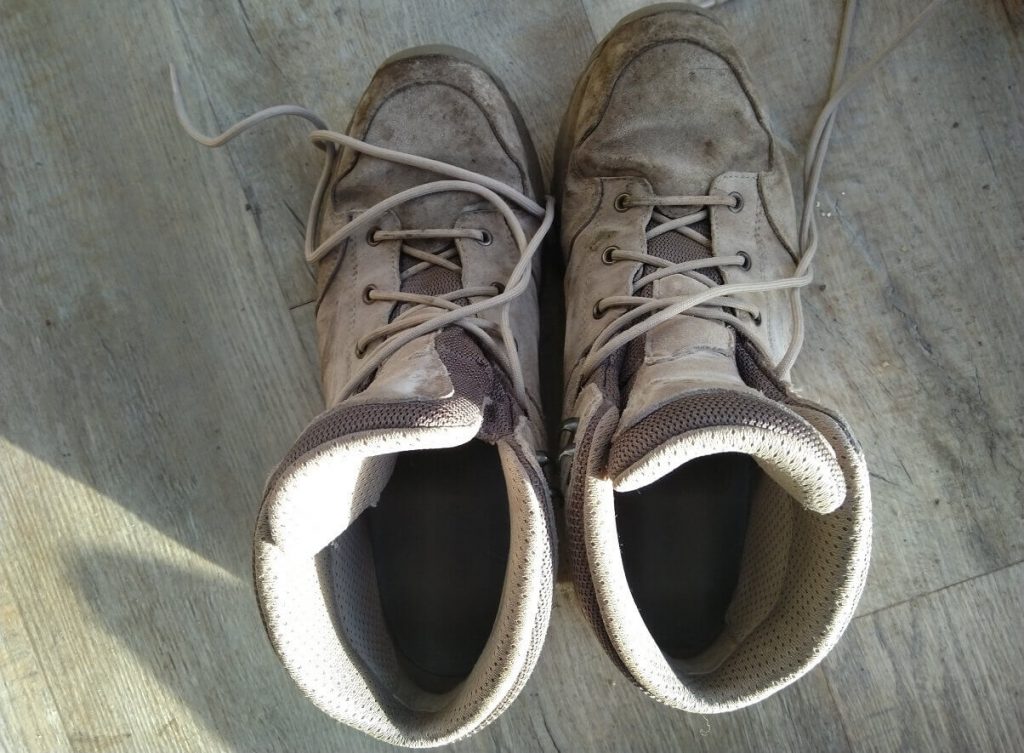 Changing out the insoles
I am not a big fan of most supplied insoles with hiking boots, they are often very basic in their feautures. A basic foam rubber insole wont do you near as much good as a proper insole. The basic foam rubber insole will often be quite hot on the bottom of your feet and provide little to no added support.
The blue Superfeet insoles help me a great deal with lessening the impact on my knees and providing the proper arch for my feet. If you have trouble with your feet in day to day life I would highly recommend going to a specialist for insoles. And getting tailor made insoles for your needs.
Get the insoles with the new pair of boots and walk in them from the very beginning. This will ensure the proper break in with the correct insole.
Walk barefoot to toughen up your feet
Walking around barefoot will provide you in the longer term with a layer of callous that will help absorb some of the strain on your feet. When completing the Camino Portuguese I should have taken a picture of my feet but I forgot unfortunately.
The layer of callous can be helpful when maintained, do not let certain spots get thicker than comfortable. These spots are different for every foot and should be learned throughout the years of hiking.
Walking around barefoot is something I enjoy doing in the garden, you should not walk around barefoot just anywhere however. A nail or splinter in your foot could spell great discomfort and perhaps a cancellation of the hiking trip. So be aware of where you are walking around barefoot.
Walking around indoors barefoot may not seem like a great training, but it is certainly better than starting with carefully manicured and devoid of any callous.
Will hiking boots stretch?
When buying new hiking boots this question may pop up in your mind. Hiking boots will not stretch to make up for a bad fit. Here is why.
It used to be the case with old army boots and hiking boots made completely of leather. But the hiking boots of today no longer require tricks to make a good fitting boot. It is however still true that hiking boots need a good break in period where every nook and cranny adjusts to your feet. As discussed in the rest of this article.
Stretching of hiking boots occurs most of all with fully leather boots. This is because over time the leather weakens or adjusts to your feet. Newer boots however will not accommodate to a boot that is to small or big.
Hiking boots that are broken in
If you have shaped the hiking boots around your feet they will walk better than any other shoes. The same with any other shoe they are best when broken in. For me this typacly takes around 150 KM of hiking before they are broken in. The choice for my last three pairs of boots are the Meindl Sahara boots. Lightweight enough and with still a little support for the ankle they are my boots of choice.
When you find your brand of hiking boots that fits you perfectly I suggest staying with them. If you ever want to try out new boots feel free, but keep in mind that once your hiking boots are broken in they should last for another 500 KM to a 1000. So make sure that those are enjoyable kilometers instead of painful ones.
Happy hiking and Hike for Purpose!