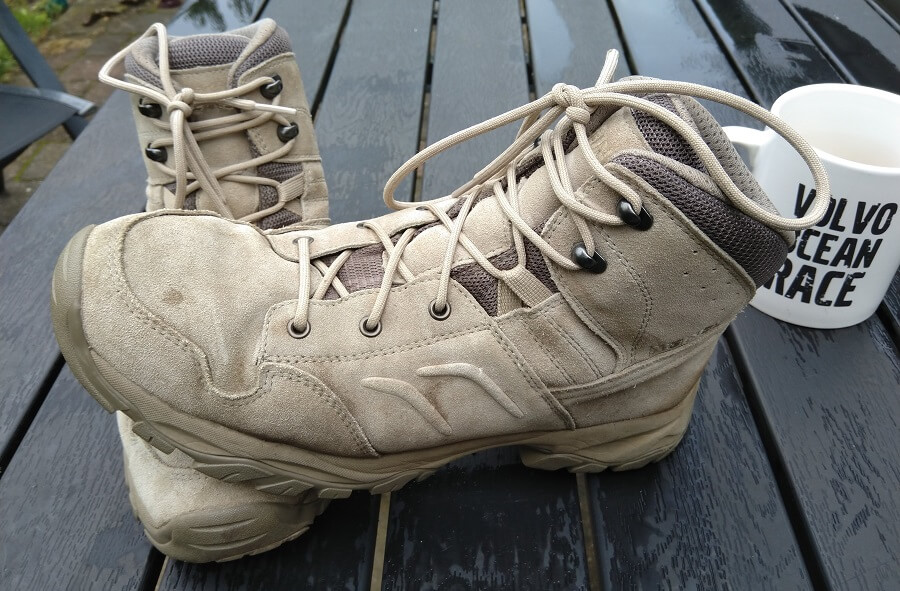 Top tips to try on hiking boots
Choosing hiking boots or shoes is something a lot of hikers struggle with, in this article I cover the basics and things to look for when choosing hiking shoes.
Hiking shoes have a long history and quite a bit has changed in the last few years and decades alone. No longer are hikers wearing thick and heavy hiking boots for light trail use in most cases. With the rise of readily available Ultra Light hiking gear hikers tend to drift more towards the lighter trail running shoes.
But picking out hiking shoes or boots is still something very personal and depended on what kind of hiking you are going to do be doing.
Lets go over the things to look out for and what you can expect to find when trying out for hiking boots.
Wear the boots around the store or your house for a while.
Try hiking boots on during the late afternoon or evening
Test the tips of your toes so they do not touch the toe of the boots.
Test for slipping of the heel.
Try to stuff one finger in between your heel and the shoe.
Try on hiking boots with the hiking socks that you are going to be hiking in.
Different terrain and circumstances for hiking
The different terrain you are going to be hiking in has an impact on what kind of shoes you are going to wear. The different categories that hiking shoes are ranked are A till D. Where A is for the low terrain and well established trails. And D is for the mountaineering expeditions that require very stiff boots.
On most trails you will encounter gravel, loose sand, grass and a mixture of everything together. Hiking in a slippery sole can be dangerous, a twisted ankle is always painful and annoying. However when your 20 miles into a trip could spell the end of your backpacking trip with an airlift.
Always look at the terrain and the kind of hiking you find the most enjoyable to do. If you don't like pushing the limits on steep and loose surface hills, but prefer the set trails and hikes in nice parks then a big and heavy boot is not the choice for you.
The categorie of hiking boot where you can walk on a large amount of different terrain is the AB categorie. These are the kinds of shoes and boots that provide a little ankle support and still plenty of flexibility in the sole. This makes them feel more like trainers instead of big and heavy boots.
Your feet and how they decide what shoe to buy
Everybody is unique, the same goes for your feet. If you have a smaller and slender foot or a big and wide foot decides a lot for trying on hiking boots. Employees of the better outdoor stores like REI or Bever in the Netherlands should know the fit of most brands and can help you decide what is best for you. Always try on different brands to get a feel for the difference between them.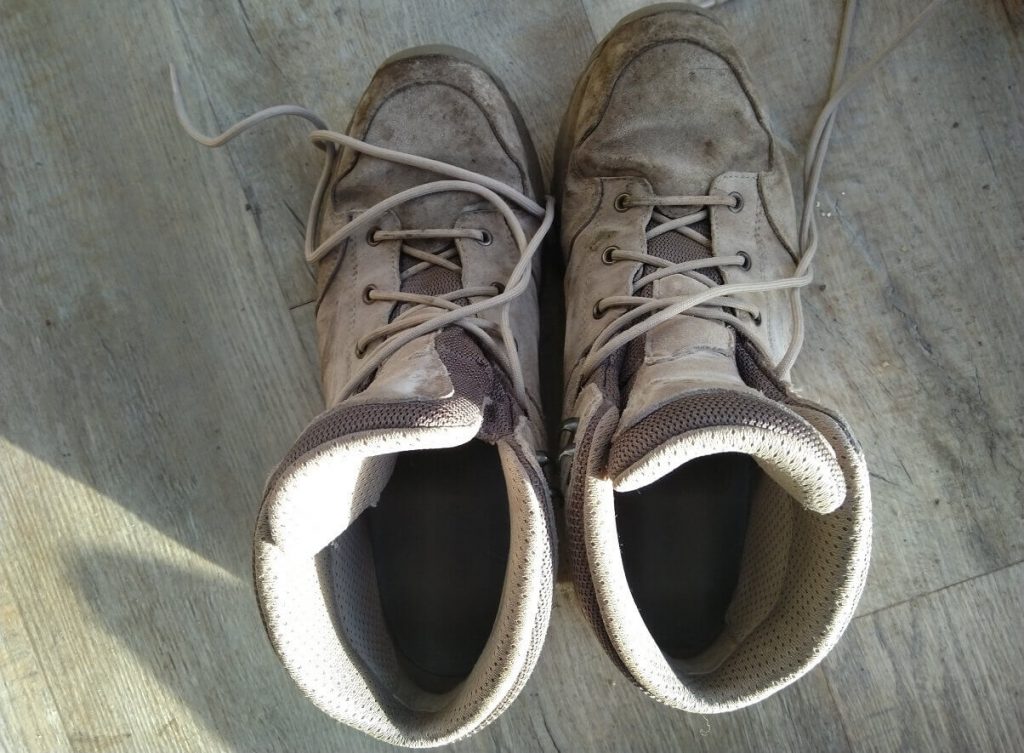 For example the brand Lowa is for the slender feet, Meindl for the wider feet and Hanwag is in the middle. These are the general rules and are always subject on the boot line itself. Hanwag for example also has extra wide variants for their popular shoes and boots.
Different hiking shoes and boots
There are many differences between the different hiking shoes and boots that are out there on the market.
I covered this in a older blog post if you want to read more about this subject and what to choose from in the different categories. You can find that article here. Different kinds of shoes and boots for Hiking
What to look out for when trying boots on
Look out for enough room in the front of the toe box so that you have plenty of space. Wiggle side to side to check for hotspots on your little toe or big toe. And check for heel space. More on that later.
Walk around as much as possible
When your trying out boots in the store I would suggest putting them on with the hiking socks you are going to use. And try to keep them on for a good while in the store. Climb some stairs and look at other products in the store. Chances are you can always need some more gear to pick up while your there.
During this time check for hot spots in the shoes or boots. Anything that rubs you the wrong way in your shoes should be a warning sign.
Also check for slipping in your heel when walking up stairs and stubbing your toes against the front when going down the stairs. Do make sure your boots are tied nice and tight and locked in. Or else any boots will slip. For further breaking in your hiking boots you can check out my article for it.
Go in the late afternoon to try them on
In the late afternoon your feet are more swelled up from using them all day. This helps replicate what your feet are put through when hiking. Benefits are that usually the store employees have more time for you since it is more quiet in the store. Do not be that guy that hangs around until closing though. After working in an outdoor store for 6 years you tend to dislike those people.
Take advantage of a stores return policy
When taking the hiking shoes home that you picked out in the store ask about the return policy. Often outdoor stores have a return policy for hiking shoes in place that gives you the chance to try boots out indoors.
Put them on an entire evening and walk around in them or just keep them on. This helps you further with how the boots will behave while keeping them on for longer periods of time.
Caring for and other items to consider
Caring for your hiking boots is mostly important when picking out leather hiking boots. Try to get the proper wax that is suited for the leather style. Wax for smooth leather without Gore Tex and Nubuck spray for Nubuck leather is a must to keep them in decent shape.
Also take care at the hiking socks you are going to be using. Read on in my different socks for hiking article to learn more about that.
Happy hiking and hike for purpose!