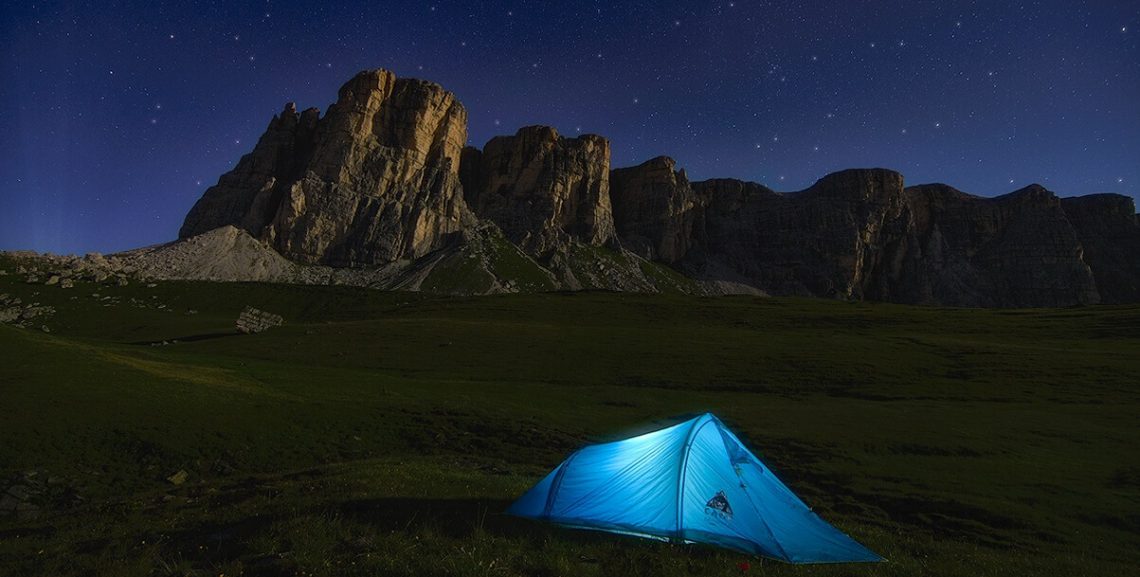 Getting ready for bed when hiking
You could just crawl into your sleeping bag while out hiking, but there are some steps that you can take to make your night more comfortable and the mornings easier.
In this article I will go over the steps that I always take while hiking with a tent or even staying in a hostel with noisy Pilgrims. And some of the stuff that I have seen from fellow hikers and backpackers.
Getting to camp and setting up
After a long day of hiking the first thing you want to do is plop down and take a rest. I say take that rest but don't overdue it. The longer you sit down the more sore you are going to be. Try to limit it to 10 minutes and then get up to go at it again.
First thing you do is make sure your sleeping place is in order and all ready for you when you get to that point. So take out your shelter, be it a tarp, tent, hammock or bivy bag and get it ready and set up.
Gear I use to sleep comfortably
Now with your shelter set up you have a dry place to shelter in. Now make it your home away from home with getting your bedding ready. I always start with pumping up my air mattress, then my sleeping bag and pillow and if needed my sleeping bag liner. Then I also take my clothes bag and stuff it underneath my small pillow for some more cushioning. My current sleeping set up for spring, summer and early fall is as follows.
Exped Synmat Ultralight 7
Stuffed pillow from a British outdoor store
The links above take you to my reviews of the gear on this site.
When selecting your own gear I suggest getting familiar with it and test it out before a big hiking trip. Get used to sleeping outside as much as possible with the gear that your going to be bringing. That is the number one thing that you need to do to get that good nights sleep out in the woods.
Dinner time and what comes after
Dinner is something that should be quick, easy and filling to prepare and eat. I like a couple of different items and foods that I always bring with me while out on trail. If you want to read up on that you can do so in my article. Trail meals for hiking and backpacking. Be sure to also check out the Category hiking food for more recipes.
After you finish dinner you should be heading for bed pretty early, way earlier than perhaps you normally do. Your body gets put through a lot when hiking all day and it is important to get plenty of rest. But if it is not to cold or uncomfortable outside you can stay up a little later. Remember that you are there for fun.
A sitting pad helps tremendously when out hiking. You can have a comfortable warm seat when out in the woods. Something that is good for the spirit and that way your not risking popping your air mattress on a sharp twig or stone. The Thermarest Zpad is a great option for that.
Drinking too much or too little
I am not talking about alcohol but about any other liquids that you might be drinking. For obvious reasons you should not drink coffee or any other form of caffeine anymore after 2 pm. That is why I like to have a cup of Camille tea after dinner. That helps settle my stomach and does not contain caffeine in it.
A pee bottle in your tent for when you are a man is something that can be very helpful on cold nights. And even not on cold nights, sometimes you just do not feel like getting outside of your tent when you have been hiking all day.
You should also not drink too little, you have been sweating a lot all day when hiking and need to keep up a healthy amount of hydration.
Going to the bathroom before heading to your tent
Try to go one hour before you go to bed and try again just before. And I am not just talking about number one but also two. Getting rid of that stuff means your body is not working as much on that anymore and can focus on other stuff. Like sleeping.
Preparing for tomorrow
Just before you curl in to your sleeping bag make sure that everything that is sticking out of your tent or shelter is tucked in so it does not get wet.
Check your shoes on how there doing with drying out wise. Even if they have not been rained on they can still get wet from condensation inside your tent.
I always take the soles halfway out with the heels sticking out. I have been told that helps with drying out since the moisture can rise up better. But that was a long time ago and has stuck with me ever since. I do have the idea that it helps. And that is always something. With my Meindl Sahara shoes it seems to make a difference.
Lay out your stuff that you might need for tomorrow and clean up as much as you can that you do not need anymore. This cuts down on the time that you have to clean up in the morning.
Prepping for tonight
When you have finished with setting up your tent take your headlamp and put it around your neck like a necklace. That makes finding stuff so much more easy and you do not have to look around or go grab your headlamp. Its right where you need it.
Put on some comfy and warm clothing on, or sleep naked in your sleeping bag liner. I like the second option better for most nights. Put the stuff you might need next to your head, like cellphone and headlamp. If you are carrying a pocket knife like my Opinel no 9 that I always take I would not suggest putting that right next to your head. However safe they might be.
Have a water bottle handy in case you get thirsty or need to relieve yourself. And relax. Think about the day and what you have accomplished, or what was enjoyable. You have prepped everything for tomorrow. Close your eyes and be ready for another day of hiking!
Happy hiking and hike for purpose.