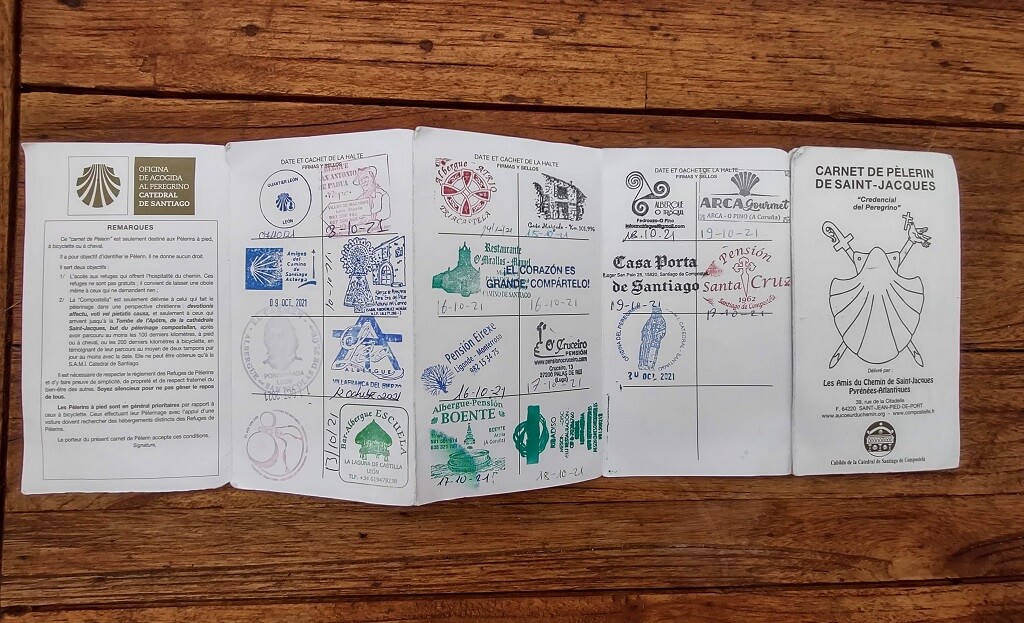 The Pilgrim Passport | Credencial
To prove and get your certificate on any of the Camino de Santiago hiking routes you have to make sure you collect stamps in your passport. In this blog post I share where to get it, how to take care of it, and other tips.
The Pilgrim Passport identifies you as a Pilgrim, with it you can get access to the different albergues and other perks of being a Pilgrim. Such as food, water, and trail magic along the way. It is of vital importance that you get your Pilgrims Passport and that you protect it from the elements. Let's get started on all the tips and questions for the Pilgrims Passport for the Camino.
Where to get the Pilgrims' Passport?
You have a few options on where to get the Pilgrims Passport, you can get it in your home country, on the way itself, and on the different starting points. Plenty of options to get it for your Camino. Nearly every country in Europe and even a few countries outside the European Union have a community either from the Church or enthusiasts from former Pilgrims where you can get it.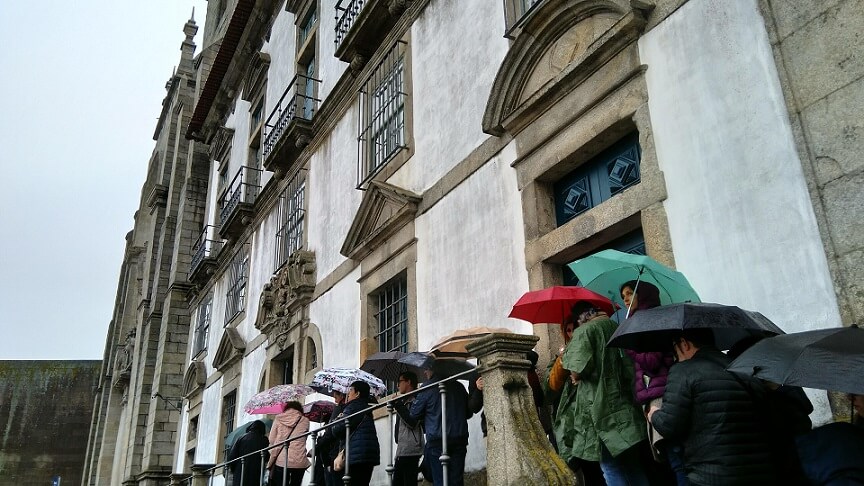 In the Netherlands for example you can just go ahead and order it online once you become a member of the Dutch community. In Nuremberg, Germany you can go to Jacobschurch and request your passport there. A quick Google search in your native language will help you find a local organization that can get you one.
Since the most popular Way to walk is the Camino Frances starting from Saint-Jean-Pied-de-Port you can the credencial straight from the Pilgrims office which is located at the following address:
39 Rue de la Citadelle, 64220 Saint-Jean-Pied-de-Port France
Be prepared for a fun conversation in broken French, English, and any other Language that the volunteers possess. The two words of French that I still remember from 3 years in high school did not help me a great deal. They are more than used to it though, so don't be afraid. Just give them your (real) passport and nod yes a few times.
With the Camino Portuguese, I picked my Pilgrims credencial up from the main church there where the Camino starts. You can start walking as soon as you receive it. Same deal with the Camino Frances. Try to get there earlier rather than later, and be prepared to wait a bit, depending on the time of year you walk it.
On the way itself, you can also get your Pilgrims Passport on multiple occasions, ask around in Municipal Albergues and take a look in the Buen Camino app on your phone. This is mostly used for when you commit the mortal sin of losing your passport or for when you fill it up to soon.
What is the price of the Pilgrims Passport?
The price of the Pilgrims Passport is nothing to write home about, in the Pilgrims office in Saint Jean, you get it for €2,- and it is custom to throw some more in the donation box. These volunteers and the organization itself deserve it. Prices online vary, but should not exceed 5 euros.
Where to get stamps for the Pilgrims Credential?
Stamps are collected in your Pilgrims Passport, every day you will have multiple opportunities to get a stamp. These are located at Churches, points of interest, Cafes, Restaurants, and most useful, Albergues. My ritual was to get the stamps just on the albergues once a day, and the last 100 kilometers to get at least two stamps a day. So for example one at lunch or at a spot on the way, and one at night in the Albergue. You can also go crazy and get stamps at every single stop you make, but that is usually a tell-tale sign that you only walked the last 100 kilometers.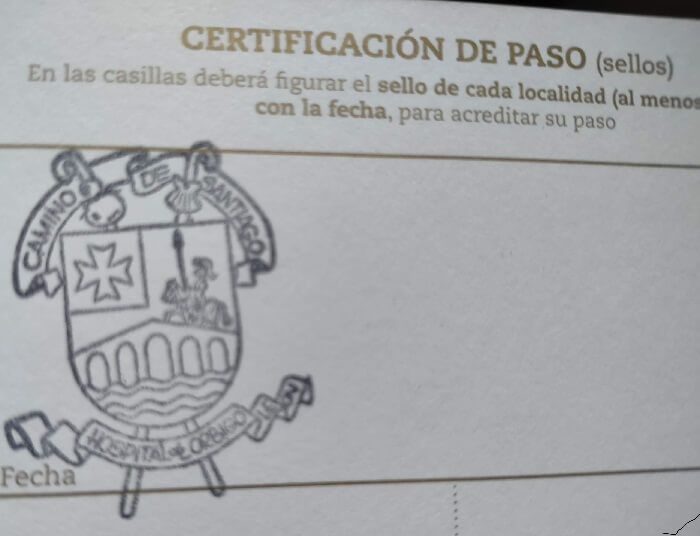 Locations for stamps are usually very easy to identify, and a lot of restaurants and places will advertise them. "Stamps here!", "Stamp / Sello". Etc. They usually do expect that you buy something from them, or that you give a small tip at least. But you can also be Dutch about it.
How many stamps do you need in your Pilgrims Passport?
Only one a day for most of the route, when you get to the 100 kilometers to go point, wherever that is on your Camino, you will need to ramp that up to two a day. This should not be any problem.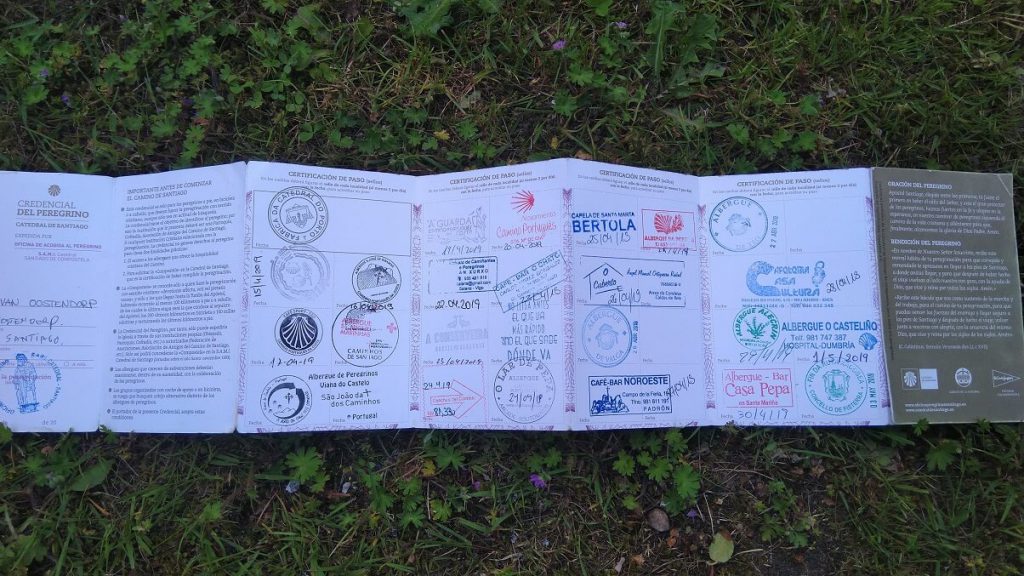 What do you do when the Pilgrims Passport is full?
With the strategy of getting one stamp a day, and the last 100 kilometers to expand that to 2 a day you wouldn't need to get a second Pilgrims Passport for most routes. If however you do a longer Camino or start from home you will need to get a second, or maybe even a third one. You can take care of that on the way itself, at the points that sell them on the way.
You will need to hold on to any passports that you collect your stamps on since these are needed to get your Compostella. Or a Certificate that is written in Latin that you get in Santiago.
There are multiple types of Pilgrims Passports, you can get a single-sided one, that is likely to fill up, and a double-sided one. In Saint-Jean, you get the double-sided one.
Information on the Camino Passport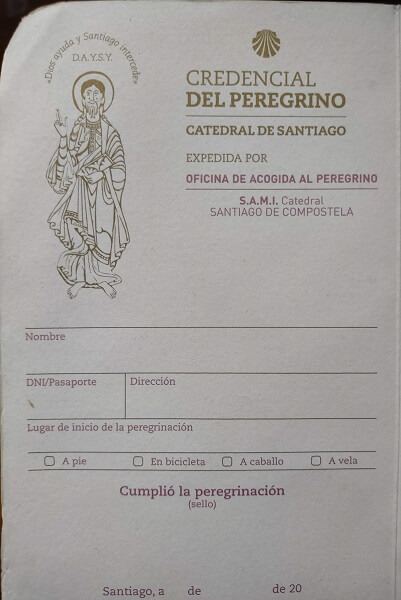 Crendencial Del Peregrino
There is some information that you will have to fill out on your passport. These are linked to your person. You can do that the first night that your walking, or wait until the very last minute in Santiago, as I did twice now.
A pie -> Means on foot. So check that box. The rest you can add as needed. Such as your Personal ID number that's on your country's ID or Passport. And your name and start location.
Last tips on the Pilgrim Passport
And I think that about covers where to get and how to collect the stamps part of the Passport. Keeping it dry and safe is the next topic. This can be done with a Ziploc bag, you can pick those up on the way. And most often you will receive a plastic bag from the Pilgrims office. A dry bag will a rolltop is also an option.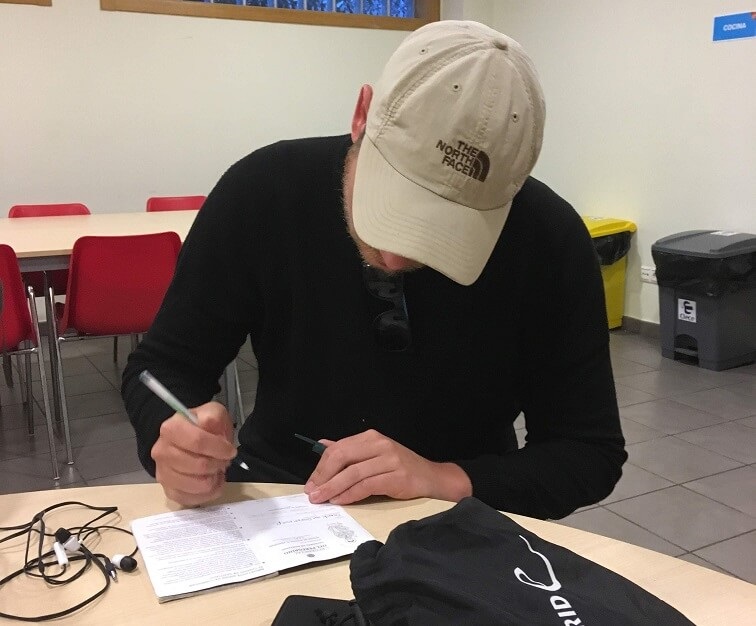 As long as you keep it dry and always within easy reach. That prevents having to dig around your rucksack to collect your stamp, and loss. I always kept it together with my wallet on my side at all times. I suggest you do the same. For more helpful tips and tricks you can read my previous article on how to keep your valuables safe on the Camino.
I hope this article was helpful, it was just an excuse for me to look back at all the foto's from my Camino's searching for the Passport photos I took.
Happy hiking and Hike for Purpose!