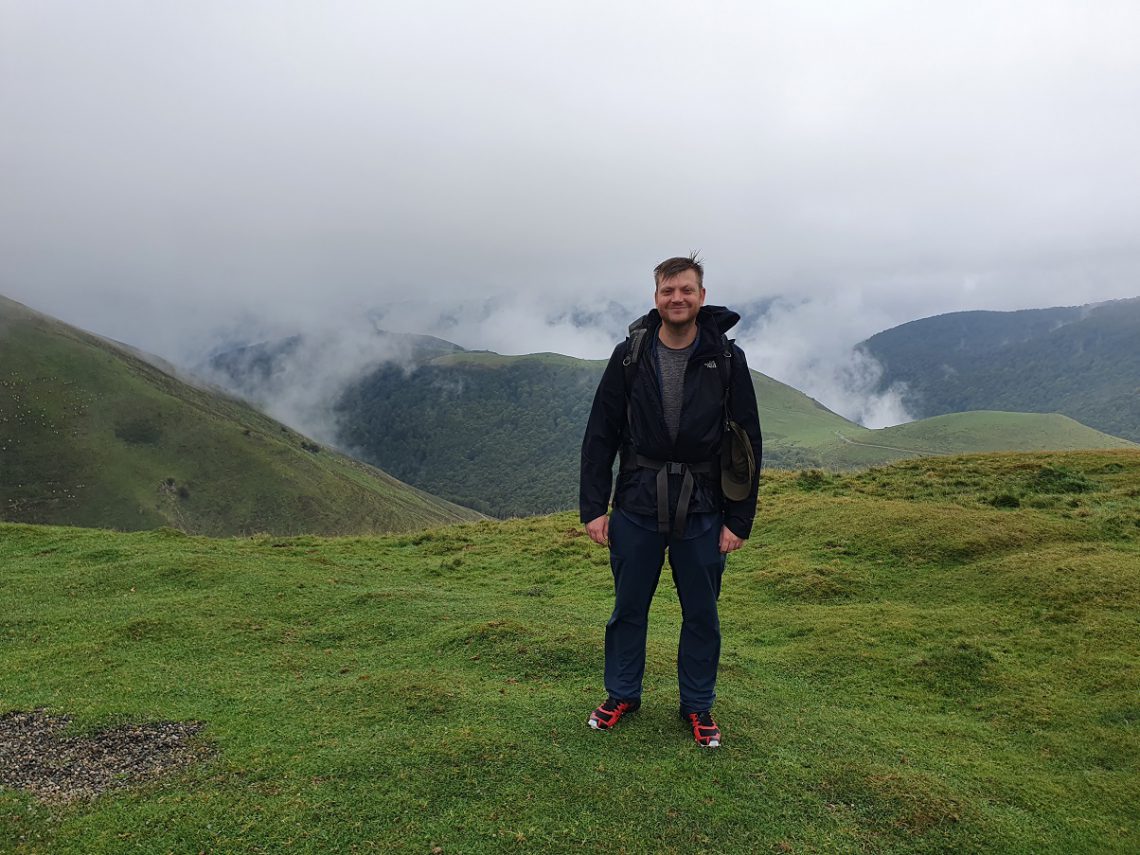 Camino de Santiago | Packing list
The Camino de Santiago is not one hiking trail, but rather a series of long-distance paths that all end up in the same place. Santiago de Compostella. Many aspiring pilgrims are unsure what to take on the Camino de Santiago, here is my take on that question after hiking the Portuguese coastal way, Camino Finisterre, and the French way, and what changed in between.
Quick jump list
Affiliate links may be mentioned in this article, by purchasing a product through those links I may receive a kickback. At no extra cost to you.
What do you need to bring for the Camino de Santiago?
Gear lists are very personal and some items pretty much differ from pilgrim to pilgrim, I for example carried on the French Way a small laptop with me to do some work, which I needed to do to still have a job after I came back. Other pilgrims carried around musical instruments, donkeys, makeup, hairdryers, big cameras, and way-wackier stuff. I do not recommend you take any of that.
Here is what I do recommend you take on the Camino:
Core equipment:
Trailrunners or hiking boots you really love.
Trekking poles
Flip flops / Albergue shoes
Comfortable backpack around 45 liters, maximum of 65l.
Sleeping bag
Rain jacket or poncho
Hat
Sunglasses
Water bottle or bladder
Wallet, ID, or passport
Pocket knife, Opinel or small Swiss army knife
Stone or pebble for your sins (You can pick up one on the way)
---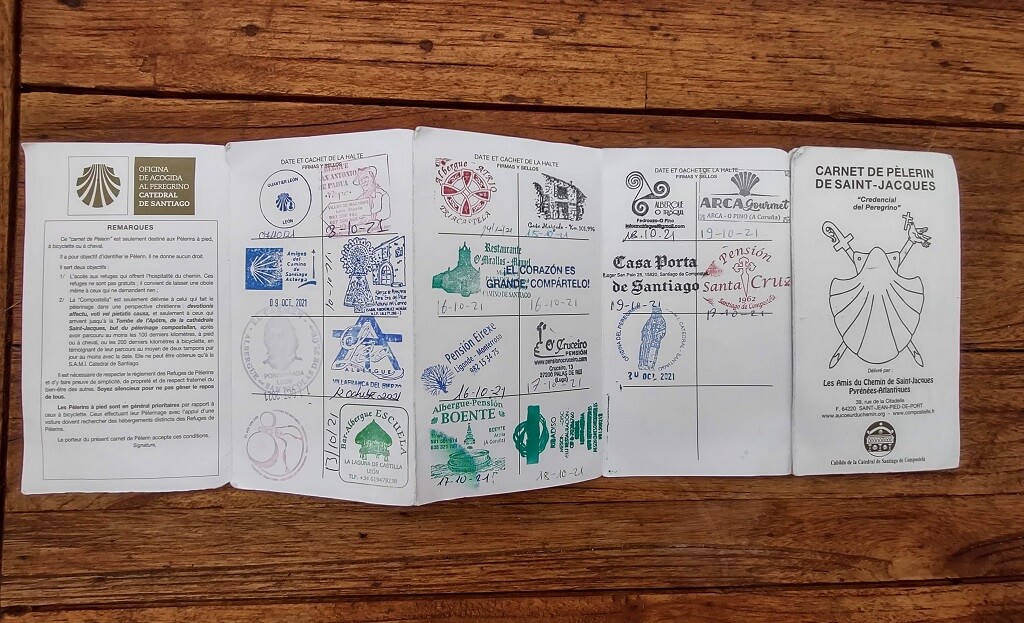 ---
Clothing I took:
Remember you can wash your clothing on a daily basis. Washing basins and machines are in pretty much every albergue. And when in a pinch go hiker trash style and take your underwear and socks with you in the shower to give them a scrub. The Camino is not a fashion show. Sweat stains are to be expected.
Hiking socks 3 pairs
Sports Underwear 2 pairs
Comfortable sleeping underwear 1 pair (one you don't mind being seen with in public)
Long sleeve T-shirt
Short sleeve T-shirt
Hiking blouse or shirt. UF protection.
Hiking shorts
Hiking pants
A comfy wool sweater, puffer jacket, or fleece jacket
Merino wool buff
Electronics:
Smartphone (one with a decent camera)
Charger (EU plug)
Headlight (have one with a red night light)
In-ear headphones (Please do not bring a Bluetooth speaker)
Toiletries, Hygiene, and first aid:
With the toiletries it really gets murky, this differs on the medicine that you maybe need to take and or other items you cannot live without. Be sure to read my dedicated article on Hygiene and Personal Care on the Camino. The basics are:
Toothbrush
Toothpaste (travel size)
Soap shampoo combo. Bars don't leak.
Microfiber towel
Sports tape, Hansaplast.
Alcohol swaps
Blister-popping needle and cotton thread
Bandaids and a few bandages
Nail cutter/scissors
Sitting pad
Spork
One thing that is missing from my list is earbuds since I myself cannot sleep with them on, as I sleep on my side. I would say see if the snoring bothers you so much that you miss them, then you can get them pretty much everywhere along the way. Even in vending machines from pharmacies.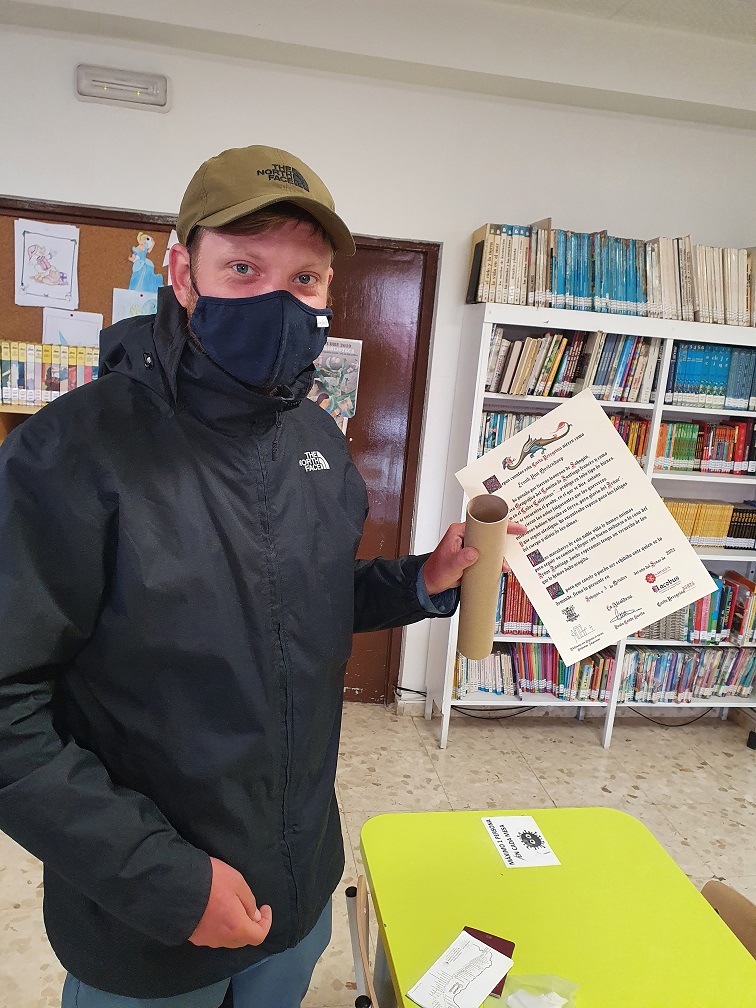 Midway Compostella, fun to get. (Mask because of Covid still in 2021)
Notes on what gear to bring and further reasoning
As always with hiking there are different schools of thought for several different topics, here I share some further thoughts on the different options that you can choose from and why I recommend you take certain items.
Should I bring a tent to the Camino? Answer = no
All the Camino's are not wilderness hikes that you maybe heard or read about that are in the United States. The Appalachian trail for example takes you up the east coast through mountains, forests, and everything in between. The different Camino's offer some of the same experience, however, the difference here is that things are a bit smaller scale in Europe. Sleeping on the Camino is in Albergues or special pilgrims' hostels along the way. And wild camping is not permitted.
Most of the gear that is in a pack for a wilderness hike is therefore not in a Camino backpack. You can still camp on campsites along the different Caminos, however, I do not recommend that. You miss out on the social aspect of the Camino and are going to be always looking for campsites that are not on the way itself. The infrastructure is not meant there for pilgrims tenting.
Pretty much the only reason to pack a tent is if you really want to carry it around with you, or if you are coming from outside of Spain and had to improvise sleeping along the way from Germany, the Netherlands, or any other country that you started your Camino from. I recommend in that scenario when you get to Saint-Jean-Pied-de-Port, to send your tent and any other gear you don't need back to your home country.
Trail runners vs Hiking boots on the Camino
I did the Portuguese in Meindl boots and the French way in Salomon trailrunners. The difference for me was big and I tend to steer people now toward trailrunners. Especially for the French Camino. You encounter a lot of different terrains, but most of it is paved, gravel, asphalt, or forest paths. You're not going to be trekking through the bush. Trailrunners are a perfect option for this and combined with hiking sticks they have become my personal favorite option for pretty much all my hiking.
Bigger and heavier hiking boots are not the best fit for this in my experience. Feel free to disagree. If you do not have much experience hiking and want to go on the French way, I recommend trailrunners. If you have a lot of experience with a particular set of boots and cannot imagine going without them. Then feel free to take your favorite hiking boots. Read more in my previous article; hiking boots vs shoes.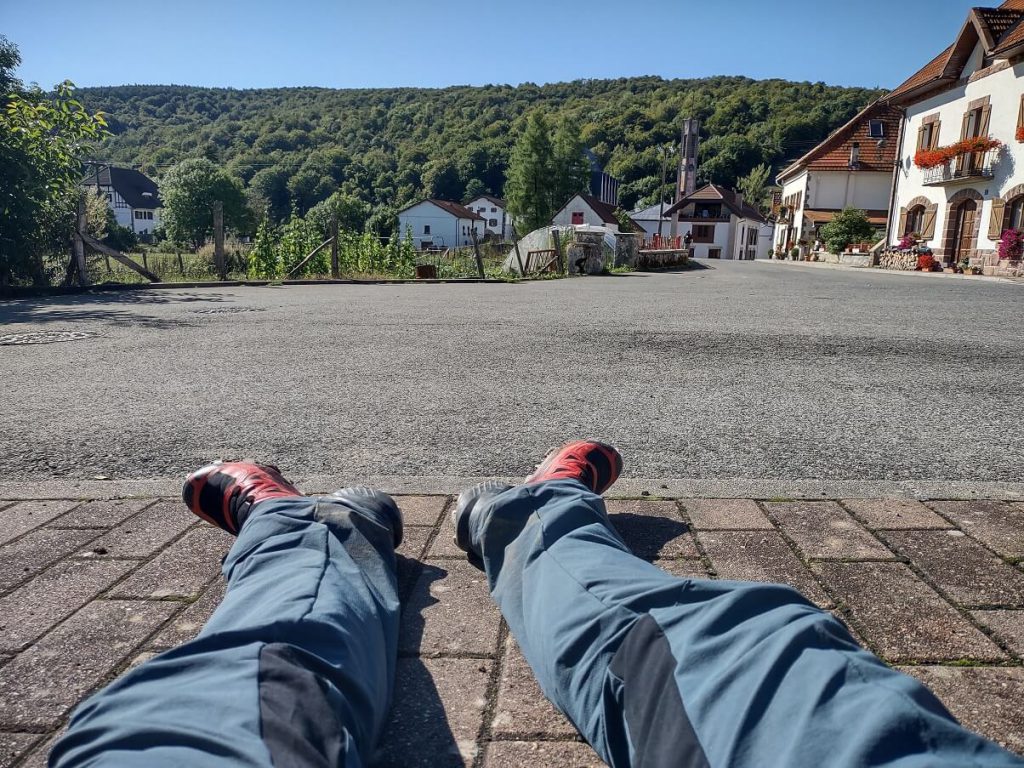 ---
Sleeping bag or Sleeping bag liner?
I pretty much always recommend going with a light summer or plus 5 degrees Celsius sleeping bag on the Camino. I did the Portuguese in the spring and the French way in the autumn or fall. If you do go in the middle of summer you could get away with only a sleeping bag liner, but in other seasons I would recommend going with a sleeping bag. Yes, there are albergue blankets, but ever since the years of Corona, they are less and less available. There is always a greater risk when using albergue blankets to catch bed bugs. So a sleeping bag that's from yourself can be the safer option.
Protection from the rain and wind
There are several different options to stay dry while on the Camino, and every Pilgrim here has his or her favorite way of going about that. You can choose between regular rain gear, like a waterproof jacket and pants if necessary. Or you can choose a poncho that covers you and your backpack in one go. Or you can pick up a lightweight but windproof umbrella for this. This is another one that comes down to personal preference and experience.
I always used a simple Hyvent rain jacket by The North Face. Which is alright while on the move, but sweats heavily. GoreTex jackets do breathe better, but the best way to wear a rain jacket is with giant armpit zips. That helps you breathe while on the move. A poncho is an option for heavier rain and is actually quite breathable in comparison. Be sure to get one that also covers your backpack, or else your back cannot breathe at all. What you also see more and more is an umbrella, which leaves you open to the breeze, but still dry in moderate rain.
What I would suggest is to try out the three main ways of keeping dry in advance and making up your own mind about what works best. You are out in the elements the whole day, so protection from not only the rain but sun and harsh wind is essential to get right and dialed down for your needs.
Pants
Hiking pants can be whatever you want on the Camino, I recommend going for a comfortable quick drying option. Zip-off trousers I am personally not a big fan of, but you will see a lot on the Camino. I almost exclusively wear hiking shorts or your standard exercise shorts. In my opinion, this is way more comfortable than long pants in moderate weather. And as long as your torso is warm and moving, can be quite comfortable in colder weather as well. My long pants I mostly ended up wearing in albergues and on rainy days.
For the women, you can go with either also a lightweight or quick-drying pants option. Or you can go the sports/hiking legging route. Leggings are what women mostly wear on the Camino, and once in an albergue, a lightweight comfortable outfit that you can wear out and about in the town or city.
Shirts and base layers
A shirt or as I call it in Dutch an "overhemd" is my favorite layer when hiking. The one I have from Colombia also has sun protection built in, which is pretty much invaluable during the long sun-baked stretches on the Meseta. Underneath depending on the weather I wore either a long-sleeved or short-sleeved shirt as a base layer. Which is best of a synthetic or merino wool material.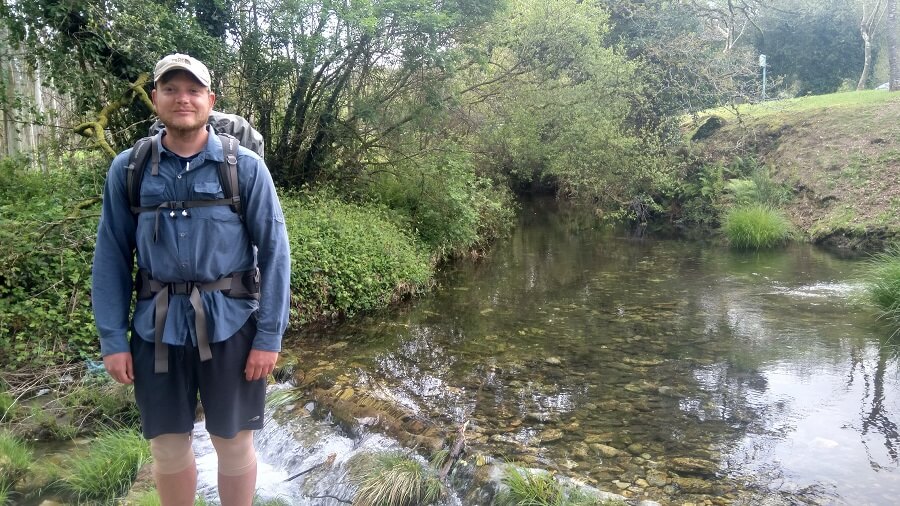 Cotton should be pretty much always avoided since it does not dry fast enough and will cause rashes on your skin. The only exception I make is a nice comfy boxer that I always wear to bed. And I could be seen within the dorms without causing a scene. Modesty and rules on nudity are different in Europe when coming from the United States or the Middle East. Something to take into account.
Hiking sticks / Trekking poles
Since making the choice for trailrunners I did quickly find out that I was missing hiking sticks, in the first big town you meet on the French way, Pampolona, I, therefore, got a set at one of the many small Peregrino outfitters. I highly recommend going with them from the start or picking some up along the way. I always thought they were not needed, but since trying them I am not looking back on long-distance hikes.
On the Portuguese way, I did not carry trekking poles but had loads of knee problems. The first stretch on the French Way from Saint Jean to Roncesvalles is quite the challenge, better bring them from the start. Ideally, you want to decide whether to bring them or not before, so test them out and see if you can borrow them from somebody, or pick up a cheap pair when in doubt. Mine were only around 25 euros in Pamplona, and I had no issues with them the whole way.
The rubber end caps on trekking poles you can get along the way, although at some point I gave up on replacing them all the time. They typically lasted around 150 kilometers.
Socks, Liners? Doubles?
Socks are another topic that many hikers disagree with amongst others, I like a single sock on my foot, whereas others prefer thin liner socks or double bagging it with another full-thickness sock. I tend to keep it simple and with only one incident with a small blister on the entire ~800 kilometers of the French way, I can recommend socks by Bridgedale, Darn Tough, and Falke. I like the mix between merino or normal wool and synthetic materials best. Full or mostly Merino wool socks tend to wear out too fast. Try a few of them out if you can and see what is your favorite brand.
Water
Water is of vital importance when it comes to hiking and life in general. You need at least two liters of water with you on some stretches, since there is none to be had. Make sure you take a water bladder that weighs little and folds down small, alongside your favorite lightweight water bottle.
To be sustainable it is better to not take single-use plastic for this, although you can buy some that you can take with you along the whole Camino. Popular brands like Smartwater for your water bottle are also an option, although the ones I see in Europe tend to be harder to find and at max 0.5 liters. Any PET bottle will do in a pinch.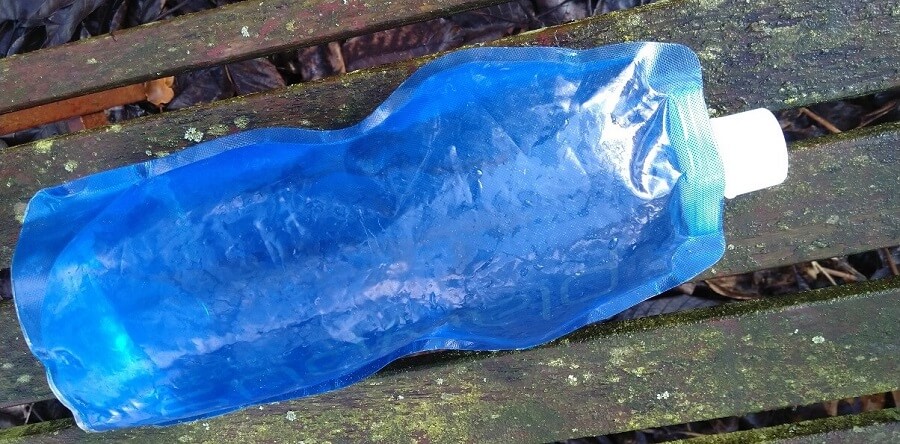 ---
Keeping things organized
Every random item needs its place in your backpack and it is best to keep things a bit in order. Stuffing everything inside the main compartment without any organization works for some, but this is not the most efficient way of going about things. Stuff sacks or ditty bags are handy for this, get one for your electronic stuff, your clothing, etc. Do not get them in the same colors, but different colors that you store in your mind what they are. That way you can quickly get what you need, and get going.
I do not recommend taking everything outside of your backpack every single day, but rather keeping things contained and at the ready. The less you have to rummage around in the early hours of the morning and shine your headlight everywhere, the more friends you will make in the dorms. For yourself, it is also way nicer to be able to get going quickly without much fuss. This will make sure you can get going without much frustration and way quicker in the morning.
Know your backpack by heart, and treat it like a well-organized garage. When you need something, it is a pain to have to look for it all over the place. Store everything in the same place, that way it becomes second nature to grab something.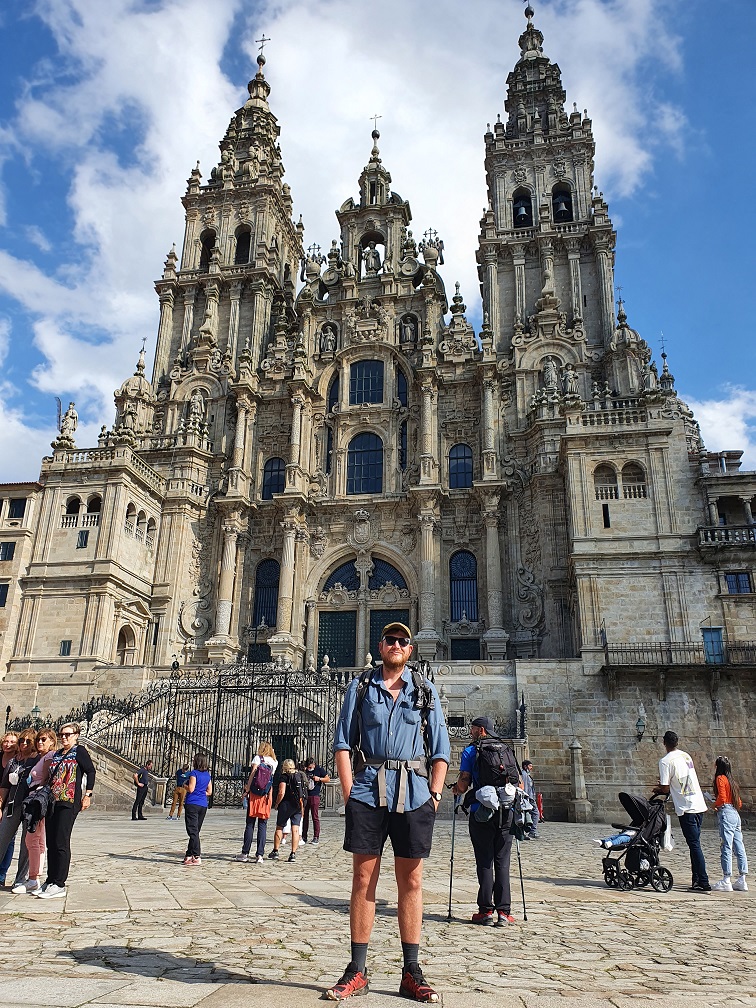 Pictured, me in front of the Church in Santiago de Compostella, after completing the Camino Frances. Straight after proposing to my girlfriend whom I met on the Portuguese Camino. (She said yes!)
The Camino provides
If something fails, breaks or you miss anything; Don't be afraid, the Camino Provides as the saying goes. You are never far away from the next town and there are pharmacies, grocery stores, and hiking stores along the way. In the big cities especially is everything you could possibly need.
If you are not sure about something or want some advice, don't be afraid to ask me in the comments or email, or ask other pilgrims and see how they solve that question. The Camino de Santiago subreddit is excellent to follow and look for advice, other than mine. Do pay attention to not ask the same questions others have asked a hundred times, and use the search function to see if there is relevant information already.
And in closing, don't stress the little details so much on the Camino. Surrender to the way and you will arrive in Santiago as a tanned and leaner version of yourself. Just know that the Camino will stick with you, and will call you back someday.
Happy Hiking and Hike for Purpose!