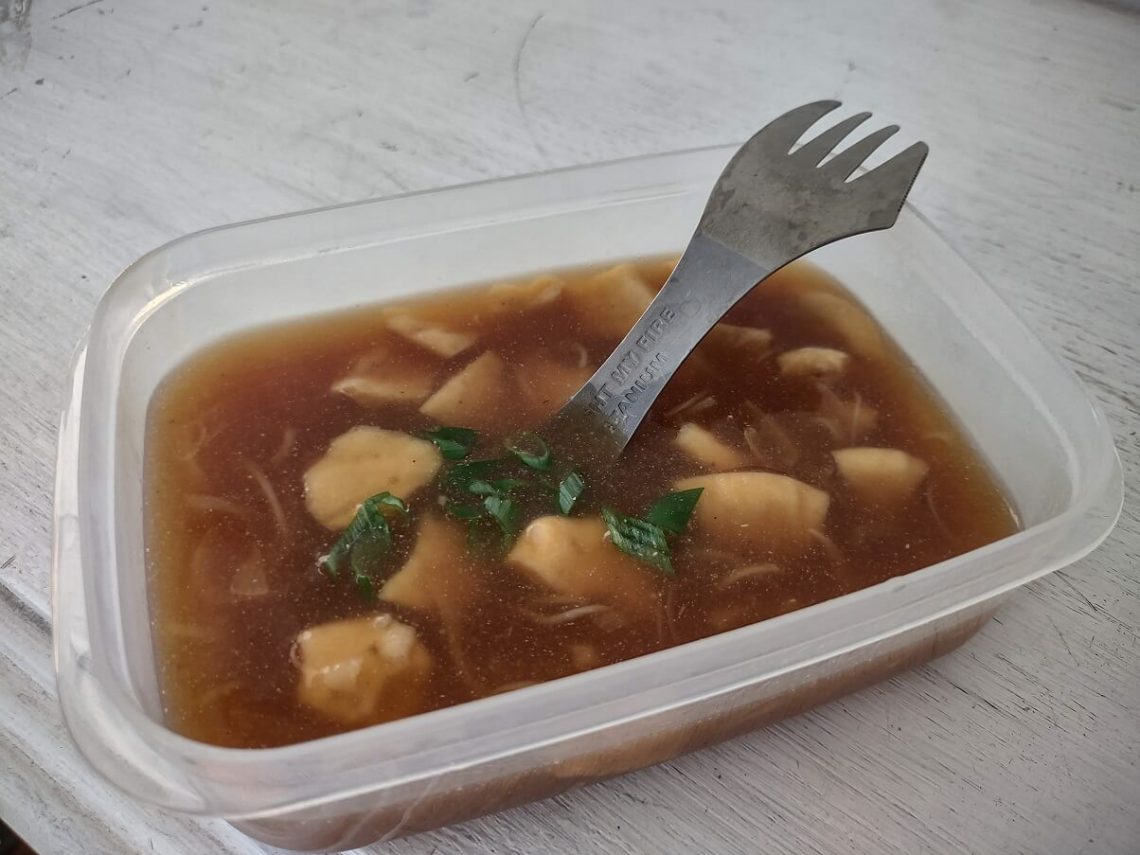 Trail Meal | Hardtack in Gravy
It's time for another Trail Meal! This time with some homemade hardtack, with a put-together powdered gravy. Great as an on-the-go trail meal while keeping the weight as much down as possible. let's get to the recipe!
When you make your own trail meals you include yourself much more in the process of what you're going to be eating out on the trail. If that process is not enjoyable to you, you better of buying some ready-made meals for you to take. This trail meal recipe can be made with pantry ingredients that most likely are already in your cupboard. Or can be bought for pennies.
Quick Jump list
Ingredient list
You can scrounge your pantry for the following ingredients, or use what you have.
For the Hardtack
Flour +/- 1 cup, I used "Dinkel 630" flour for mine. Which is Spelt flour. I recommend you use normal bread flour or all-purpose.
Water, just enough to make the dough come together. quarter cup or less.
Salt, teaspoon
For the Gravy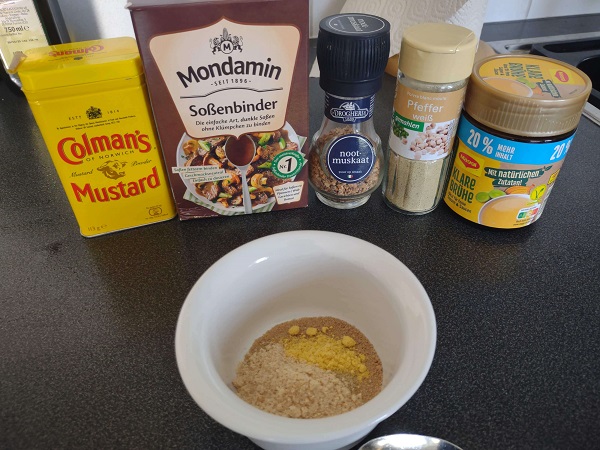 Gravy thickener
Mustard Powder
Bouillion powder
Olive oil or Clarified butter / Ghee (To make it a bit more caloric)
Dried onions
White pepper
Nutmeg
Total dry trail weight: 112 grams
Preparation before your hiking trip
This Trail Meal requires a little more preparation than some of my other trail meals. However, is one that once you make it will last for years in your pantry. So make a bit bigger batch and store it if you like it. That way you can grab and go for the next hiking trip. To save time, you can opt to buy your hardtack. Or swap it out for some other biscuit that you pick up in a grocery store. For further reading on Hardtack itself, be sure to read my earlier article Trail Meal | Hardtack, Sea Biscuit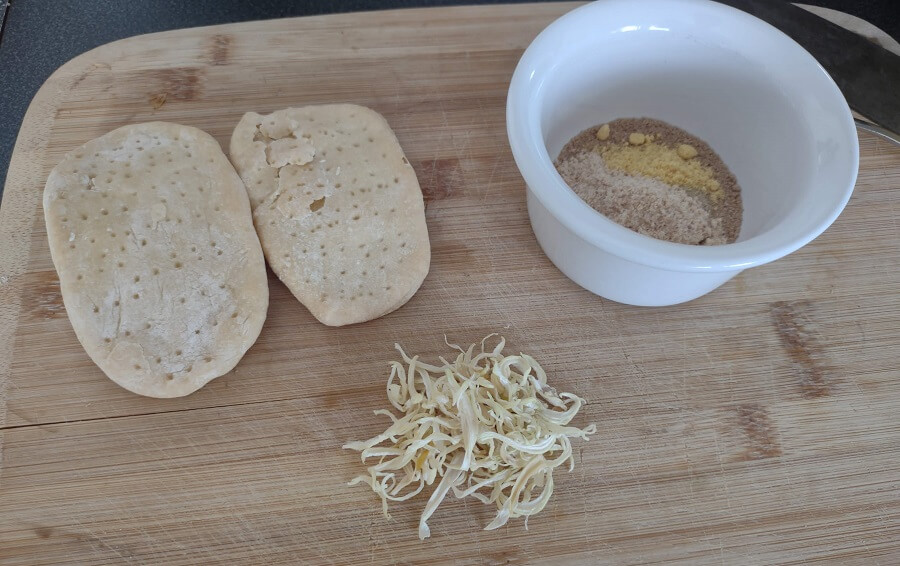 Making the gravy
For the gravy you will need a gravy thickener, in Germany, you can buy it off the shelf. The basic ingredients of the thickener are potato starch, milk powder, and a bit of malt. Combine the following ingredients in a Ziploc to take with you on the trail:
Three tablespoons of gravy thickener
One tablespoon bouillon powder or half a cube
half a teaspoon of mustard powder
Two tablespoons of dried onions
White pepper to taste
Nutmeg to taste
Take the clarified butter or tablespoon of butter with you in a small container, as I cover in one of my previous articles. Backpacking oil and spice kit You just need as much as you want. One to two tablespoons should be plenty.
Making dried onions without a dehydrator
Since I didn't have a dehydrator yet in my place in Germany and I am in an apartment with a sunny balcony I thought I would give it a shot to dehydrate the onions right there. This worked wonders and was super easy. Just wait for a dry summer day, I did it when it was 30 degrees Celsius and sunny out.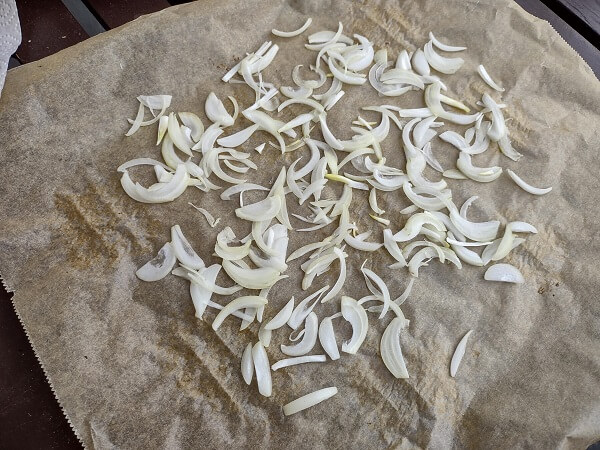 Cut the onions very thinly, since mine were small I cut them pole to pole. And lay them out on parchment paper. I later added a dry paper towel on top of it to still allow moisture to escape while also keeping bugs off it. The total drying time was a bit longer than a day since I started too late in the afternoon with the drying process. Finished drying just on the counter.
Making the hardtack
Hardtack is very easy to put together, all you do is combine the ingredients in a bowl, and give them a quick kneed. Let it stand for 30 minutes before shaping and putting it on a lined baking sheet. Don't forget to poke some holes in them with a fork! That also helps the drying out process. Thickness can be anything you want, but remember the thinner you make them, the easier they dry out. I made them around half a centimeter thick.
Once shaped and on the baking sheet, you can put them in a 150 degrees Celsius oven, or 300F. And let them be for an hour or a little longer. When done and slightly brown, you can pull them out and onto a paper towel to dry out overnight. This worked just as well as keeping them in the oven for longer in my case.
The finished product is an extremely hard biscuit that is not so pleasant to eat as is but can be made more appetizing by breaking them up and putting them in gravy.
One hardtack cracker ended up weighing in around 30 grams each. For the recipe, I used 1.
Recipe on the trail
To make the recipe on the trail, first break up the hardtack to make it absorb the gravy more easily. Take 250 ml of cold water and add the gravy ingredients to it. Stirring already to avoid any lumps.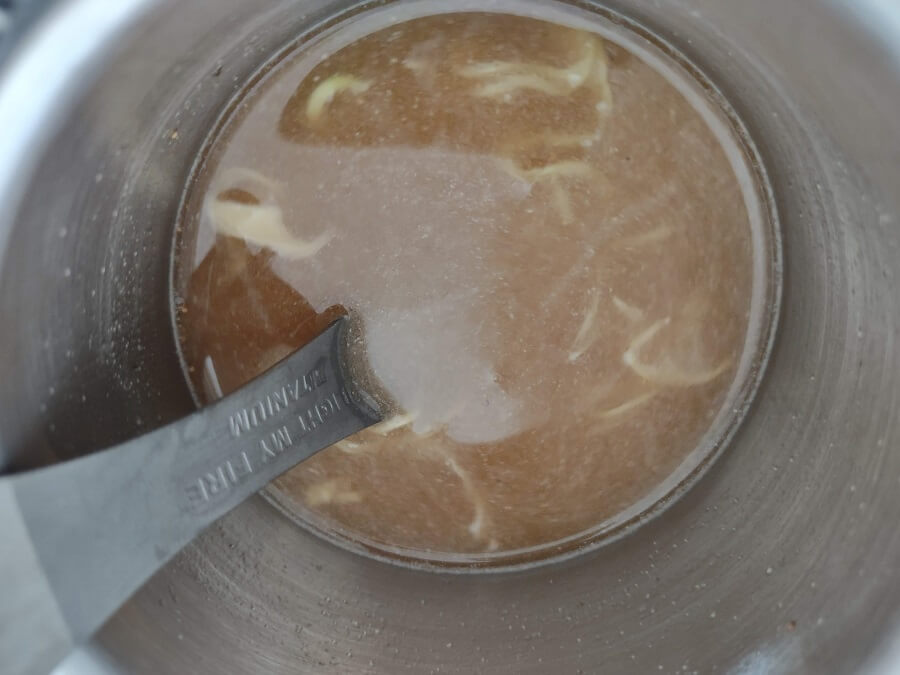 Bring to the boil and once boiling and thickened, add the hardtack. Let it boil for just a few minutes. After that, you can let it sit off the heat for a moment, and add your fat, before digging in.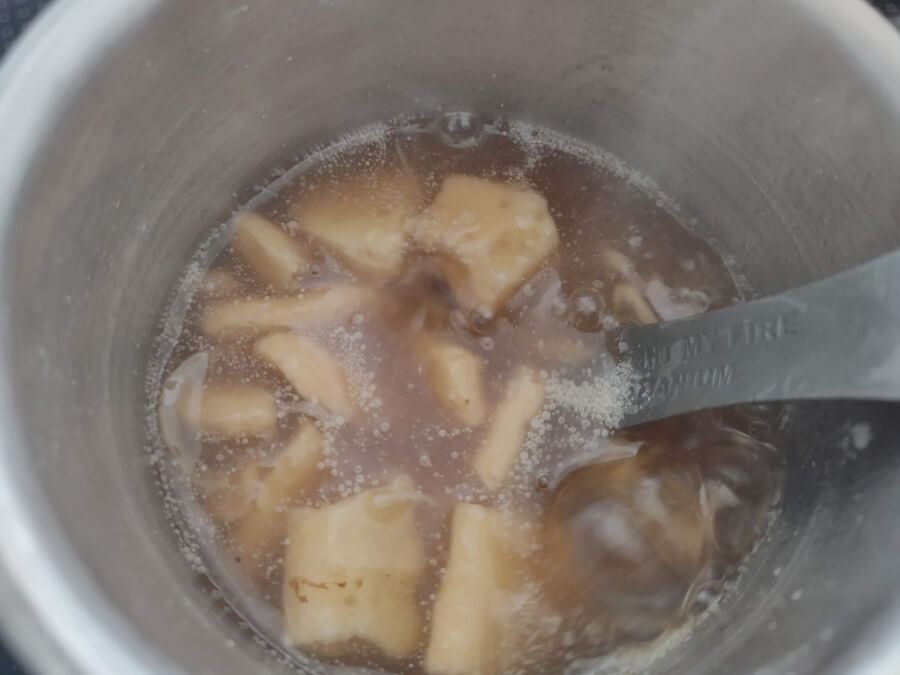 Consistency should be something like a very thick soup. With bits of hardtack "noodles" in there.
Makes for a great lunch or breakfast out on the trail. And can be put together with little. Only takes a little time to prepare the hardtack. Alternatively, you can use a similar biscuit, knäckebröd, or cracker. Or even add some soup sticks or croutons off the grocery store shelves. Throw in some dried jerky or meat if you find it lacking. And make it your own.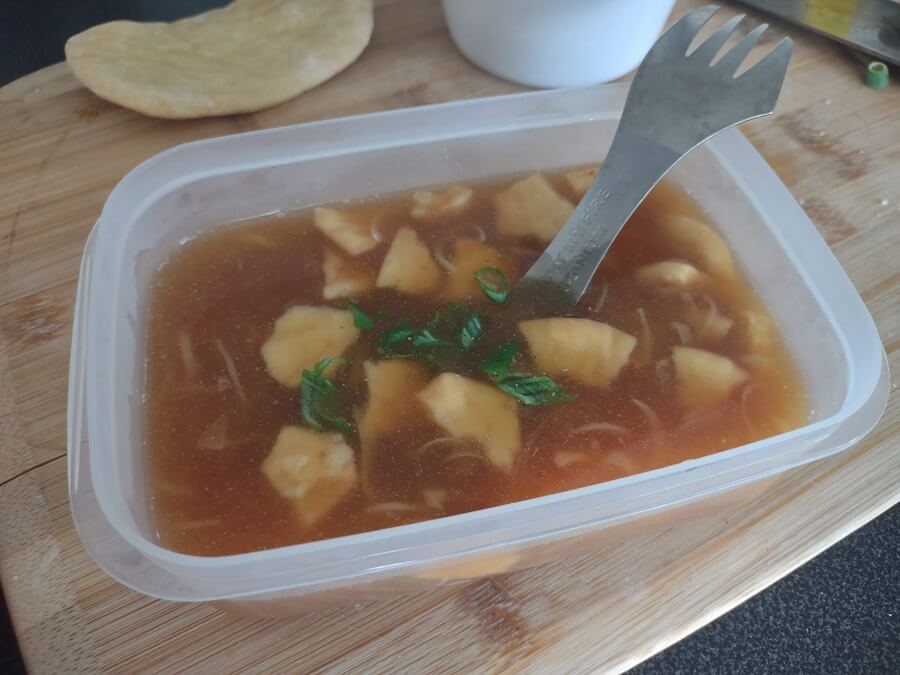 Have fun cooking, Happy Hiking, and Hike For Purpose!