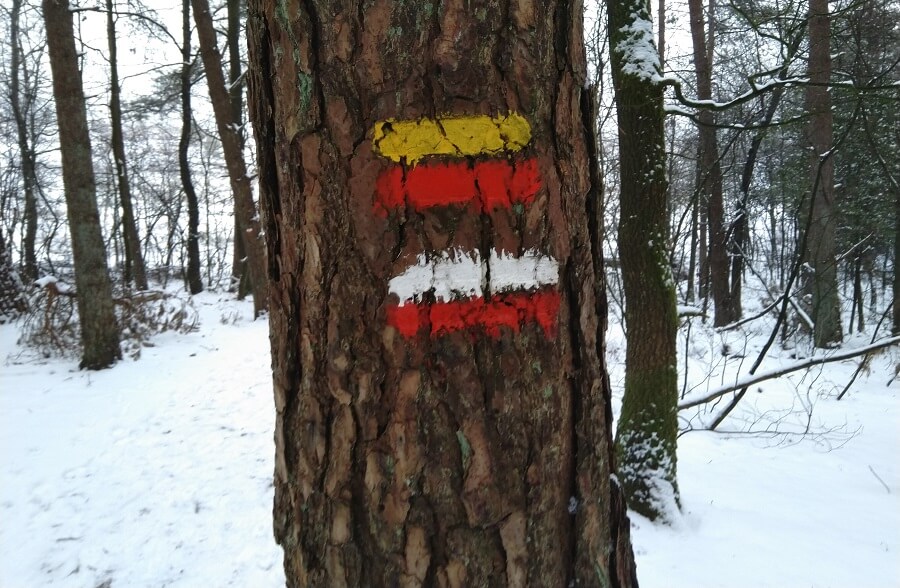 Winter hiking in the Netherlands
Winter hiking is something I really enjoy in the Netherlands. When the first snow comes the forest and heath fields turn into something beautiful. Lets dive into the best hiking in the Netherlands during winter!
In the Netherlands the winters are not that tough as in many other parts of the world. Minus 10 degrees Celsius is about as low as it will go. For this reason you can go out and hike in some of the more beautiful parts in the Netherlands all year long!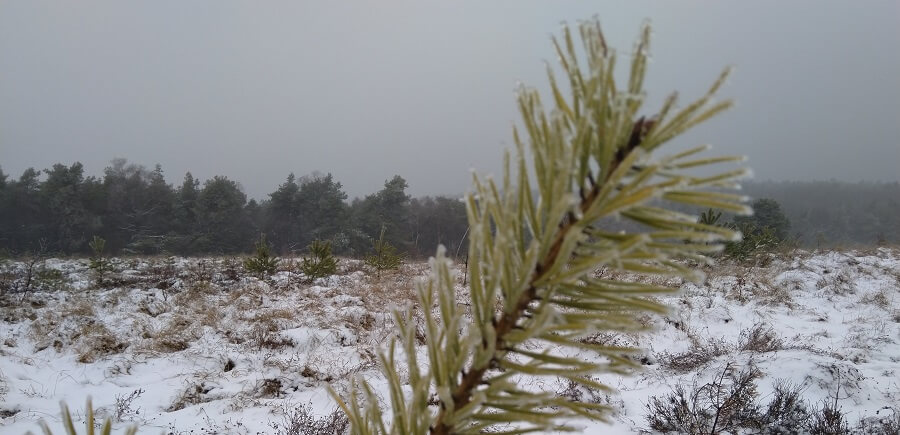 If you want to avoid the big summer crowds in the woods this time of year also lets you be as alone as you can in the Netherlands. Step on the virgin snow with your hiking boots on to experience some piece and quit. See all the different tracks that the deer and hogs make and look at the winter birds.
5 Trails to hike in Winter
Hiking in the Netherlands can be pretty diverse in landscape, you can walk over the dikes with far away winter wonderland views. You can walk in the forests of the Veluwe in winter. Or take a hike around the small villages around Christmas. Nearly every smaller village has a great spruce tree all decorated in the town center. Lets talk about 5 trails to hike in winter in the Netherlands.
Sint Hubertus in Park the Hoge Veluwe – Gelderland
In the winter when the lake at Sint Hubertus is frozen you can take a walk around it and in to the woods. Depending on the walking route you pick it is around 10 km. I suggest when entering the Park to ask for a route book or download the app to look up the route you want to walk. The people working at the different entrenches have been working there for a long time. And can recommend you a route to take.
The park is something magical in winter and I can highly recommend going there. When I was younger i had a small internship there for forest maintenance. I was send out in the early morning with a saw and a guide book to clear a trail. That was one of the best working days I had in my life.
Bakkeveen walking route – Friesland
In the Northern part of the Netherlands you can find some hidden spots that are great for hiking. Having partly grown up there in that region and many hikes later, this still remains a pretty spot. The dunes there are a sight to see with a covering of snow.
There are several hikes you can take around Bakkeveen and all of them have something special about them. The one that I can recommend is the one that I found using the AllTrails app. Install that app now if you like hiking. Its so easy to find hiking trails you did not think to look for yet.
This particular one is 8.2 km long and can be done in around 2 hours. So a nice afternoon or morning of hiking in Friesland. See lakes, small sand dunes and forest.
https://www.alltrails.com/trail/netherlands/friesland/it-mandefjild-bakkeveen-groene-wandelroute
Plaggenstekerspad Hoenderloo – Gelderland
I have already covered this trail before and I am biased for this trail. Because it is the nearest one for me I walk it every few months. This trail is part of the clog trails or Klompenpaden in the province of Gelderland. All day hikes on the smaller side ranging from 8 to 18 km. If you want to see some pictures or more information about this hike I suggest you check out my post about it:
https://www.hikeforpurpose.com/hike-the-netherlands-plaggenstekerspad/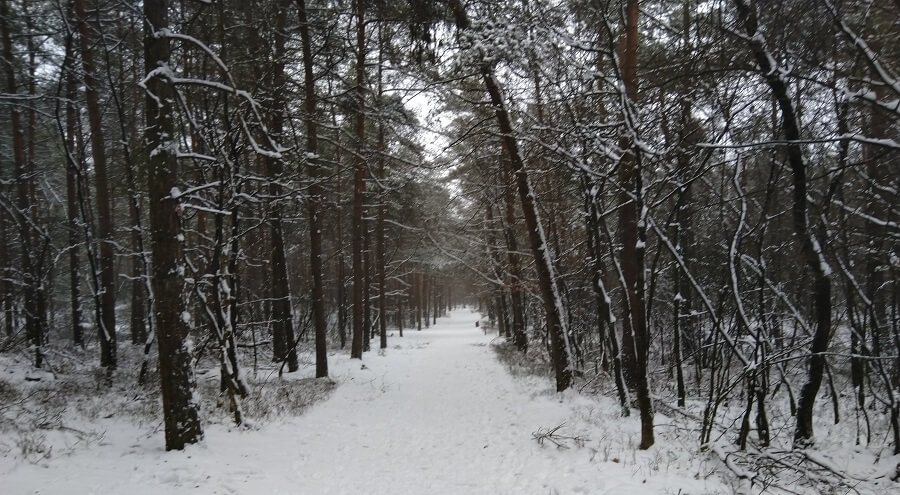 See a heath field and have some nice lunch in Hoenderloo, pancakes, a greasy kroket or more all at your disposal in the village center.
Hoog Buurlo Loop Radio Kootwijk – Gelderland
This trail is a great one in every season you decide to walk it in. But seeing the winter landscape is something truly great. It is one of the more popular nature areas around the Netherlands and can get quite busy during summer. But during winter you will have peace and quiet around you. The historic building of Radio Kootwijk is there for you to explore around. And there is a chance to take some lovely pictures there.
The hike is 13.2 kilometers and is considered moderate. But no hills and ups and downs so not to bad. Easy day hike.
Check out this trail in the AllTrails app on the following link:
https://www.alltrails.com/trail/netherlands/gelderland/hoog-buurlo-loop
Hiking around the Dunes of Texel – North Holland
Something a little more adventurous but no less beautiful is walking around the island of Texel in winter. Feeling the harsh and cold salt air is refreshing and challenging. Be sure to stop for some hot chocolate milk with whipped cream during this hike.
This hiking trail lies in the National park the high dunes in Texel and is maintained by Staatsbosbeheer. With 15 Kilometers in total you can hike this in a day. But spending a weekend in Texel is something every Dutch person should consider. And certainly foreigners. In the summer its a party island for kids on their first holiday. The rest of the year its way less busy.
If you want to walk this hike you can find more information and a PDF on the following link:
https://www.staatsbosbeheer.nl/routes/texel/wandelroute-duinen-van-texel
Gear to bring winter hiking
Take some good walking shoes that can handle water around you, winters in the Netherlands are often very wet. Some good hiking socks can make a difference as well. For the rest some lunch and water is pretty much what you need. Charge your phone and grab a warm coat and your good to go winter hiking in the Netherlands!
Navigation apps or maps to use during winter hiking
I am a very big fan of the AllTrails app for these sorts of hikes in the Netherlands. You can record your hike and get the directions you need. They do offer a pro version where you can download the offline maps for further use. The free version is a great starting up point.
If you want to get further directions from the different Clog trails you can visit the website klompenpaden.nl for more information and the GPX files to load them in your GPS or Smartphone.
Hope you find some new hikes that you can do from this post.
Happy hiking and hike for purpose!