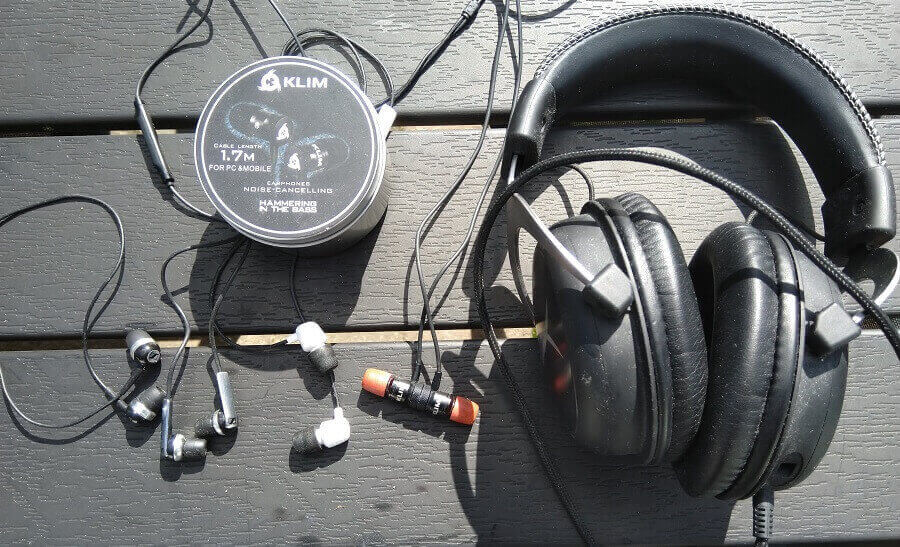 Music headphones for hiking
Music is something everyone can enjoy at all times and is something from all times. These are my picks and idea's for hiking headphones.
Headphones for hiking should be affordable, well built and resistant to abuse. To many times have I lost them and broken headphones while on trail to recommend to you to take your 500 dollar headphones.
Music is something that can get quite expensive with headphones. We are going to focus on the more affordable ones that I have personally used while hiking.
Reasons to take headphones while hiking
Their are hikers that prefer to listen to the sounds of nature and nothing else. In some parts of the world with long distance hiking you can walk for days or weeks without encountering civilization. In many other parts of the world this is not the case. And you will eventually get stuck at a part of the trial that is less ideal. Walking by the side of a busy road can get quite annoying and demoralizing.
A happy up beat song from your hiking headphones can get you past the shitty parts of a trail. While hiking in the Netherlands I often encounter hiking trails that try to get as much away from that as possible. But in a busy and small country like the Netherlands busy roads are unavoidable.
If you are considering walking one of the Camino trials in Spain or Europe you will have to deal with Hostels. While relaxing in bed after a long day of hiking you sometimes want to listen to some music, watch a movie or listen to a podcast before bed. If your in hotel room by yourself that isn't a problem. But if you have other people sleeping in the same room, you will get a pair of boots thrown at you. Headphones are the way to go in that situation.
When you are hiking with multiple people then it still makes sense to bring some headphones. Sometimes you just need a moment to your self at the end of a long day or during. Listening to your favorite song or watching an Archer episode can lift your spirits tremendously. You can do that together, but your taste in music or shows may not be the same as your hiking companions.
In Dutch we have a saying, encountering the guy with the hammer. Or meeting the point of giving up / end off your wits. When hiking this comes up now and then. Sometimes you simply have to push on to that next hill. I have my guilty pleasure songs that are very upbeat and feel like I can take on the world. And unleash some aggression in the meantime. Your favorite workout songs are excellent choices to make sure you can walk that extra kilometer after a long day.
Fit and comfort for hiking headphones
Fit and comfort is an important part of your enjoyment of the headphones, you can spend all you like on them. But if the headphones cause discomfort they wont last long. In ear headphones are for me the most comfortable option. Partly because my ears do not fit for most of the standard ear headphones like the Apple AirPods or other shapes.
Time and quite a few headphone types later I have landed on in ear headphones for hiking. Lets get to the other model types that are available. And the reasons why I choose the in ear model over other headphone types.
Model types for headphones
There are several options to choose form while picking out headphones for hiking. The general types of headphones are in ear, ear buds or over /on ear headphones. There are also the bone conducting headphones. But as they are more expensive i did not include them in this article. Every headphones have their advantages and disadvantages. See the table below.
| | | | | |
| --- | --- | --- | --- | --- |
| Headphones | Weight | Fit | Audio experience | abuse proof |
| In ear | +/- 20 g | comfortable | good | very robust |
| Over / on ear | +/- 250 g | comfortable | excellent | delicate |
| earbuds | +/- 20 g | depends | less, depends on fit | robust |
When looking at weight alone, the over and on ear headphones are to heavy to take hiking with you. While hiking you need to shave as much ounces off as possible. All the extra items add up and are in my opinion not worth the extra weight. If you are an audiophile then it may be worth it for you to take along the over ear models.
Normal earbuds like the standard Apple ones are considered a good option to take by many. For me they never fitted quite right and do not deliver the same quality as you get with many other manufactures. They often fall out in my ears and are therefore not an option for me.
Bluetooth headphones and cordless
Bluetooth headphones are great for all types of activities, from working out at the gym or working at your desk. Taking them hiking with you is not something I can recommend.
It gives you another thing to charge while on trail and several waterproof jackets can give interference with the signal. The audio quality in this segment of the more affordable headphones is better with cord than Bluetooth in my tests with several of these type headphones.
If your opinion differs and can recommend a good affordable option be sure to let me know in the comments of this post!
My go to headphones for hiking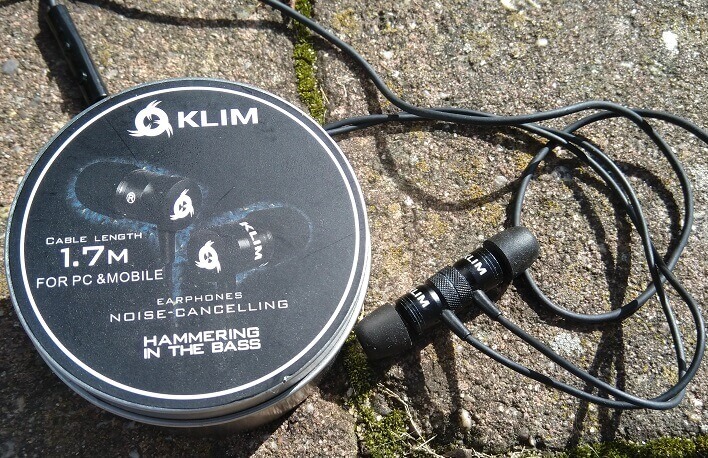 For one year now I have been using the KLIM Fusion headphones as daily drivers and as my hiking headphones. They are an affordable option and deliver what they promise. For the money they sound great and come with a wide range of different extra's in the box (or can). Extra memory foam earpieces and a few other useful features.
I started with the Sennheiser cx 300 ii in ear headphones a couple of years ago. The KLIM fusion headphones and Sennheiser CX 300ii are compared below.
| | | |
| --- | --- | --- |
| | KLIM Fusion | Sennheiser CX 300II |
| Sound | clear, good bass | tinny, good bass |
| Price | +/- 20,- | +/- 35,- |
| Microphone | yes | no |
| volume control | yes | no |
| Different earbuds | yes | yes |
KLIM Fusion headphones features
The KLIM Fusion headphones have a few features that set it apart from the competition. They are a EU company that manufactures in China. With a support and sales team based in the EU they are very reachable and offer a good warranty.
1.7 meter long cable
Microphone
Volume rocker
Several memory foam earbuds to choose from
Shirt clip
Magnetic click to keep them together
3.5 mm connector
Backup headphones
No matter what kind of headphones you get, it is always a good idea to take some backup headphones. It sucks if you are stuck in the middle of the hike and you snap one of the earbuds off with taking off your backpack. For these I still use a pair of Skullcandy headphones that I picked up in a train station in the United Kingdom during my Hadrian's wall path hike. Combined with the Memory foam earbuds from the KLIM's they do a good job to not leave me without.
Hope you enjoyed this post about taking headphones with you hiking.
Happy hiking and hike for a purpose!