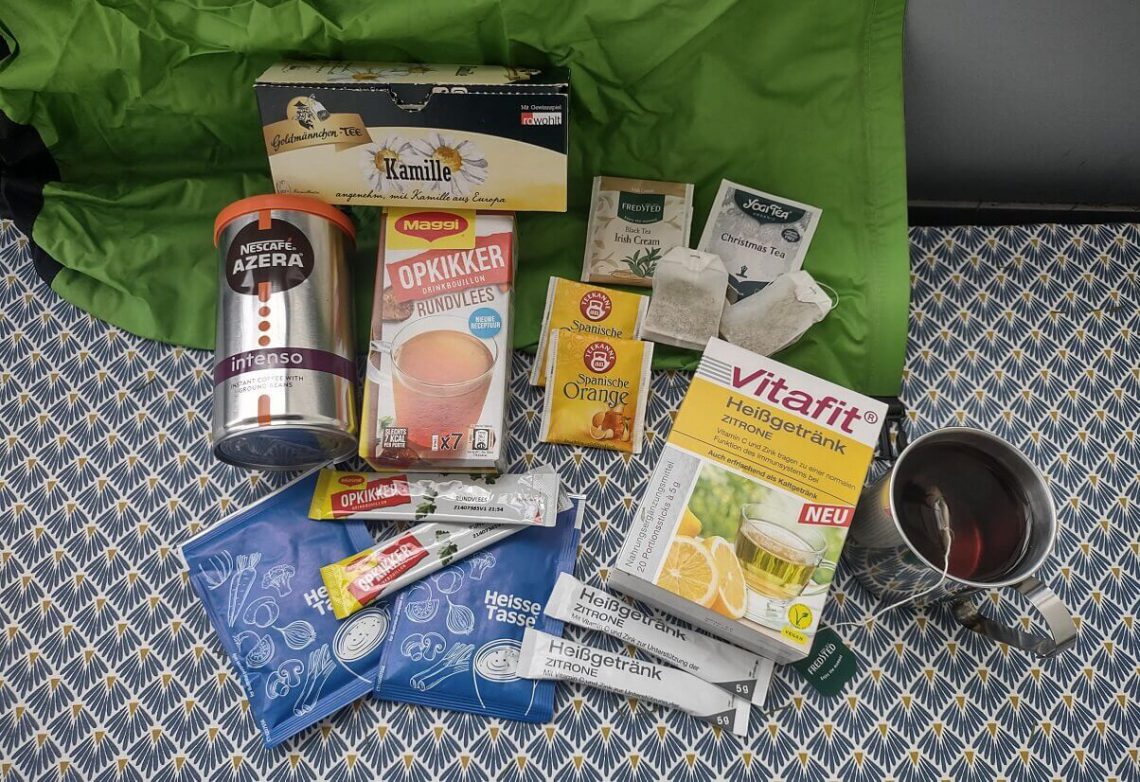 Hot drinks make you feel more human, just like a hot meal. When thru-hiking, section hiking, or just an afternoon stroll. Having a hot drink is a welcome addition to any situation. Let's cover some of the drink choices for your next hike!
Everybody has their favorite hot beverage of choice, there is little reason not to take your favorite drink out with you hiking. Almost all drinks require little preparation with modern drink mixes, the only downside is that they do require a bit more fuel on a daily basis. Since most often you will have to boil more water or boil twice a day.
You can avoid having to boil twice by carrying a mug with you. So you can keep your drinks not tasting like what you just ate. A collapsible mug or cup like the Sea To Summit one is a lightweight and easy solution for this that I use a lot of the time.
Quick Jump list:
Affiliate links may be mentioned in this article, by purchasing a product through those links I may receive a kickback. At no extra cost to you.
Coffee
Coffee is one of the most accepted addictions, and with good reason, the caffeine boost is enough to drag your butt out of your sleeping bag and into the next leg of your hike. Making the best coffee out in the backcountry with little gear is a quest for many coffee-addicted hiker. And can get quite intricate on how this works. I like to keep it simple and either have a cowboy coffee or an instant coffee mix.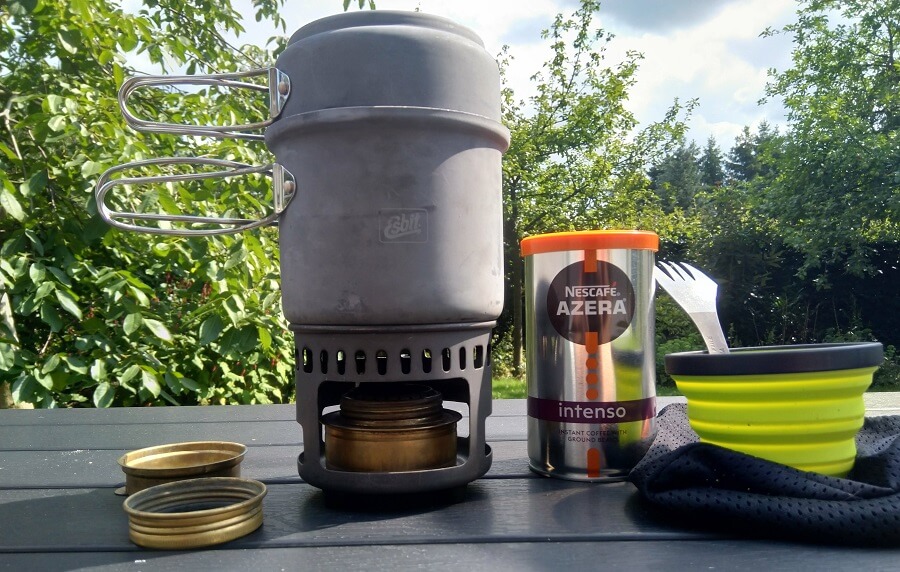 One of my favorites is always the Nescafé Azera line. But my tastes are not so refined, you can check out someone way more knowledgeable testing a bunch of different instant coffees. James Hoffmann:
If you cannot live without a good pour-over coffee system or your espresso you can invest in the ultra-light gear that makes that possible. You will still have more gear that is only suited for one task, so really think twice about it if that is worth it to you.
Trusted and loved systems for coffee on hiking adventures are the:
Silicone pour-over coffee filter holders
The trash and cleanup of coffee are in most cases the most that you have from hot drinks, so always have a trash bag handy to pack everything out with you again. Coffee grounds and biodegradable filters can be disposed of in a cathole. Biodegradable filters can still however take a long time to break down. So contact your local forest agency or people in charge of the hiking trail to ask what the best option is for the type of terrain that you're going to be facing.
Tea
Tea is my personal favorite drink, and the chances are good to catch me having a cup in the evening in my sleeping bag with some chamomile tea or in the morning with an extra-strong English blend. Tea is a no-fuss-and-mess way to enjoy a hot drink out on a hiking trip. And can be a great morale boost. Especially when you come from a tea-drinking country as I do.
The easiest way to enjoy tea is to take your favorite brand of tea bags and chuck them in a Ziploc. Without the bulky packaging of course. Tea also weighs nothing and does not come with plastic waste, something instant coffee and other options almost always do.
You can pack out the whole tea bag if you prefer, but you only really need to take the string, staple, and paper. For the tea bag, you can simply wring them out and bury them in your cathole or dispose of them properly. The only thing to look out for is that you do not do the same with some of the Lipton triangle bags. Those are plastic.
Foraged Tea
Tea is also one of the easiest food and drinks items to forage when you are out in the woods or fields. With basic knowledge of some plants and the ability to recognize them, you can enjoy a cup of tea off pine needles, stinging nettle, or bramble tea.
Always be careful however and learn those skills first before trying them out on a hike, the last thing you want on your backpacking trip is diarrhea or worse.
Instant bouillon or soup
4 o'clock Cup a Soup is a memorable advertisement here in the Netherlands at least and highlights the time between lunch and dinner when you are feeling peckish. An instant soup or bouillon suppresses this feeling and can be quite good to replenish some salt in your body after a day of sweaty hiking.
Most of the time these are loaded with sodium and combined with a sodium-rich dinner, like instant noodles, these can be not the best thing in the world for you. So only try to have them if your dinner option is a bit less sodium rich.
Hot Chocolate
Hot Chocolate is a childhood staple for many, and the packages you can get are also great options for you to take hiking. Plus they can be a nice comfort boost on chilly nights. They can also up your calorie intake quite a bit depending on the brand or flavor you pick. Ranging from 150 to 200 extra calories you can easily drink if you are a bit low on your calorie intake for that day.
Hot Chocolate or Cocoa can be also had with caffeine in it, which is a great option if you do not enjoy coffee or tea that much.
Vitamine bombs or sports mixes
The go-to when you're not feeling 100% is a vitamin C boost drink or similar vitamin bomb. These mixes can be a good option if you are out for more than a few days and want to make sure that you're not getting a deficiency of vitamins. Sport mixes are also an option, those are most often mixed with cold water.
Glühwein | Mulled Cider | Alcoholic hot drinks
If weight and pack size are not factors that you're terribly bothered by you can take some alcoholic hot drinks with you to prepare. This is maybe a nice option for your first day of hiking or when you have just passed a town on the way to your campsite. You can take a little flask or bottle of alcohol and pour it over in a plastic water bottle, so you're not stuck with the glass bottle for the next leg of your hiking trip.
Gluhwein is a big thing here in Germany and can be homemade with spices and oranges, or you can get little mixes for them. You can then add those to a wine that you pick up, or get creative with powdered fruit juice and some vodka.
what are your favorite hot drinks to take with you on hiking trips? Share them down below in the comments!
Happy hiking and Hike for Purpose!