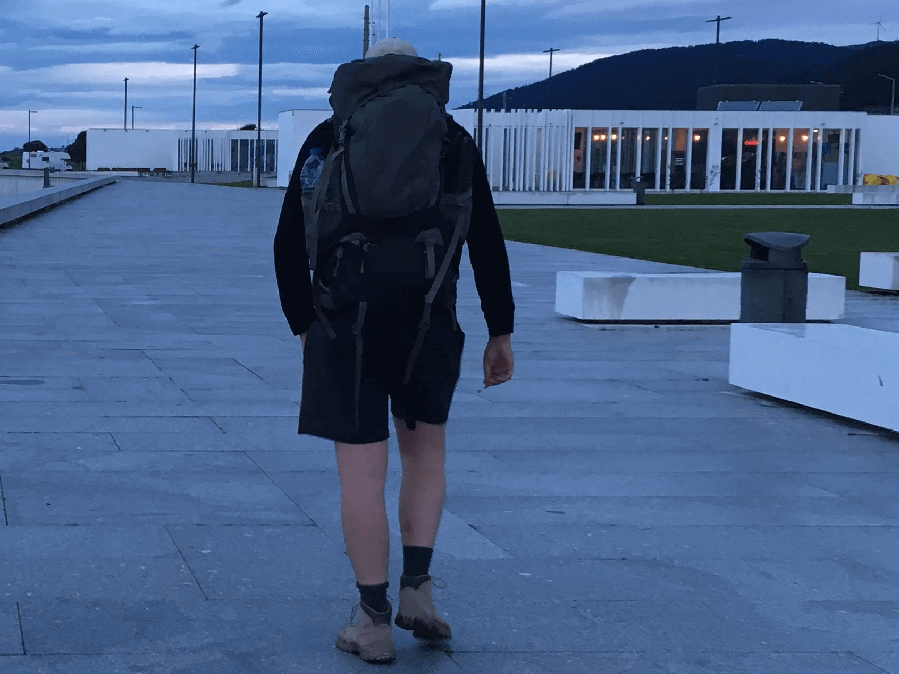 Repacking your backpack while on hiking trips
Getting your backpack and gear straightened out is one thing, but being consistent in repacking it and your gear everyday can be a challenge. Here is how I always repack my backpack while on multi day hiking trips.
Once you have your entire gear list straightened out and squared away after a couple of outings it is important that you remain consistent in repacking it everyday. When you do not do this and stuff everything in your backpack the following day you will have a tougher time setting up camp, reaching gear you need when you need it and you will be slower than everyone else getting up and going again.
That is why like a lot of other aspects in hiking you need to have a ritual and structure in it. Finding your headlamp in the middle of the night when it is not in the usual spot is annoying and time consuming.
Essential gear gets its it own place
Figure out the stuff you need all the time and belongs in the smaller gear section. Then put that stuff in the top compartment of your backpack or in a dedicated ditty bag. Make the ditty bag a bright colour which allows you to find it in low light situations.
Have the important documents at the ready and in a safe place. You can keep your wallet and ID in a fanny pack or money belt. A fanny pack has the other advantage of carrying your essential gear around with you around town. Stuff that is easily lost or stolen in hostels for example on the different Camino's are Battery packs and headlamps. When carrying a fanny pack around your waist with all the essentials the worry of still having them when you get back is neutralized.
When your hiking I hope you carry a first aid kit. I should not really have to explain this, but Always know where it is in your backpack. I keep it in my front pocket off my backpack so I can always reach it without interference. Also think about in what sort of pouch you put it in.
I had one occurrence at a bushcrafting trip where I did a stupid move and cut myself. Getting my then first aid kit open with one hand and one bleeding was not a good experience. So make sure you can easily reach and open your first aid kit in all circumstances.
What needs to come out of your backpack first?
In pretty much any backpacking trip you need to get your place to sleep set up first. After that you can grab out your other items. So what do you need first? Your tent. Try to store it in a place where you can access it where you do not need to take all your other stuff out. That way the risk of getting your other gear wet or dirty is minimized.
Set up your tent and put your tent the way in the order you need it. For example my MSR Hubba NX needs to have the inner tent first setup in the basic configuration. So inner tent is first to be layed out in the proper order. After that fold out the tent pole and at last the outside tent. Fold them back in the order that you need it.
After the tent comes the ->
Sleeping gear
Sleeping gear I like to all carry in the bottom compartment of my backpack. I stuff all the gear like my sleeping pad, sleeping bag and stuffed pillow in the inflate bag for my Exped sleeping pad. This way they are given an extra waterproof layer of protection and I can grab all three in one go.
I always start with getting my sleeping mat set up, this always take the longest to get set up. Partly because I do not have a self inflating mat. But a sleeping pad that needs a bit more attention. With the Exped Synmat that I have you need to lay it out, attach the inflate bag to the nozzle. And pump some air in it. Usually it takes me a good three to five inflates with the bag. You can get quite fast with them.
After that I take out my sleeping bag and get it out of its stuff bag and do the same with my pillow. I know i know, I carry a pillow. It is definitely a luxury item. A stuffed sweater and a buff works the same. But I like having a pillow. The sleeping bag needs a couple of minutes to get some air into it. You can shake it around and fluff it back up. What I always do is unzip the zipper all the way to prevent it getting damaged. Now is the time to redo it partly. Not when your about to go to sleep.
Cooking gear and food
Cooking gear should be in the middle part of your backpack and closer to your back. After setting up your tent and sleeping gear you are probably hungry from a day of hiking. So this is the order that I keep my cooking gear in. Inside your pot should be stuffed the following items
Your stove or burner.
A light tea cloth for cleaning up.
Spork
Gas canister or your fuel
If your like me and like to have a dedicated coffee (or wine) cup than you should look into the folding ones from sea to summit. They fold up and can be stored in your cooking pot as well. When you want to read more about different cooking gear and utensils I have an article for that as well.
Different stuff bags for clean and dirty clothes
This may be an open door but needs to be said anyway. Your clothes will start to begin smelling in a couple of days of hiking. This is not something you can avoid when hiking. Its sweaty business.
For dirty clothing I often carry a mesh stuff sack so the smelly clothes do not get even more smelly from being sealed off. If clothes are damp and put away in an watertight bag clothing will turn sour in a few days. Better to keep them in a slightly ventilated place until you can clean them. Be it in a river or in a washing machine.
Conclusion for finding stuff time after time
Repetition Repetition Repetition, know where your stuff is and always put it back in the same place. I know sometimes when your tired and hungry it can be a challenge, but get to know where everything is and keep it in a logical place. Do not throw all the loose items that you need often just in your backpack. But keep them in a ditty bag, your top compartment or an easy to reach place.
Then you will have a better experience while outdoors.
Happy hiking and hike for a purpose!