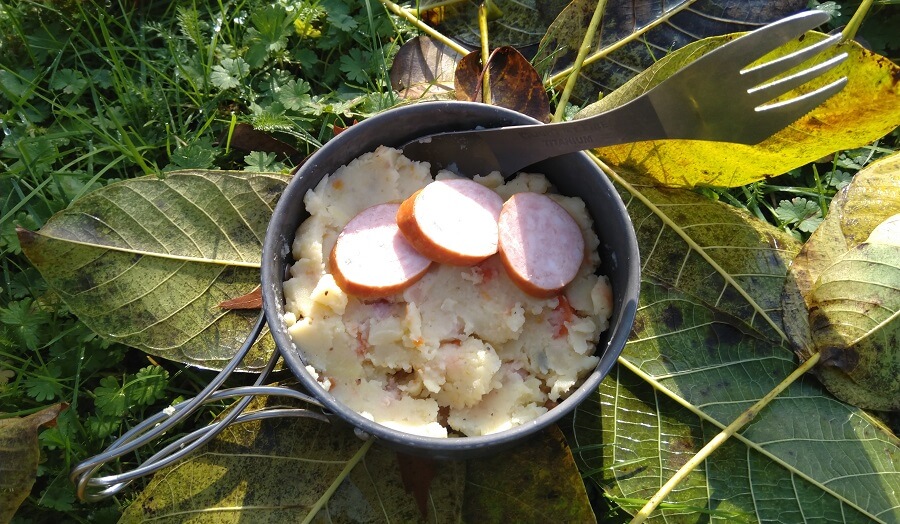 Trail Meal | Dutch instant StampPot
A staple in the Dutch cuisine is the Stamppot. Mashed potatoes with some kind of vegetable and meat. Delicious and very filling for hiking!
You can make many different variations off this meal while out hiking. Lets go over them and read up some tips from a Dutch guy whose diet mostly exists off potatoes and bread.
All over the western world you can find the instant types of mashed potatoes. In America you have the brand Idaho potatoes who does them, and in Europe you have Maggi. These kinds off instant mashed potatoes have the only need to add hot water to make them ready for eating. In nearly every country I have been to in Europe you can find a variant of instant mashed potatoes in the dry foods sections. Usually near the dried meats and canned goods.
Like the instant noodles that everybody knows on all the different trails around the world. Having only the need to add water to a meal is a great benefit in the backpacking constraints.
Ingredients for hiking StampPot
The ingredients vary for different kinds of StampPot and can be adapted to what you have on you or can scavenge from the country side. For the basic recipes you will only need a sachet of Instant Mashed Potatoes and some kind of vegetable and dried or smoked sausage.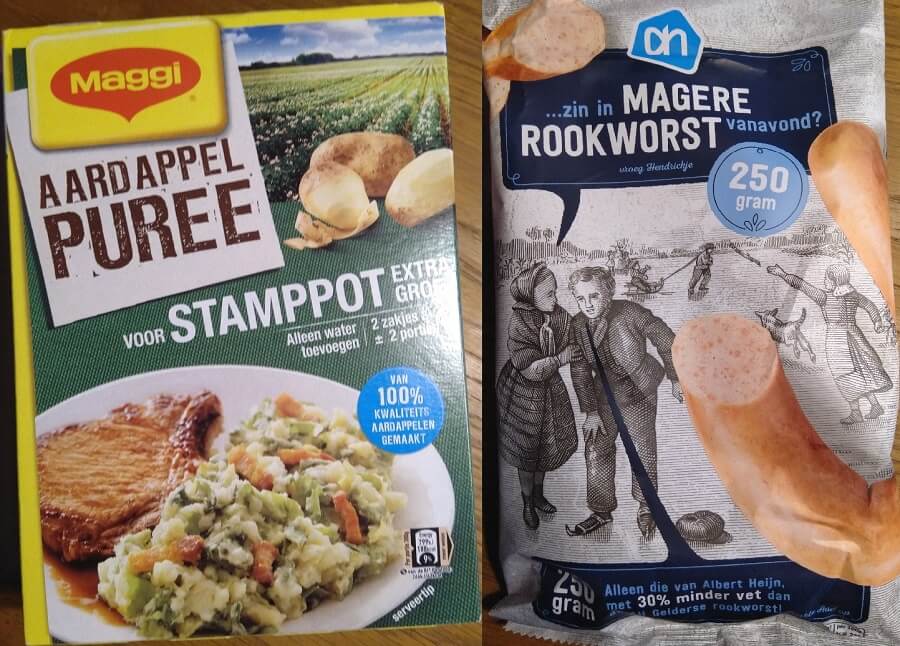 The sky is the limit for what you can put in there for vegetables. But here are some ideas you can scavenge, buy or produce / dry yourself. Feel free to write in what your favorite green is!
Kale
Sauerkraut
Onions and carrots
Dandelions (Taraxacum)
Bishop's weed (Aegopodium podagraria)
Stinging Nettles (Urtica dioica)
Endive
Leeks
Cauliflower
Broccoli
Peas
Spinach
But the list does not stop there, you can go on and on for what goes in it.
Preparing and storing the Vegetable part
Drying is often the most weight efficient way to carry it out on trail. If you do not have a dehydrator at home you will be limited in your options. Scrounge around your local supermarket for ideas or invest in a dehydrator!
For every vegetable you choose to dehydrate at home the following needs to happen. Cut it as thin as possible without sacrificing to much of the flavor and texture. Then it will dehydrate the fastest and is easiest to re-hydrate out on trail. Some of the items are better cooked before, the carrots are a good example of that. Slice thin slices and blanche them in boiling water first before drying. If you want to look at some pictures of that you can take a look at my Drying Sage for backpacking article.
After the necessary time of drying you can store the vegetable part in a separate Ziploc baggie.
The fresh veggies
The fresh veggies that are further marked by their latin name in the list above you can scavenge in most of Europe and America. You will need the the knowledge and expertise to identify them! Don't look at me for that. Get out there and ask an expert who can take you by the hand. But to be fair, the three plants that I name are very easy to identify. And you probably knew already.
Fresh veggies only need to put in at the very end of cooking. More about that later in this article.
Meats to go with StampPot
For the meat part you can put many different kinds of sausage or meat with it. Some of my favorites include:
Rookworst – Smoked Sausage that keeps outside of the fridge
Dried Sausage of the Spanish Fuet type
Bacon bits
Tinned ham
Tinned Spam
Tinned meatballs
Pouch of hamburgers (Those I think are only available in the Netherlands from the brand Unox)
Pouch of Chicken
Pouch of Tuna
Beef jerky
Dried Hamburger or minced meat
If you are a Vegetarian or Vegan you can adapt this recipe to your liking by leaving out the meat part. Or substituting another form of protein in there.
Cost and calorie count of the meal per serving
I did the grocery shopping near my house at a Albert Heijn, one of the more popular supermarket chains in the Netherlands. I bought the smoked sausage that is the cheaper home brand and the instant mashed potatoes from Maggi. Prices listed below.
AH Magere rookworst (smoked lean sausage) – €1.08 – 250 grams
Maggi Instant Mashed Potatoes for Stamppot – €1.49 – 2 pouches for 4 portions. 115 gram each.
For the vegetable part I'm going to use onions and carrots, I already had a big bag of that from last week groceries.
The instant potatoes are per portion of a single pouch 188 calories. And about half of the smoked sausage is around 500 calories. Add them together and you have a 688 calorie meal for 215 grams of weight. The vegetable part adds some calories as well but lower of course than the meat and potatoes. So your looking at around a 750 calorie meal altogether.
The way to prepare StampPot out on a hiking trail
Preparing StampPot is not that much work, it only depends on the different ingredients that you have. For the preparations you will need a pot that can hold at least 600 milliliters and bigger. A spork to eat with and that is about it. If you are looking for a Spork that will last your lifetime, check out the Light My Fire Titanium spork! Light up your burner, pour 500 milliliters of cold water in your pot.
If you have any veggies or meat that needs to be re-hydrated you can put them in the cold water already. When the water comes up to a boil you can stir the vegetables around and make sure they are re-hydrated. This should take anywhere from 5 to 10 minutes.
You can take the pot of the heat and dump in your Instant Mashed potatoes sachet while stirring with your spork. When everything is combined cover with a lid and a pot cozy if you have it and let it sit for a couple of minutes. Add any meat that is already good to eat to it before you put it away.
And after those steps you are ready to start eating your StampPot out on any trail! A good filling meal that will make you feel like a Dutchman (Or Dutchwoman)!
Hope you enjoy this idea for a hiking meal, happy Hiking and hike for a purpose!