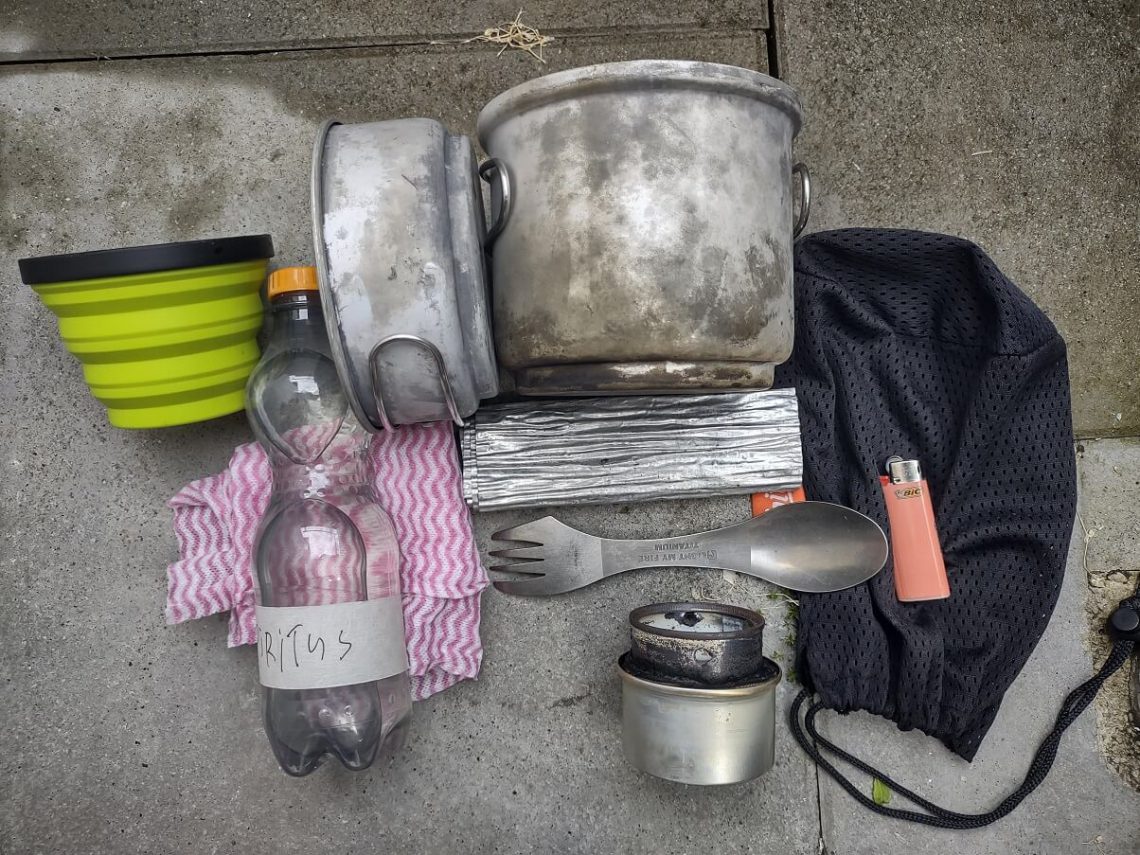 Since discovering the Fancy Feast alcohol stove I have become a big fan, this is the first alcohol stove I tried that ticks all the boxes that I prefer in a backpacking stove in general. Let's discuss my cook kit setup that includes everything I need and like when cooking outdoors.
The Fancy Feast alcohol stove is like any alcohol stove not the best fit for longer-distance hiking for most hikers, because of the fuel needed to reach the same capabilities as a gas canister stove like the MSR Pocket Rocket 2. It is however still an option that many more experienced hikers take because of the wide range of possible fuels that you can get for it. And also because of the enthusiast aspect of it. It is just fun to take something homemade.
Alcohol stoves can be a great companion to take with you on shorter hiking trips, or just out for an afternoon stroll for some coffee. I tend to gravitate towards alcohol stoves when I go do week-long hikes, and I am walking around Germany or the Netherlands. Where I can get Spiritus or alcohol fuel in virtually any grocery store for pennies. Instead of taking a fuel canister stove.
All the equipment in my Fancy Feast Cook kit
My Fancy Feast Cook kit consists of the following items:
Esbit two-part pot
Homemade Fancy Feast Alcohol stove
Aluminum Windscreen by MSR
Bic mini lighter
Light My Fire Titanium Spork
Nest / Ditty bag to hold everything together
Plastic fuel bottle
Washcloth
Sea to Summit X cup
The Esbit two-part pot turned into one of my favorite pots and it is the one I keep coming back to, originally purchased with the Esbit stove and stand as a full cook kit. I was fast to be disappointed with that kit's overall performance and weight. It also sported an option for solid fuel and Esbits "Trangia " style Alcohol stove. And the stand that was also marketed as a windscreen, was in fact, not very windproof. For a long time, I carried an extra windscreen with me for that setup. But therefore it was not the most convenient way of going about it. Enter the Fancy Feast setup.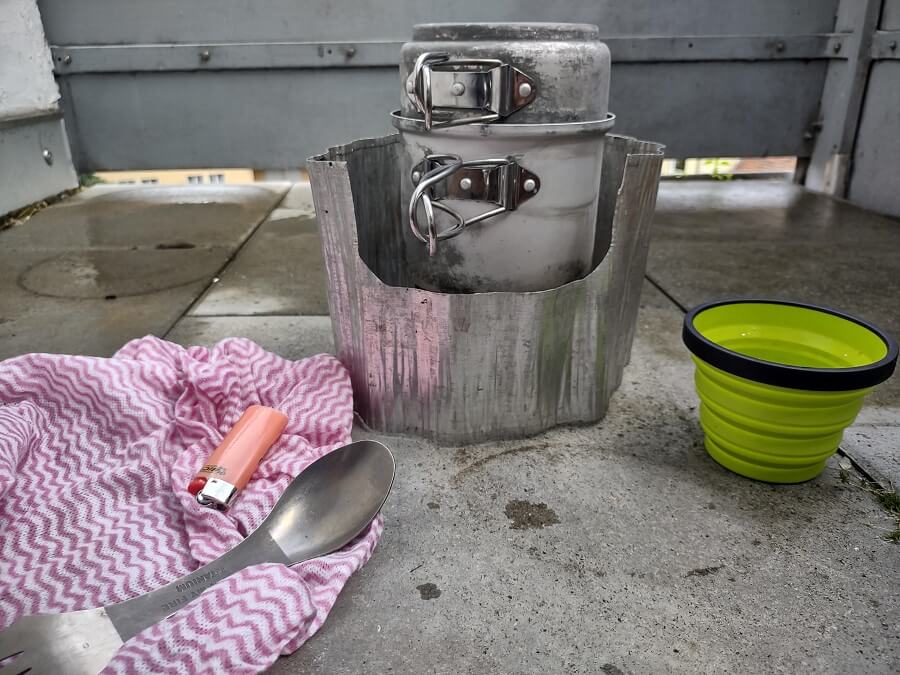 No pot stand is necessary and no priming
One of the major advantages of the Fancy Feast alcohol stove is that no pot stand is needed, you can therefore rest the pot directly on the stove. And since it is not a pressurized Alcohol stove, it does not suck the heat away causing it to go out or underperform. As soon as you light it you can put your pot on the stove. And the Fancy Feast alcohol stove will get to work cooking your food.
This also brings my weight down since I do not require a pot stand for the pot to sit on. And doesn't require fussing around so much with priming the alcohol stove and trying to get a jet alcohol stove pressurized. Which can be a bit of a challenge sometimes in my experience.
Because of the wicking material in the Fancy Feast Stove, it is also less dangerous when spilling, although that is still a concern with any stove. Due to the danger of lighting the forest floor on fire. Care should be taken in any case while cooking outdoors. And double check if using an alcohol stove is even allowed in the forest or area you are going in. It can be the case that it isn't.
The total dry weight of my Fancy Feast cook kit
The weight of your cook kit is important with any setup, less to carry equals easier walking. My total dry weight comes to:
429 grams
And breaks down into the following weights for the different items:
| | |
| --- | --- |
| Fancy Feast Alcohol stove | 26 grams |
| Esbit two pan cook set | 225 grams |
| MSR windscreen | 53 grams |
| LMF spork | 19 grams |
| Ditty bag | 20 grams |
| Washcloth | 7 grams |
| Bic mini | 11 grams |
| Sea to Summit X cup | 46 grams |
| PET fuel bottle | 22 grams |
| Total | 429 grams |
With all the items in my kit, I can easily prepare all my outdoor meals and drinks that I do, and be comfortable doing it. Some items could be considered luxury items, and they kinda are. But make a great deal of difference when dealing with the day-to-day tasks of camping and hiking.
A cup like the Sea To Summit X cup for example can be stowed away easily inside your cook kit, and makes the drinking experience a lot nicer. You don't burn your lips on the rubber which is an easy task on aluminum, titanium, or stainless steel, and you do not have the same taste of spaghetti in your tea.
For me then it is worth carrying. the same as a dedicated washcloth that you can use to clean up, and also important, stops rattling inside your backpack while underway. Which can be very annoying.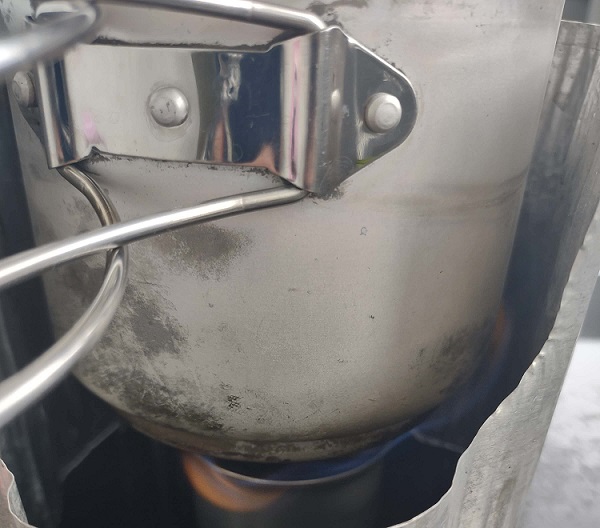 How to use a Fancy Feast alcohol stove
With my cook kit, I can easily put food on or make a cup of tea without any hassle. Simply pull your cook kit out, fold out your windscreen, fuel up your stove, and light up. It is about the same amount of effort that you spend screwing in your fuel canister stove for example. And way less effort than getting a wood stove going. Combine that with the fact that the Fancy Feast alcohol stove with a wick does not need any priming. And you got a fast and easy way to get your dinner going after a long day of hiking.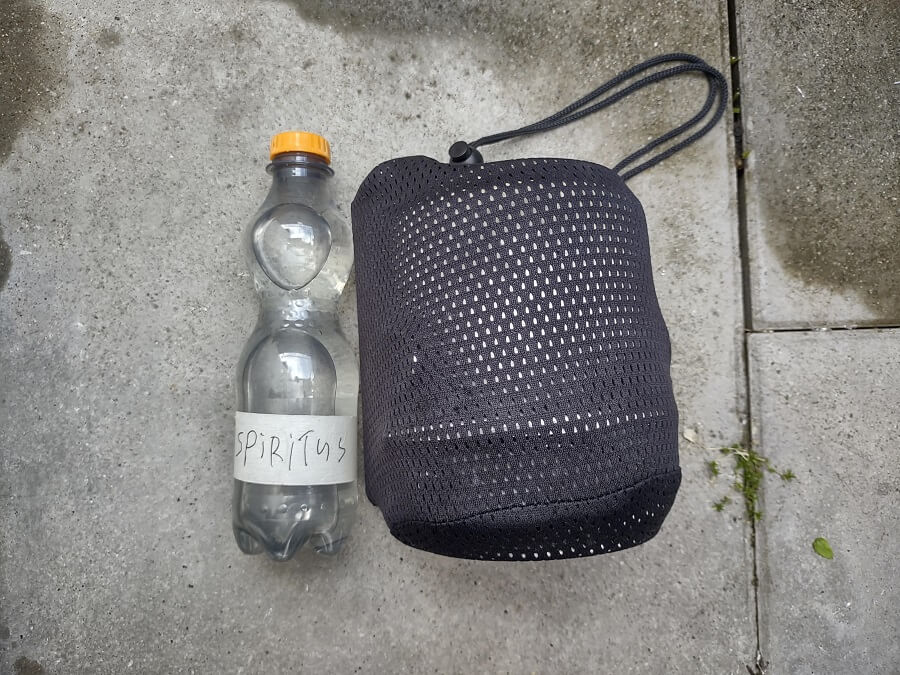 The Fuel consumption for an alcohol stove is always a guess considering a hundred different factors. In my testing with my Fancy Feast Stove, I came to the following numbers for how many minutes of burn time I can achieve with a 0,33l Fanta bottle worth of fuel.
Fuel consumption estimate on 270 grams of fuel: 127 minutes of burn time.
So if you factor in that it takes around 6 minutes on the safe side to boil 400 milliliters of water. (My normal consumption per cook). You can cook (roughly) 22 times on that amount of fuel.
I strongly encourage you to do your own testing with your fancy feast stove. Every stove is different since they are homemade. If you want to read my previous article on the Fancy Feast Alcohol stove, you can do so.
I hope my Fancy Feast Cook kit can inspire your own, and let me know which components you would swap out or leave behind! Looking forward to hearing it down in the comments.
Happy Hiking and Hike for Purpose!